Welcome to our weekly update on standing desk deals and active office solutions for September 20th through 26th. We've got some great savings to share with you this week, so have a good look through or click on a heading below to go straight to the section you're interested in. Happy savings!
***Update pending. Thank you for your patience***
---
In This Issue…
---
Please note this post contains affiliate links. In partnership with chosen suppliers and as an Amazon Associate we earn from qualifying purchases through these links at no extra cost to you. That's how we keep this website going, allowing us to bring you news, reviews and up-to-date product information. Click here for full disclosure.
---
DEAL OF THE WEEK
WOKA Electric Height Adjustable Standing Desk
Original Price $349.99 / Sale Price $299.99
Use code PRO at checkout for deal price $169.99
| | |
| --- | --- |
| Desktop dimensions | 47.2″ x 23.6″ |
| Desktop thickness | 0.98″ |
| Height range | 27.6″ x 47.2″ |
| Weight capacity | 220 lbs |
---
OK…so this is more like deal of the month as it's here for the 4th week running, but it's honestly one of the best deals we've seen this year. Here's a little more about the WOKA desk…
Height adjustment is smooth and quiet with the dual motors achieving an average lift of 1.18″ per second. You can simply use the up and down buttons or you have the option to set up to 4 of your favorite heights to memory. The WOKA desk also features a lock function and anti-collision technology to keep your desk and equipment safe and bump free. 
With UL, BIFMA and RoHs certification, you can rest assured these desks have met strict safety regulations and standards relating to durability, structural performance, hazardous substances and more.
This model is available with either a black or walnut desktop. There's an accessory hook and cable management tray included and the power cable is a generous 98″ long. The WOKA desk comes in a single box and there's a 30 day satisfaction guarantee with free returns. (Ts and Cs apply.) The product is also backed by a 5 year warranty and shipping is free to the contiguous 48 united states.
---
EXCLUSIVE DEALS – ONLY ON AMAZON
***Standing Desks***
We've hand-picked the best FlexiSpot standing desk deals on Amazon this week. Click on the relevant ad for a direct link to Amazon where you can apply the discount voucher and enjoy massive savings. We've highlighted the key specs underneath where you'll also find the $$$ off deal details.
The FlexiSpot Comhar Desk
Extra $100 off at checkout
Desktop 48″ x 24″, height 28″ – 47.6″, weight capacity 110lbs.
4 height memory, child lock, integrated USB charging, convenient storage drawer.
The FlexiSpot Vici EF1 Desk
Extra $100 off at checkout
Desktop 55″ x 28″, height 28.7″ – 48.4″, weight capacity 132 lbs.
2 tiers, 4 height memory, waterproof and anti-scratch desktop, CARB / EPA certified.
The FlexiSpot EN1 Standing Desk
Extra $80 off at checkout
Desktop 48″ x 30″, height 28″ – 47.6″, weight capacity 154 lbs.
3 height memory, sit stand reminders, stain and scratch-resistant desktop, industrial grade steel frame.
The FlexiSpot Vici Quick Instal Desk
Extra $80 off at checkout
Desktop 48″ x 24″, height range 28.7″ – 48.4″, weight capacity 110 lbs
Ridiculously easy 5 minutes assembly, simple 2 button controller, EPA / CARB / UL / FCC certification.
We don't know how long these vouchers will run for so grab them while you can!
---
If you're looking to buy a standing desk for the first time, we recommend reading one of our full articles including a buyer's guide and comparison reviews. You could start with Best Electric Desks Under $300 for our top recommendations for budget friendly workstations from some of the best brands around.
---
***Standing Desk Converters***
If you're not quite ready to part with your old desk, a standing desk converter may be a better choice for you. Also known as sit stand workstations or risers, desk converters sit on top of your existing desk and provide a platform for your laptop, keyboard, monitor and other office essentials.
Adjustable converters raise and lower so you can alternate between standing and sitting throughout the day. Sitting less whilst working is not only good for your health, but it can help to improve your productivity, creativity, motivation, energy levels and mood.
Standing desk converters often work out cheaper than standing desks. To lighten the load a little more, we've highlighted below some of the top deals available exclusively on Amazon at the moment.
Click on the ads below for a direct link to the Amazon product page where you can apply the discount voucher. (Again we've highlighted the $$$ off deals underneath, along with basic product specs.)
The FlexiSpot 36″

Electric Converter
Extra $30 off at checkout
Dual tier, upper tier height range 5.7″ – 19.7″, weight capacity 55 lbs, electric lift, spacious dual monitor set up.
The Noelse 30″ Manual Riser
Extra $34 off at checkout
Dual tier converter, height range 4.9″ – 19.3″ , weight capacity 33 lbs, accessory slot and grommet design for monitor mount.
The Putorsen 32″ Manual Converter
Extra 25% off at checkout
Dual tier, upper tier height range 4.3″ – 20″, weight capacity 37.4 lbs, great choice for taller users, LIFETIME warranty!
The Fenge Single Tier Portable Riser
Extra 10% off at checkout
Single tier, height range 3.4″ – 15.9″, weight capacity 22 lbs, budget friendly, lightweight and portable.
---
***Under Desk Treadmills***
Why not take your activity at work a step further – no pun intended – with an under desk treadmill. An excellent way to add more steps to your day. As well as improving your general health and productivity, under desk treadmills can help you to keep in shape and gently shed some extra pounds whilst you work.
Take a look at our full posts on under desk treadmills for brand comparisons and to find out more about the health benefits of walking whilst you work. (See the Treadmill Desks tab on the main menu.)
In the meantime, here are some of the top deals we found this week. Again, these are exclusive to Amazon and we don't know how long these deals will be available for. Click on an ad to go direct to Amazon where you can clip the coupons to claim your discounts. (Product specs and discount details below.)
CITYSPORTS
Extra $80 off at checkout
Speed 0.6 – 4.0 mph, max. user weight 265 lbs, deck length 43″, integrated Bluetooth speakers.
WALKINGPAD C2
Extra $100 off at checkout
Speed 0.5 – 3.72 mph, max. user weight 220 lbs, folding design for easy storage, child lock and fitness app.
WINDAZE
Extra $40 off at checkout
Speed 0.5 – 4 mph, max. user weight 220 lbs, deck length 41″, choice of 12 programs for walking or jogging.
GO YOUTH
Extra $30 off at checkout
Speed 0.5 – 6 mph, max. user weight 220 lbs, compact design, 12 program settings, Bluetooth speaker.
As with any new fitness activity or regime, check with you health practitioner first if you have any existing health conditions or concerns. Start slow and build up to your new health and fitness targets.
---
Coming Soon
What's Happening in September
---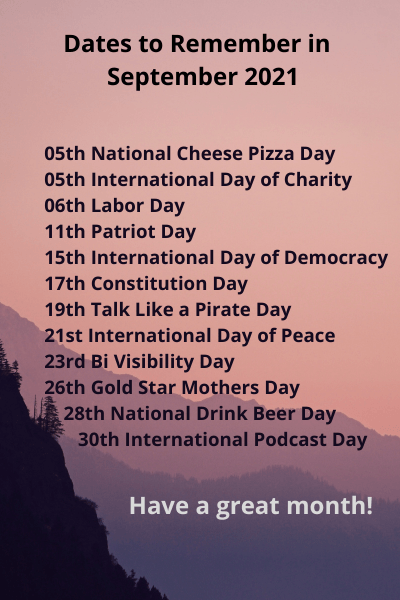 As we head towards the end of September you may well be wondering where the time has gone – us too! 
---
Here are some dates to remember so you can be prepared for potential sales events and plan ahead to take advantage of some of the witty, weird and wonderful days that we celebrate. (October dates to follow next week.)
---
Why not treat yourself or surprise your loved ones with a themed gift. 
---
We're starting to think about the festive season and we'll be posting our updated Secret Santa gift ideas soon.
---
Don't forget to check back every week for new deals. Please forward to your friends, family and colleagues as well. You can't put a price on your health, but it's good to save a few dollars whilst improving it.
---
Did you take advantage of our listed special offers and money saving discounts? Or have you got a hot deal to share? Leave a comment in the box below or email jane@jetofficesolutions. We'd love to hear from you!
---