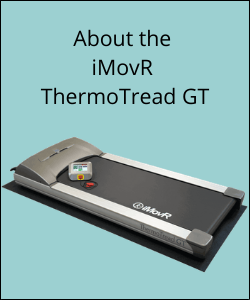 In today's post we'll be finding out about the iMovR ThermoTread GT. First we'll take a look at what makes it different from the rest. Then we'll cover treadmill and console specs.
From there we'll explain the different features and share the latest information on updates and new developments which are in the pipeline. We'll give you a few pointers on matching up your under desk treadmill with the right desk to find a pairing that works well for you.
You'll also find links to some other articles if you're in need of a little more inspiration. We'd love you to read the whole post, but if you're short on time right now, click on a heading below to jump straight to that section.
---
In This Article…
---
What is the iMovR ThermoTread GT?
The iMovR ThermoTread GT is a walking treadmill – the first of its kind designed solely for the office environment and the result of a project which kept the engineers busy for 2 years. Whereas gym treadmills are large, loud and built for speed, the ThermoTread GT is quite the opposite. It has a much smaller footprint, is extremely quiet and has a maximum speed of just 2.5 miles per hour.
The motor is built specifically to deal with slow speeds which allow the user to expend NEAT energy whilst working. This reduces sedentary behavior and has a multitude of benefits. There are a number of other walking treadmills out there, but few come anywhere close to the high design and operational standards set by the ThermoTread GT.
Of course, there's a price tag to match these high standards but as you'll see below we've given you the full run down on what you'll be getting for your dollar. To get started though, let's take a look at the specs.
---
Please be advised that this post contains affiliate links. We may earn a small commission through these links at no extra cost to you. That's how we keep this website going, allowing us to bring you news, reviews and up-to-date product information. Click here for full disclosure.
---
ThermoTread GT Overview and Specs
| | |
| --- | --- |
| Treadmill dimensions | 67.5″ x 28.35″ x 9.5″ |
| Walking area dimensions | 20″ x 50″ |
| Step up | <5″ |
| Unit weight | 147 lbs |
| Max. user weight | 400 lbs |
| Speed range | 0.5 – 2.5 MPH |
| Price | $1849 |
Warranty – lifetime for frame, 3 yrs motor, 2 yrs parts, 1 yr labor.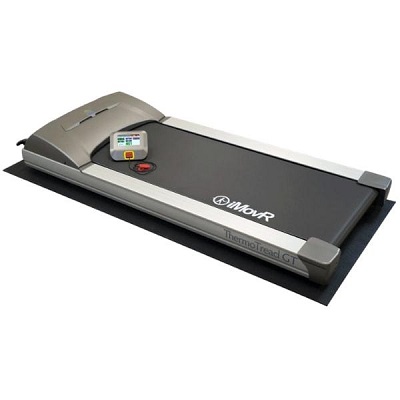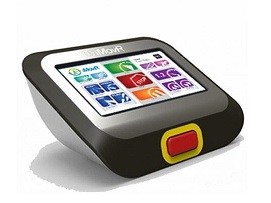 | | |
| --- | --- |
| Console dimensions | 7.25″x 4.125″ x 6″ |
| Console weight | 1.75 lbs |
| Basic data | Distance, speed, time, cals |
| Operation type | Touch-screen |
| Memory function | For 5 user profiles |
Available from iMovR and Standing Desk Nation. Click on the affiliate links below for live prices, seasonal offers and shipping info. (The contiguous United States qualify for free delivery.)
---
ThermoTread GT Features
There's a lot to cover in this section so we've broken it down :
---
About the Motor
As we mentioned before, the ThermoTread GT was the first treadmill designed solely for walking and with the office worker in mind, hence the maximum speed of 2.5 miles per hour. 
So what does this mean? Firstly, let's take a look at the motor. For faster or running treadmills the motor is designed completely differently. Running actually assists the motor as your steps help to push the belt. Spending a lot of time at slow speeds on a running machine puts extra strain on the motor and will surely reduce its performance and life expectancy.
Walking treadmills need to work differently to compensate for the extra force necessary to keep things moving. The ThermoTread GT is perfectly designed for slower speeds. It has a high-torque drivetrain matched with a 3HP motor working at 4,000 RPM. 
For the non-techies out there – myself included – in the simplest of terms this means that a lot of power goes into keeping the belt, rollers and motor working at optimum levels for longer, all the while keeping power consumption to a minimum.
It also has an unlimited duty cycle which means there are no hourly operation limits. There's an automatic fan built-in to help keep the motor cool, but you won't hear whether it's on or off…just know that it's doing its job quietly and effectively.
It's worth mentioning here some other reasons why slower speeds are so important. Have you ever tried typing whilst jogging? Difficult if not impossible. So of course, you need to move slower to enable accurate and efficient work output. 
In addition, walking is a great way of reducing sedentary behavior and therefore lessening the many health risks associated with sitting disease. Plus you don't have to worry about getting hot and sweaty as you would with cardio activity – gentle walking uses NEAT energy i.e. Non-Exercise Activity Thermogenesis. (Click here to find out more about walking treadmills and NEAT.)
---
The iMovR ThermoTread GT is NEAT certified by the Mayo Clinic. This means its use has been recognized as fighting the negative effects of unhealthy sedentary behavior levels.
---
About the Deck, Belt and Frame
The deck is made with a 1 inch Bakelite material which is a little more expensive but superior to many plastics you'll find on lower grade models. There are 6 built-in compression shocks which help to keep noise levels low as well as being kind to the feet and ankles. The belt features 2-ply fabric which is reinforced with 2.5mm rubber.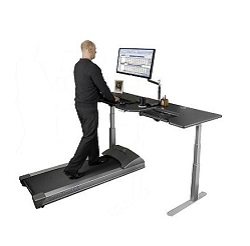 There's no incline on the ThermoTread GT. As we know, this treadmill is designed for gentle walking in an office environment – pure and simple. It's not intended for higher energy output or cardio activity. To help you to get the treadmill completely even there are levelling feet for easy adjustment on uneven floors.
As with all treadmills, regular maintenance is required to keep the ThermoTread GT running smoothly, quietly and efficiently. (At less than 43 decibels, this is the quietest treadmill around right now.) This includes adding a little lubrication approximately every 40 hours and giving the deck a monthly clean. A yearly deeper clean is also recommended.
In addition, there are guides to help keep the belt in place but occasional re-adjustment may be required. All of the above are straightforward jobs and full details are given in the user manual. There's also a support team at hand if you're unsure what to do or how to do it.
There are 2 casters to the front of the treadmill to make moving the unit into position easier, but beware – this is a heavy piece of kit so get some help if you need it. 
---
About the Console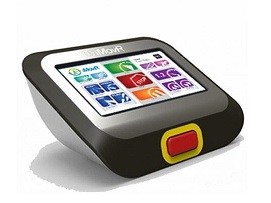 The touch-screen console is easy to use and can save personal data and preferred settings for up to 5 people. This, along with the unlimited duty cycle, makes it ideal for communal areas and multiple users. There are 3 modes – sitting, walking and standing – and as well as tracking your stats for each of these modes you can also program sit / stand / walk reminders to help keep you on target.
But before you get started, there's an additional feature which is giving employers a little extra peace of mind. With such low speeds, the potential for injury on the ThermoTread GT is almost non-existent. But just in case of unsafe or reckless operation, all users must click to agree to a liability waiver before starting a session. (This feature is exclusive to iMovR.) 
The console has a built-in USB port for software updates, thereby making it "future-proof." However, ThermoTread GT customers have been waiting for a long time – years in fact – for these updates and ultimately for access to the iMovR CloudStation.
We recently had a conversation with iMovR about this and were informed that rather than updating the existing console, a new, sleeker version will be introduced at some point this year. There's no launch date as yet but it's expected in the latter part of the year. Click the link below for more details.
iMovR CloudStation Customer Update
Existing customers and those looking to purchase the ThermoTread GT before the replacement controller comes onto the market will be able to upgrade later should they wish to do so. The new version will offer a wider range of enhancements and will be easier to update via the user's smartphone. It will also free-up more desktop space as it will attach to the underside of the desk.
As soon as we have further information we'll let you know.
In the meantime it's worth remembering that the original console was ahead of the game when it came into being, and it still offers much more than most of the competition. The CloudStation concept remains in the wings but its development isn't a priority at this point.
---
What Else You Need to Know
For Safety
There's a safety key which inserts into the console and clips on to your clothing. This will disable the treadmill if you fall or end up too close to the rear of the walking area. It also serves as a safety measure to keep unauthorized users from operating the treadmill.
On the subject of safety, it's recommended that there's around 3 feet of space to the rear of the walkway and 2 feet to the side in case of trips or falls.
In order to avoid injury or damage to the belt, wear suitable footwear. If walking and working is new to you, give yourself time to get used to it. Start off slow and for shorter periods then you can work your way up as you become accustomed to new, healthier habits and activity levels.
The recommendation is to spend a third of your work day sitting, a third standing and a third walking. This is a guideline and a number of factors come into play here including current fitness levels and possible health issues. Consider these when deciding your personal goals. Of course, if you have any health concerns consult with your doctor before undertaking any new activity.
Pairing Your Treadmill
When deciding which treadmill is right for you, make sure you match it up to the right desk – whether that's your existing desk or a new purchase. Check the following :
The ThermoTread GT measures 28.35 inches in width so you would need at least 30 inches between desk legs.
If the desk has a crossbar you'll need a 10 inch clearance for the top end motor casing to fit.
The "step up" measurement of the ThermoTread GT is just shy of 5 inches so you'll need to add those extra inches onto the required desk height range. (Plus heels, anti-fatigue mat and so on.)
If you're planning on buying a standing desk for the first time, we can help you make the right choice. Click here to take a look at our related posts.
---
ThermoTread GT Pros and Cons
Before we sum-up let's take a quick look at the main pros and cons…
PROs :
✅Designed specifically for the office (size, noise, speed)
✅Quiet operation – less than 43dB 
✅Powerful motor – built to last
✅Low energy consumption
✅Unlimited duty cycle 
✅Multi-functional hi-tech console
✅Up to 5 user profiles
✅Good maximum user weight
✅Safety features (inc. liability waiver)
✅Market-leading warranty
✅NEAT certified
CONs :
❌Limited to 5 user profiles
❌No existing console updates for foreseeable future
❌Limited info re replacement controller (i.e. launch date / cost to upgrade)
❌Top-end price tag @$1849
---
The ThermoTread GT Takeaway
We've covered quite a lot in this post about the iMovR ThermoTread GT. From the fact that this was the first machine designed solely for the office environment – in relation to size, noise levels and functionality – to the different features which really make it stand out from the crowd.
These features are pretty impressive but the change in direction regarding updates for the existing console may be disappointing to those wanting a little more. There are new developments on the horizon which we're keeping a keen eye on so as soon as we have any further info, we'll let you know.
As you'll see above, we've highlighted the main pros and cons of the ThermoTread GT. Although the pros far outnumber the cons, these may well be deal breakers for you. Click here for a link to our related articles if you're still looking for the right model to match your needs.
Did you find this post useful? We'd love to hear your feedback so drop us a line. You can also book mark our pages – we're always updating our content and we add posts regularly, so come back soon to see what's new! 
---