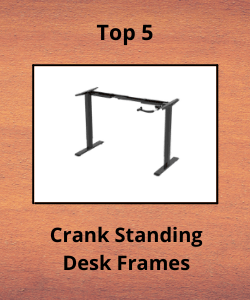 In this post we'll be taking a look at our Top 5 Crank Standing Desk Frames. First, we'll clarify what exactly a crank frame is. Then we'll take a look at the pros and cons of crank adjustment in comparison to the other options that are out there.
Next we'll give you some pointers on how to choose the right frame for you. If you're buying a standing desk frame for the first time, we strongly recommend reading this section before you part with your dollars. 
From there you can take a closer look at our recommended products. You'll find specs, pics and additional information, along with individual pros and cons to help you find the best match for your needs.
If you're short on time right now you can click on a heading below to jump straight to that section.
---
Table of Contents
---
---
What is a Crank Standing Desk Frame?
---
In the wonderful world of adjustable standing desks you have the option of either electric or manual lift. If you opt for a manual lift desk, you then have the option of either crank or counterbalance adjustment.
Crank desks operate by means of a handle which you turn to lift or lower your workstation. With these types you do most of the work and it can take a little time to raise or lower completely. (Counterbalance desks use a gas-spring or pneumatic mechanism for height adjustment.)  
You can either buy your desk as a whole unit – i.e. with desktop and frame (AKA base) – or you can go down the DIY route and pair the 2 up yourself. We've covered DIY Desktop Ideas and Electric Bases in separate posts. In today's post we're all about the crank. 
---
What are the Pros and Cons of Crank Adjustment?
---
✅ Price
Crank adjusting desks have a lower price tag than comparable counterbalance or electric models. (Counterbalance generally cost the most.)
✅ Non-Electric
Crank adjustment requires zero electricity which is more eco-friendly and you can still change height settings in a power outage. Plus you don't need to be close to a power outlet. (The same is true for counterbalance models.)
Also, generally speaking, the simpler the product, the less likely it is that things will go wrong. With manual desks there's zero risk of motor burn-out or electrical component failure.
✅ Easy to Use
Although cranks use a little more effort, operation is simple. With some counterbalance models you may need a little time and patience to get the tension just right – but when you do, they work like a dream.
Some electric controllers offer simple up and down operation whereas others have height settings, sit-stand reminders and more – this may be a little scary for the non-techies out there.
✅ Quiet Operation
Crank and counterbalance models generally make little to no noise. Electric desks are often advertised as "whisper quiet," but even the quietest versions operate at around 40 decibels. In most environments though, you probably wouldn't notice too much anyway.
---
❎ Speed
Fully adjusting your desk height with a crank can take anything from about 20 seconds to a minute. That's not such a long time, but when compared to electric lift (with average speeds of around 1.5″ per second) or counterbalance (complete adjustment in about 2 seconds), it might seem like a lot longer.
❎ Weight capacity
Manual desks usually have a much lower weight capacity than electric desks. However, this isn't always the case so check before you buy. (If you're buying the frame and desktop separately, remember to factor in the weight of the top as well as the weight of your equipment.)
❎ Requires Physical Effort
The crank requires the most physical effort. Electric desks do all of the lifting and lowering for you. Counterbalance models do most of the work, although with some you need to use a little pressure when lowering in particular.
Also, certain musculoskeletal disorders may be aggravated by crank adjustment so check with your doctor if you have any such health issues, or opt for an electric model.
---
How to Choose the Right Frame
---
There will be a number of factors to consider when choosing your frame – whichever type you opt for. For each of our top picks we've given the basic specs for quick reference, along with a little more detail about each product.
Here's what we've covered and how to use the info to find the right model for you :
---
Height Range and Maximum User Height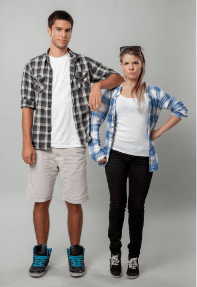 The height range gives the lowest and highest measurements of the frame. Add the thickness of your desktop to calculate the actual working height. Next, make sure that the maximum height will be tall enough for you to work from. 
As you'll see in the specs, we've also given the maximum user height for standing work as recommended by Inch Calculator (unless otherwise stated.) Please note these are guidelines only. We suggest taking actual measurements, allowing for correct ergonomic positioning and set-up.
Not sure how to do this? For really useful guidance with easy to follow instructions on all areas of ergonomics, take a look at the OSHA e-Tool for computer workstation set-up. 
Remember to allow for heels if you wear them. Also take into consideration any equipment or accessories you will be using e.g. an under desk treadmill, balance board, standing mat etc.
---
Compatible Desktop Dimensions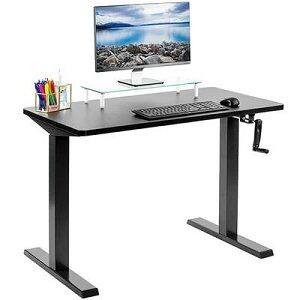 In each spec we've given you the desktop dimensions as recommended by the manufacturer. Some allow for generous overhangs whereas others allow for almost none. For that reason we've also given the actual frame measurements, so if you're thinking of deviating from the recommended desktop dimensions you can check whether or not this will work. 
For example, if the feet protrude further than the top, this will pose a tripping hazard – not recommended. However, if your chosen desktop is 2 inches longer / wider than the frame, this shouldn't pose a problem. Just check that it won't hinder the operation of the crank. (Some are located at the front, others to the side.)
So slight deviations should be OK. Major deviations could affect the stability / safety of your desk and may also affect the function of the lift mechanism.
---
Weight Capacity
Always check the frame's weight capacity. Remember to include the weight of your equipment as well as the desktop weight. (Sounds obvious, but this can be easily overlooked.) In this feature the weight capacities range from 150 pounds to 180 pounds. This should be more than enough for the average set-up, but if you have an extra heavy top it may be better to opt for an electric base.
---
Warranty
Our top picks come with 3, 5 or 7 year warranties. (See individual specs for details.) With longer warranty comes a higher price tag, so factor this in if you're on a tighter budget. You'll find cheaper frames out there but generally they come with a warranty of 1 year or under and are of lesser quality. (We haven't included these products in our recommendations.)
---
Price Range
Because prices fluctuate during seasonal promotions or as new products come onto the market, we've given the price range of each model. (Correct at the time of publishing.) Click on the relevant product image for live pricing and buying options for each frame.
We've ordered our top 5 according to price – from lowest to highest.
---
Additional Info
To help you choose the best frame for you we've included any other useful information at the end of each product section along with a summary of pros and cons.
---
Top 5 Crank Standing Desk Frames
---
Please be advised that this post contains affiliate links. In partnership with chosen suppliers and as an Amazon Associate we earn from qualifying purchases through these links at no extra cost to you. That's how we keep this website going, allowing us to bring you news, reviews and up-to-date product information. Click here for full disclosure.
---
The VIVO Compact
At a Glance
About the VIVO Compact
Our first pick is a solid steel frame available in white or black and is part of the extensive VIVO range. Pair up with your own top or check out the VIVO options – they produce matching tops in a variety of sizes and colors. You can add wheels as well if you want to make your workstation mobile. (Compatible with M10 casters.)
The Compact offers the slimmest frame at a minimum of just 33 inches, but has the largest width capacity making this model more suitable for deeper desktops. The crank is placed to the side of the frame so it sits conveniently out of the way. (Just be sure to allow enough space to operate it.)  Adjustment is smooth with a maximum speed of 0.4 inches per turn. 
This model has the largest height adjustment range at 20 inches and also the highest maximum height available. Great for the taller user, or if you'll be sharing your workstation with others.
PROs – best price, tallest max. height, slimmest frame suitable for more compact spaces with deeper desktops.
CONs – shortest warranty cover, not suitable for desktops longer than 52″.
---
The FlexiSpot H1
At a Glance
About the FlexiSpot H1
Our second pick comes in a choice of black, white or gray. The H1 is designed to pair-up with FlexiSpot desktops which are available in a choice of 10 finishes, but you can of course choose your own top to suit your workspace.
The crank is located towards the front of the frame, but you don't need to worry about it getting in the way – when it's out of use simply fold it back to save space and avoid snagging. Maximum adjustment speed is 0.24 inches per turn, which is slightly less than the rest.
Again, this model has a good height range at just under 20 inches and the maximum height comes a close second to the VIVO frame. The FlexiSpot H1 is a pretty good all-rounder with a low price point. We particularly like the fact that this includes a good 5 year warranty.
PROs – good all-rounder, great price point including 5 year warranty cover.
CONs – slightly slower adjustment.
---
The Unicoo Premium
About the Unicoo Premium
The Unicoo Premium base is available in black, white or gray. The front-located crank adjusts at a maximum speed of 0.4 inches per turn and is foldable for convenience and space saving. It also pulls out 2″ for turning which allows for the extra inches for desktop width.
The heavy duty steel frame features double beam construction, making it super-sturdy and capable of the higher lift capacity – the highest of our top 5 picks. It's also recommended for tops measuring over 6 feet in length, so it's a great choice if you need a lot of space and a little extra weight.  
Another good all-rounder, the Unicoo is only a little higher in price than the previous models, but it falls just behind when it comes to maximum height.
PROs – good all-rounder, best weight capacity, compatible with desktops 6'+.
CONs – one of the lower maximum heights.
---
The Smile Back Desk Frame
About the Smile Back Desk Frame
The Smile Back model is available in black only. It's extremely sturdy steel construction and adjustment is smooth and easy – taking around 10-20 seconds for full adjustment from the highest to the lowest point.
It has the smallest height range of just over 14 inches and the lowest maximum height, so remember to check your measurements if you're taller than average. (Or if you'll be using an under desk treadmill, balance board etc.)
To counter that, the weight capacity is towards the top end and there's a good 5 year warranty. At this point the price tags are slowly creeping upwards, but aside from the height, this model again offers great value for money.
What we don't like….the feet look chunky. You may or may not notice once your workstation is set up, or maybe you like that style, but we're preferring the sleeker design of the other models. (Sorry Smile Back!)
PROs – good weight capacity, 5 year warranty.
CONs – smallest height range, lowest maximum height, chunky feet.
---
The Fully Jarvis Crank Frame
About the Fully Jarvis Crank Frame
For our final pick we've selected the Fully Jarvis frame, available in black, white or silver. The crank adjusts smoothly at an acceptable 0.3 inches per turn. This model is built to last longer and this is reflected by the 7 year warranty which happens to be the best of the bunch.
This frame is also more suitable for larger desktops of up to almost 6 feet in length. Great for those with the space to spread out, but if you have a lot of equipment or a particularly heavy desktop, double-check the total weight. The Fully Jarvis has the lowest capacity within our Top 5.
Price-wise this frame comes out right at the top and is over $100 more than the previous model. Sure, Fully have a good reputation and a great range of award winning products and designs. But does this – along with the points mentioned above –  justify the additional spend? We'll leave that for you to decide.
PROs – compatible with larger desktops, best warranty.
CONs – lowest weight capacity, highest price tag.
---
The Crank Standing Desk Frame Takeaway
So now you know exactly what a crank standing desk frame is and how it compares to counterbalance and electric models.
Of course, there are pros and cons for each type of frame. Having read this post, if you think an electric base would be more suitable for you, click here to take a look at our top picks.
If you've decided that crank adjustment is the right choice for you, we hope you found a model to match your needs within our Top 5. 
Or perhaps you've decided that an "all-in-one" desk is more what you're looking for. If so, the following posts would be a good place to start :
Whichever option you choose, let us know how you get on. Did you go for the frame only option? Which top did you match it with? Did you create your own desktop for a unique look? Drop us a comment in the box below or email jane@jetofficesolutions.com.
---