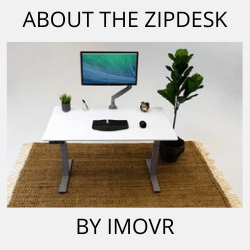 From thoughtful design to advanced precision manufacturing methods, you'll find all you need to know about the ZipDesk by iMovR right here. We've covered base, frame, desktop and controller features and specs, along with safety certification, warranty, assembly and a whole lot more.
There's a list of pros and cons towards the end of the post which serve to summarize the key points and help you decide if the ZipDesk is the right choice for you. If it isn't, you'll find direct links to some of our other product reviews which may suit your needs more closely.
Either way, our aim is to save you time by doing the research for you and bringing the most up-to-date and relevant information to your fingertips. With that in mind, if you don't have time to read the whole post right now, simply click on a heading in the table of contents to jump straight to that section.
---
Table of Contents
---
ABOUT THE ZIPDESK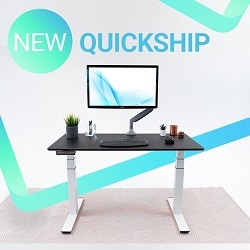 Standing desks have been growing in popularity over recent years, but in answer to the current global situation the trend is on a steep upward curve. There's been a huge rise in the number of workers being tasked with setting up office at home, often with short notice and little planning.
As well as increased demand, the COVID-19 pandemic can be held responsible for manufacturing and shipping setbacks as well. Many consumers are facing delays of 1-2 months or even longer. iMovR have cleverly responded to this by introducing their "Quick Ship" program which includes the ZipDesk and 2 other models from their Lander series. 
So how does it work? The desks are pre-manufactured and ready to ship out via FedEx as soon as your order is placed. The ZipDesk arrives quickly in a single box and takes less than 10 minutes to set up so you can be up and running in next to no time. 
Pre-manufacturing means you're limited to the following :
2 size options (compact or standard)
2 desktop colors (black or white) and
3 base colors (black, white or silver).
However, the ZipDesk has many features which make up for this as you will see below. 
---
Please be advised that this post contains affiliate links. We may earn a small commission through these links at no extra cost to you. That's how we keep this website going, allowing us to bring you news, reviews and up-to-date product information. Click here for full disclosure.
---
THE ZIPDESK AT A GLANCE
| | |
| --- | --- |
| Compact desk dimensions | 47″ x 23.5″ |
| Standard desk dimensions | 53″ x 30″ |
| Desktop thickness | 0.75″ |
| Height range | 22.65″ – 47.7″ |
| Recommended user height | 5'2″ – 6'4″ |
| Maximum weight capacity | 265 lbs |
The compact model starts at $679 and the larger desk starts at $799. Adding accessories as a bundle will save you some dollars. (See iMovR website for details.) Please note standard shipping is free to the lower 48 US states but there is a $25 peak season delivery surcharge from FedEx through January 17, 2021. 
---
FEATURES AND PRODUCT DETAILS
In this section we'll take a closer look at :
---
The Base and Frame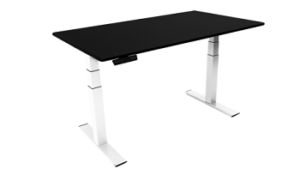 The base features 3-segment, dual-stage lifting columns – or legs to you and I – which have been manufactured to very exact standards. Advanced production methods use precision robotic machinery to get the job done perfectly, so as well as operating smoothly, the finish is also pleasing to the eye.
The dual motors elevate quietly at an average rate of 1.4 inches per second. There's a good height range of between 22.65 inches and 47.7 inches. This range is recommended for users between 5 feet 2 inches and 6 feet 4 inches tall. (Remember to add inches for your footwear, anti-fatigue mat, balance board or under desk treadmill if you use one.)
The ZipDesk features acceleration damping as well as anti-collision and anti-tilt technology. Designed with your preferences in mind, you can adjust the sensitivity of these to suit your needs. 
As a guideline, we use Inch Calculator to check suggested ergonomic desk heights. We recommend taking exact measurements before you choose your desk, especially if you're shorter or taller than average. Click here for a link to the OSHA's Computer Workstation eTool which gives clear and simple guidance on good working positions and posture.
---
The Desktop
If you've read our other posts in the iMovR standing desk range, you'll be aware of the hundreds – if not thousands – of configurations available, giving you perhaps too much choice when it comes to choosing the right desk for you personally. With the ZipDesk, you don't have this problem!
The desktop is powder-coated to a high standard and the edges are ergo-contoured for comfort and aesthetics. At the moment, it's only available in black or white, although we're reliably informed that more color choices are on the way. That's it! The ZipDesk is not available with the 3D laminate or solid wood desktop, and the SteadyType keyboard tray is not an option. (Other keyboard trays are compatible however, so don't let that put you off.)
The desktop has a thickness of 0.75 inches. Depth and width dimensions are 24 inches by 47 inches for the compact model, or 30 inches by 53 inches for the standard size desk. Another simple enough choice to make!
---
The Controller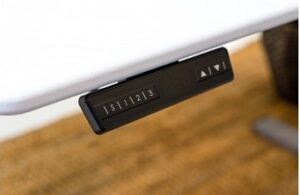 The 6-button controller has a full digital display. It's very straight forward to use and allows you to pre-set up to 3 heights. Alternatively, you can simply raise or lower the desktop with the up or down buttons.
The controller is Bluetooth enabled, but as yet it doesn't have a smartphone app linked to it. However, iMovR are working on this and a height adjustment and management app should be making it's appearance soon. When it does, the ZipDesk will be ready.
As well as for setting height preferences, the controller serves to adjust the anti-collision and anti-tipping sensitivity. It can be locked / unlocked as needed, either for safety or if you don't want your colleagues messing around with your new toy!
---
Health, Safety and Performance Standards
The ZipDesk, as with all iMovR standing desks, is NEAT certified by the Mayo Clinic. This means that by using the desk you can actively reduce a number of health risks associated with increased sedentary behavior or sitting disease. (These include obesity, type-2 diabetes and cardiovascular disease to name but a few.)
The ZipDesk is independently tested and certified to meet ANSI and BIFMA x 5.5 – 2014 standards. It's also G1 – 2013 compliant. So what does this mean? ANSI (the American National Standards Institute) and BIFMA (the Business and Institutional Furniture Manufacturer's Association) have a number of standards in place to safeguard the consumer.
In particular the x 5.5 – 2014 standard relates to safety, durability and structural performance. The G1 – 2013 standard relates to optimum ergonomic furniture guidelines within an office environment.
The electrical components are certified to meet the UL (Underwriter Laboratories) 962 and the CSA (Canadian Standards Association) C22.2 standards. These relate to electrical, flammability and personal safety requirements.
---
Assembly
iMovR has single-handedly revolutionized standing desk assembly! Each desk within their range arrives almost completely assembled with minimal effort required to finish the job off. The ZipDesk is no exception and comes factory tested and almost ready to go. All you need to do is secure the legs and feet, then connect the power cord. That's all. It should take less than 10 minutes!
As well as most of the work being done for you, the instructions are nice and easy – either in written or video form. Even if you're an avid enemy of the flat-pack, it would be hard for you to go wrong.
---
Additional Information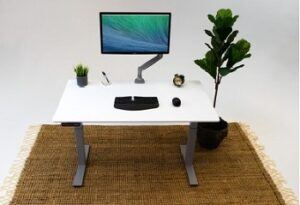 The ZipDesk is literally a desk in a box – just one box and it's all in there, so when your package arrives – that's it. No stress or worrying about when the rest will turn up.
With iMovR's attention to detail along all stages of the standing desk life-cycle, the likelihood of any parts missing is pretty much zero. With factory testing on each unit you can also be certain that your desk will be in full working order when it arrives. You get your box, set up your desk and you're good to go.
All iMovR standing desks are proudly made in the USA and their quality, durability and performance are backed up by an industry leading 10-year full desk warranty. There's also a 100-day satisfaction guarantee, and if you're in one of the lower 48 US states you'll qualify for free delivery to boot.
We should mention also at this point that only mild cleaning detergents are recommended for use on the ZipDesk in order to preserve the powder-coat desktop finish. (Most iMovR desks are sealed and finished to withstand harsher chemicals due to desktop materials and sealing methods.)
---
Let's take a look at the key points again.
---
ZIPDESK PROS AND CONS
We'll Start With The Plus Points…
| | |
| --- | --- |
| ✅ | Quick order to delivery turnaround |
| ✅ | Advanced precision manufacturing methods means smooth operation plus good looks |
| ✅ | Good height range / 3 height pre-sets |
| ✅ | Good weight capacity |
| ✅ | Anti-collision / anti-tilt / acceleration damping as standard |
| ✅ | Bluetooth / smartphone app ready |
| ✅ | Meets numerous safety and performance standards |
| ✅ | Each unit is tested before leaving the factory |
| ✅ | Easy and super-fast assembly |
| ✅ | Market leading warranty plus 100-day satisfaction guarantee |
| ✅ | Proudly made in the USA |
And Now For The Cons...
| | |
| --- | --- |
| ❎ | Desktop available as powder coat finish only – no laminate or solid wood option |
| ❎ | Limited choice of colors |
| ❎ | Rectangular only – no corner or L-desk design choices |
| ❎ | Bluetooth / smartphone app ready – no app as yet |
| ❎ | Extra taller users / under desk treadmill users may need more height |
| | |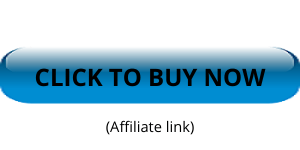 ---
THE ZIPDESK SUM-UP
So there you have it…the good, the bad and the beautifully designed! The ZipDesk is what it is and a little bit more on top. Yes, you're limited for choice of colors, finishes, shapes and base types, but what you get for your dollar is pretty good value for outstanding quality, thoughtful design and attention to detail.
With all that's going on in the world today, more and more office workers are being sent home to do the job. The ZipDesk provides employers and employees alike with peace of mind when it comes to ordering and receiving the goods, getting up and running in as little time as possible and without the hassle of a second-rate desk turning up without a leg…or lifting column!
Let's go back to choice briefly….if the ZipDesk just doesn't do it for you, there are so many other options and choices available within the iMovR range. With iMovR you will always find good quality products, a thoughtful design team, market leading methods and guarantees plus outstanding customer service.
You can find out more here :
…or check out the following articles which feature lower priced desks from various manufacturers :
We publish new posts regularly, so be sure to bookmark and come back soon. Finally, we would love to hear from you – do you use a standing desk? Is there a particular manufacturer that you wouldn't hesitate to recommend? How have you found the transition from sitting to standing at work? Reach out in the comments or email jane@jetofficesolutions.com.