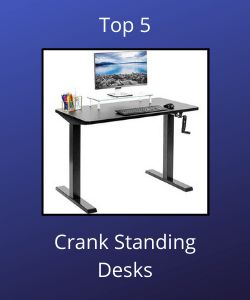 When buying a standing desk it's important to understand the options available so you can find the right workstation for your needs. In today's post we'll be covering all you need to know about crank standing desks.
In the first section we'll take a look at what they are and how they compare to other types of manual and electric models. We'll also give you some practical tips and suggestions on how to choose the right desk in our mini-buyer's guide.
Next you can check out our Top 5 Crank Standing Desks which each offer something a little different. So whether your main criterion is budget, size, height range or weight capacity, we've got you covered.
We'd love you to read the whole post, but if you're pushed for time right now just click on a heading below to jump straight to that section.
---
Table of Contents
Your Questions Answered
The Top 5 Crank Standing Desks
---
What is a Crank Standing Desk?
Crank standing desks feature manual (ie non-electric) height adjustment by means of a crank handle. By turning the crank you can raise or lower your workstation to the correct position for either seated or standing work.
Other types of manual standing desks use a spring mechanism or pneumatic cyclinder for height adjustment. These are known as counterbalance standing desks.
Some desks use electricity for height adjustment. Of course, there are pros and cons to crank adjustment when compared to the alternatives. We'll take a look at them next.
---
What are the Pros and Cons of Crank Adjustment?
---
✅ Price
Crank standing desks work out cheaper than comparable counterbalance or electric desks.
✅ Non-Electric
They don't use electricity which means a lower carbon footprint and you can still adjust the desk height during a power outage.
✅ Less to go Wrong
You don't have to worry about faulty electrics or burnt-out motors.
✅ Noise
Crank adjusting desks make little to no noise. The same is true for counterbalance models. Electric desks make more noise with an average rating of around 40 – 60 decibels, although this is unlikely to cause too much distraction, even in a quiet office.
---
❎ Speed of Adjustment
Crank operation is by far the slowest. Full adjustment can take anywhere between 20 or 30 seconds to a minute, depending on model, height range and user. Electric desks adjust at around 1.5 inches per second, so full adjustment on a 20 inch height range would take around 13 seconds. Counterbalance models complete their up or down journey in around 2 to 3 seconds.
❎ Physical Effort
Crank desks require the most physical effort by the user. Some counterbalance models require a little help but this is usually minimal. Electric desks do all the work for you – aside from pressing a button or 2.
❎ Not Suitable for Everyone
Crank adjustment is not recommended for users with certain musculoskeletal disorders, in particular those which affect the upper body. (If in doubt, check with your doctor.)
❎ Weight Capacity
Most crank standing desks have a relatively low weight capacity but this isn't always the case, so be sure to check individual models.
---
A standing desk is a big purchase so take some time to consider which type would be best for you. In the next section we'll cover the other key factors and considerations for choosing the right desk.
---
How to Choose the Right Desk – Buyer's Guide
---
As you'll see, in the Top 5 section we've given you the basic specs of each desk along with more detailed product information. Here's what we've covered along with some tips on how to choose the right desk for you…
---
About the Desktop
You'll find desktop dimensions in each spec. Check these to ensure your chosen desk will fit into your workspace. This sounds like an obvious point, but in particular we're thinking about the crank handle.
In this post, all of the desks featured have a front crank handle. Other crank desks feature a side handle. If this is the case, make sure you have enough room to turn the handle comfortably if your workspace is snug.
Also make sure you'll have enough space to work from. If you have a lot of equipment but are limited on desktop, consider add-ons such as a keyboard tray or monitor arms. (See also weight capacity below.)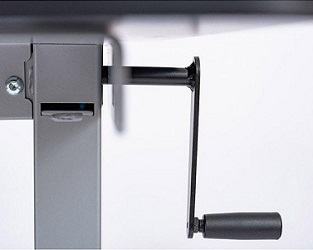 ---
Height Range and Maximum User Height
You'll find the minimum and maximum heights for each desk in the specs and we've also given the recommended maximum user height. Unless otherwise stated, we use Inch Calculator for guidelines on seated and standing work, but we suggest you take actual measurements as well – especially if you're taller than average.
To make sure you're measuring up correctly, take a look at the OSHA Computer Workstation eTool. Here you'll find easy to follow instructions on all areas of ergonomics.
When calculating your required desk height don't forget to factor in heels if you wear them, along with accessories or equipment including anti-fatigue mats, balance boards and under desk treadmills.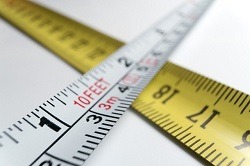 For shorter users, if you're struggling to find a desk with the right height for seated work, height adjustable chairs or stools are a good way to gain extra inches. Choosing one with a foot rest or bar will give you support when your feet are off the ground.
---
Weight Capacity
Another obvious point, but check that your equipment won't exceed your chosen desk's weight capacity. Having too much weight on your desk can make adjustment difficult and will probably affect the crank function. In addition, you run the risk of voiding your warranty.
Each of our top picks have a generous weight capacity, from 100 pounds to 176 pounds. If you need more weight still, you'll probably be more suited to a desk with electric adjustment.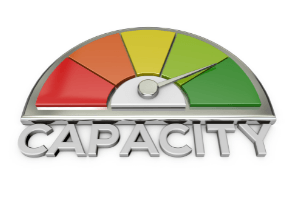 ---
Warranty & Price Range
We've chosen good quality desks to feature in this post, but it's reassuring to know that you're covered if things go wrong.
Warranty cover on our top picks ranges from 1 to 5 years. You'll usually find that lower priced desks also have lower warranty cover, so this is something to think about when making your final choice.
Prices fluctuate during sales periods and as new models come onto the market. For that reason we've given you the price range you can expect for each model. (Correct at the time of publishing.)
For live prices and further details, click on the individual image for a direct link to the full product page.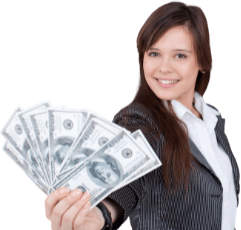 ---
You'll find whatever else you need to know in the details section for each desk, along with pros and cons to help you decide if a particular model is right for you or not. So let's take a look at our Top 5…..
---
The Top 5 Crank Standing Desks
---
Please be advised that this post contains affiliate links. In partnership with chosen suppliers and as an Amazon Associate we earn from qualifying purchases through these links at no extra cost to you. That's how we keep this website going, allowing us to bring you news, reviews and up-to-date product information. Click here for full disclosure.
---
The Stand Up Desk Store 36″ Desk
At a Glance
| | |
| --- | --- |
| Desktop width | 35.4″ |
| Desktop depth | 23.6″ |
| Height range | 30″ – 45.25″ |
| Maximum user height | 6'3″ |
| Weight capacity | 154 lbs |
| Warranty | 5 years |
| Price range | $220+ |
BEST FOR SMALLER SPACES
About the Stand Up Desk Store 36″ Desk
Our first top pick is the smallest of the bunch and therefore more suitable if you're struggling for space. It's a little different to the others as it has a single column as opposed to 2 supporting legs and the crank handle is placed front center. But if you're worried about the handle getting in the way – don't be. You can push it inward or remove it completely when it's out of use.
The desktop has a storage groove for pens and a cup holder. There's a hook for your laptop bag or coat and there are 3″ furniture-grade casters which make mobility smooth and easy. (2 of these are locking for stability.) The heavy-duty frame is super-sturdy and features a durable, powder coat finish.
(Also available with a 40 inch desktop if you're looking for something a little bigger.)
This Stand Up Desk Store model is roughly in the middle of the range when it comes to price, and what it lacks in size it makes up for in construction and warranty. It's also got a pretty good weight capacity.
PROs – best for small spaces, removable crank, super-sturdy, good warranty.
CONs – limited desktop space.
---
The Devaise 47″ Workstation
At a Glance
| | |
| --- | --- |
| Desktop width | 47.2″ |
| Desktop depth | 23.6″ |
| Height range | 29.5″ – 45.5″ |
| Maximum user height | 6'3″ |
| Weight capacity | 100 lbs |
| Warranty | 1 year |
| Price range | $100 – $170 |
BEST FOR BUDGET
About the Devaise 47″ Workstation
For our next top pick, first to explain the wide price range. At the time of publishing, the black top and frame model was listed at just under $100, but there's also a white option with a higher price tag. Whichever you opt for, this is the cheapest of our recommendations.
No doubt you would expect lower quality but the main area where this model is lacking is the 1 year warranty. It also has the lowest weight capacity, but at 100 pounds there's still enough there to support the average workstation set-up.
Aside from those points, this Devaise model offers pretty good value.
The desktop is made with pressed particle board which has an anti-scratch coating. The steel frame is solid and sturdy and has adjusting feet to keep your desk level. The crank handle is located front right and can be tucked away conveniently when out of use.
(Also available with a 55 inch desktop.)
In summary, a good desk with a high star rating and many happy customers on Amazon.
PROs – best price, good value.
CONs – 1 year warranty, lowest weight capacity,
---
The FlexiSpot H1 48″ Desk
At a Glance
Desktop width
48″
Desktop depth
30″
Height range
29″ – 48.6″
Maximum user height
6'3″ (rf FlexiSpot)
Weight capacity
154 lbs
Warranty
5 years for frame and desktop, 3 years
for crank mechanism.
Price range
From $220
BEST FOR CUSTOMIZATION OPTIONS
About the FlexiSpot H1 48″ Desk
There are plenty of options for customization with the FlexiSpot H1 – from size (also available as 48″ x 24″, 48″ x 30″ and 55″ x 28″) , to shape (either regular rectangle or with a curved front edge) and a wide range of desktop colors, some of which are quite unusual. There's something for most tastes.
This is a good, sturdy desk and the heavy-duty frame also comes in a choice of colors – black, white or silver. The 1 inch thick desktop is made with environmentally friendly chipboard which is certified by Underwriters Laboratories (UL) for product safety. 
The crank is located at the front of the desk. For convenience and space saving, you can either push it inwards and fold when out of use or remove it completely.
FlexiSpot recommend this product for users up to 6 feet 3 inches tall. However, it has one of the highest maximum settings within this feature; it comes a close second only to our final top pick which has a suggested user height of up to 6 feet 7 inches. (Ref. Inch Calculator guidelines.) So if you're taller than 6 feet 3, check actual measurements and you may find that this desk is high enough after all.
PROs – wide range of customization options, UL certified, one of the highest desks featured, good warranty.
CONs – this is a tricky one! Priced over $200.
---
The Famisky 55″ Desk
At a Glance
| | |
| --- | --- |
| Desktop width | 55″ |
| Desktop depth | 24″ |
| Height range | 28.9″ – 45.1″ |
| Maximum user height | 6'3″ |
| Weight capacity | 176 lbs |
| Warranty | Awaiting information |
| Price range | Just under $200 |
BEST FOR WEIGHT CAPACITY
About the Famisky 55″ Desk
Top pick number 4 raises the bar somewhat. (No pun intended.) Firstly, you get a lot more desktop which gives you space for 2 or even 3 monitors. Secondly, this model has the highest weight capacity which serves to accomodate all that extra equipment which you now have room for.
Included in the price – which is very good for all that you get – are some added extras. There's a cable management tray to help keep your wires in order. There are 2 hooks for your headphones, jacket, laptop bag or whatever else you want to keep conveniently close by.
You also have a choice of levelling feet if you want to keep your desk stationary, or included in the pack are 4 swivel casters with a 360° rotation for easy mobility. (These all lock when you want to put the brakes on.)
The heavy-duty base offers fantastic, wobble-free support and there's a choice of 4 desktop colors. (Note the top comes in 2 parts, but the desk is solid when fully assembled.)
We've contacted Famisky to find out what warranty is offered with this model. We're hoping we won't be disappointed by 1 year cover. For 3 or 5 year cover we would give this our very best, tip top, number 1 position within our Top 5 featured crank desks. As soon as we hear back we'll update this post and let you know.
PROs – good size, best weight capacity, extras included.
CONs – awaiting info re warranty.
---
The VIVO 63″ Desk
At a Glance
| | |
| --- | --- |
| Desktop width | 63.1″ |
| Desktop depth | 31.5″ |
| Height range | 29.8″ – 48.8″ |
| Maximum user height | 6'7″ |
| Weight capacity | 132 lbs |
| Warranty | 3 years |
| Price range | Around $280 |
BEST FOR DESKTOP SIZE
About the VIVO 63″ Desk
The final desk in our top 5 feature is the VIVO 63 inch desk. If you've followed our other posts you'll know that we really like VIVO products, and this desk is another example of good quality at an affordable price. Yes, it's at the top of the price range but again you're getting a lot more desktop for your dollars. 
VIVO desks come with a good warranty and there's a strong service and tech team who really look after their customers at all stages of the buying cycle.
So what else about this particular model? It has the highest maximum height. The all steel construction frame is available in black or white and there's a choice of 4 desktop colors. The top features an inward curve, bringing you a little closer to your equipment, reducing the need to stretch across the additional space you have.
Note, the top comes in 3 sections which are made with scratch-resistant particle board. These fit tightly together and the desk is solid when fully assembled. The crank handle pushes in and folds up when out of use.
If you have the space and the budget, this 63 inch model comes very highly recommended.
PROs – largest desktop, highest maximum height, leading brand.
CONs – highest price.
---
The Crank Standing Desk Takeaway
We're sure you'll agree there's a lot to think about when it comes to choosing the right desk. Hopefully, by reading this article you've gained a better understanding of the different types, along with a clear idea of whether or not a crank standing desk is your best option.
If you've decided that it is, then we also hope that you found the right desk for you in our Top 5.
If you didn't find what you were looking for here, why not take a look at some of our other posts for ideas and inspiration :
Whichever standing desk you decide on, remember to factor in how much space you need, the weight of your equipment and your height requirements. Of course there are other considerations to bear in mind such as warranty details, quality of materials, price range and so on.
By identifying which elements are most important to you and then doing your homework, you're bound to find your best desk and hopefully get more bang for your bucks!
Now over to you…did you find what you were looking for or have you decided what you definitely don't want from a standing desk? Are you more for manual or electric adjustment? Have you tried both and if so, how did they compare? Drop us a comment or email jane@jetofficesolutions.com. We'd love to hear from you!
---