So here's the thing – sitting too much is bad for your health. The new-ish trend is standing more at work. But here's the other thing – standing too much is bad for your health too! What to do? In this post we're going to take a look at active office seating – that is chairs and stools which encourage ongoing movement rather than static positioning for extended periods.
We've put together our top 5 picks for the best active seating in 2020. We will guide you through the buying process, looking at 3 main factors – finding a seat that fits you, fits your space and matches your dynamic moving requirements.
From there, we'll show you our top 5 products with images, specifications and overviews. We offer you the pros and cons, but we don't grade the products we feature – we leave that up to you because you know what's important when making your individual choice.
But first…
What is Active Seating?
Active or dynamic seating is a growing trend in office furniture. Active seats or stools are designed to encourage and facilitate movement in order to counteract the negatives of "traditional" or static sitting.
In a nutshell, when we remain seated in a static position, the abdominal muscles become neglected. More strain is put on the spine in particular. This affects our posture and can cause back ache, neck ache and a whole load of other problems – which in the extreme can lead to premature death!
Pretty scary stuff, but panic not! The purpose of active seating is to reduce the risks to your health at those times when you're not standing. It can also improve mood, productivity and creativity. If you'd like to find out more, check out our full article on What is Active Seating.
In the meantime, we'll take a look at the different types and styles of active seating below.
Buyer's Guide
It's important to find a chair or stool that fits you, your space and your active or dynamic requirements. We've covered those points below, so check out our suggested considerations and tips to help you find the right seat for you.
Fitting you
The height of the products featured is adjustable and in each case you are given the minimum and maximum heights in the overview and spec. In all cases, the recommended user height is from around 5 feet tall to over six feet. (Some up to around 6 feet 8 inches.)
Make sure to match up the height range with your desk, and double check dimensions and measurements if you're planning on placing your active chair or stool onto an under the desk treadmill.
Note : where recommended user height is given, this is a guideline. It can change with body shape and leg length, so if you're lucky enough to have extra long pins, factor in the extra inches to make sure your seat will be high enough.
Will you be sharing with your work buddies? If so, opt for an easily adjustable seat with a good height range.
Fitting Your Space
If you're limited for space, be aware of the footprint of each chair – this literally means the floor space required.
In addition, consider how much space you will take up if you opt for a leaning or perching seat. Here, the frame or pole will be protruding backwards, so make sure you won't be causing a trip hazard.
Also think about if you need a portable chair which can be easily moved from the office to the conference room to reception. Will you need to take it with you when you're working from home? Is is easy to store if you're out of the office and space is tight?
Your Dynamic Needs
Consider how much movement you really want from your chair. Each product brings something different to the table – literally – and this includes types and degree of movement.
When using a leaning or perching seat, your weight is distributed between the seat and your feet. The leaning angle makes a triangular shape which opens up the hips, increasing the hip-torso angle to 130-135 degrees.
This is great for taking pressure from the spine and lengthening the major leg muscles.
If you choose a model with a tilting seat this is great for hip flexibility and blood flow. It also increases your choice of movements.
Each of the product specs below gives you details of the types and ranges of movement. To differing degrees, the products featured work with you as you change position, making micro-movements part of your dynamic sitting experience.
This allows you to gently rebuild strength and increase muscle pliability and general agility – certainly good for those of us on the wrong side of 40, 50, 60…
But also very important for the youngsters among us to get into good habits early and maintain the physical health that many of us may have taken for granted when everything worked as it was supposed to!
Another factor to consider is how long are you planning on using your chair for? Some seats are more comfortable than others.
If you're using for half an hour here and there, the lower end of the range may well suit your needs. But if you're looking to fully embrace dynamic sitting, opt for a higher end model that's going to last for longer and be more comfortable .
Now we'll take a closer look at the featured products. We've organised them from the lowest price upwards. Although we update our site regularly, prices change in sale periods and as new products come onto the market.
For that reason, there's a button at the end of each product review which will take you directly to the current prices.
Please be advised that this post contains affiliate links. We may earn a small commission through these links at no extra cost to you. That's how we keep this website going, allowing us to bring you news, reviews and up-to-date product information. Click here for full disclosure.
Product Spec and Overview
The Focal Upright Mogo Seat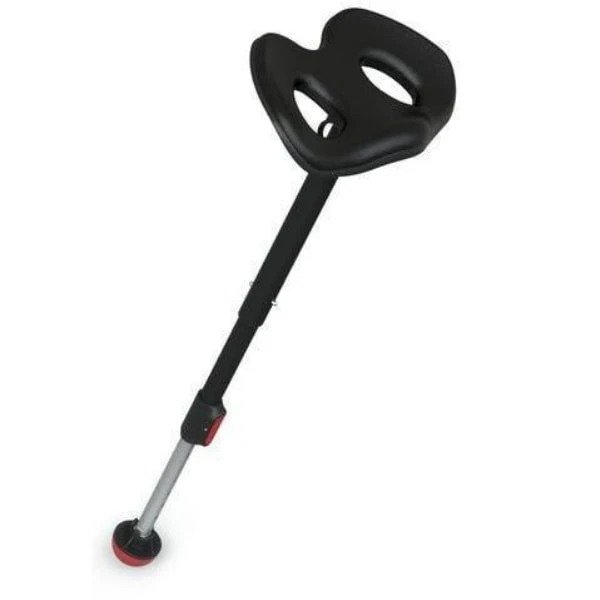 | | |
| --- | --- |
| Height range | 18.5″ – 38″ |
| Unit weight | 2.5 lbs |
| Max. user weight | 300 lbs |
| Price range | Under $150 |
The Mogo Seat comprises of a height-adjustable, pivoting leg, a saddle-style seat and a base with an option for indoor or outdoor use.
When using indoor, there's a soft rubber ball-like ending which helps to hold the seat in place without slipping or sliding. For outdoor use, simply unscrew the base, flip around and screw back in.
The outdoor base option is made from reinforced fiberglass and is suitable for grass or rough ground. (It's easy-clean so you don't have to worry about getting it dirty.) Note, however, that it isn't suitable on wet or slippery surfaces.
The seat itself comes in a choice of black or red and measures 14.5 inches by 8 inches. Although the Mogo has a good maximum weight capacity, it may be a little uncomfortable for those with a larger derierre.
It's actually designed for leaning as opposed to sitting, and by distributing your weight between your feet and the seat, you form a triangle shape with the floor which makes the seat stable.
The leg is made of anodized or reinforced aluminium which is fairly heavy duty so you can expect it to last. The seat is made of plastic and is only thinly padded so it isn't going to keep you comfy for long periods – maybe up to an hour max.
You have a choice of 22 height settings. Once the correct height is identified, the frame is secured in place with a pin lock. The range is impressive at almost 20 inches and this is one of the lowest and highest seats featured. It's recommended for users from 4 feet 11 inches to 6 feet 2 inches tall. 
Adjusting the seat to the correct height can be fiddly and may involve a little trial and error whereas pneumatic lift seats are much easier and quicker to adjust.
The Mogo is easy to assemble and dis-assemble and comes with a small bag so you can carry it around with you wherever you go…whether in the office, in a queue at the train station, at a music festival or for outside sports. When folded down, the dimensions are 18 x 9 x 4 inches. 
There is a 1-year warranty for this product.
Note : although the Mogo Seat is safe when used correctly, if you're of a more cautious nature or have a nervous disposition, this may not be the right choice for you as it's not secured with a fixed base.
PROs – low price, versatile, portable.
CONs – thinly padded seat, fiddly adjustment, only 1-year warranty.
The Safco Twixt Active Seating Chair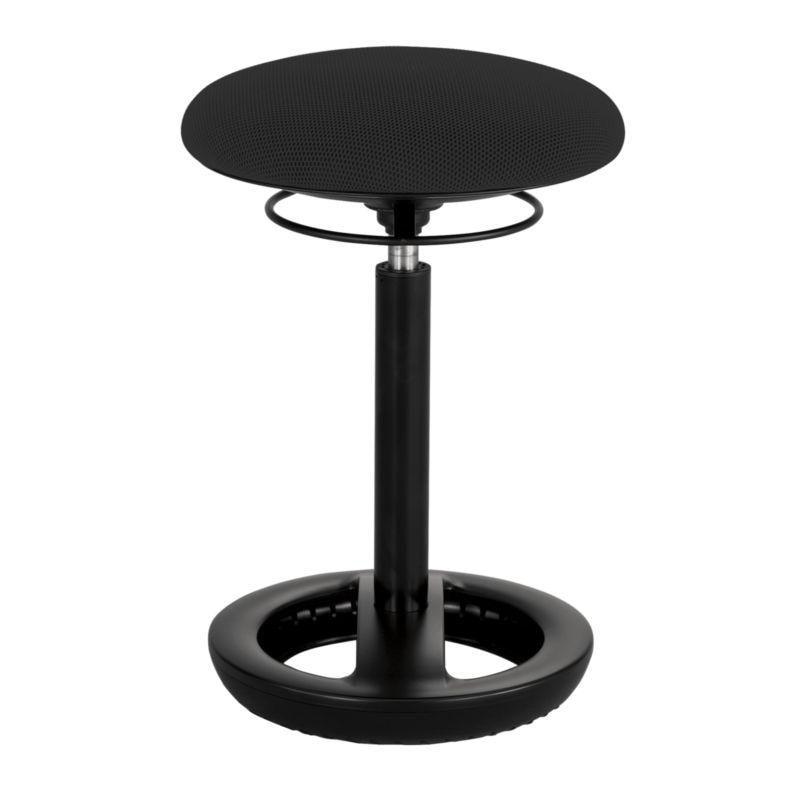 | | |
| --- | --- |
| Height range | Standard or extended (see below) |
| Unit weight | 14 lbs |
| Max. user weight | 250 lbs |
| Price range | Now under $180 |
| | |
The Twixt seat cover comes in a choice of black, blue, green or orange mesh fabric or there's a black vinyl option for easy cleaning. The seat itself is fairly well padded and has a waterfall edge for added comfort, although the padding is thinner around the edges.
There's also a choice of height ranges; the standard option from 17.5 to 22.5 inches is suitable for shorter users and traditional sitting desks. The extended option ranges from 22 to 32 inches and is suitable for the taller user and for sit to stand desks.
The seat is easily raised pneumatically, and rather than having a single handle, there's an adjusting ring located just underneath. Simply reach under and lift to adjust the height from any position you're in. (Note – to lower you need to use your body weight to help bring the seat down.) 
The round seat is 15.5 inches in diameter.
This chair allows for a great range of movements – back and forth and side to side – but the amount you can actually move from position to position is a little limited, making it more suitable for those who may be cautious of the fully active experience.
You can rotate a full 360 degrees, which is useful when working from more than just one desk, and you can sit, lean or perch, depending on the height of your workstation and your chosen positions.
The Twixt is lightweight at just 14 pounds and there are finger grooves underneath the seat making it easy to lift and carry.
The pole is made from stainless steel and has a powder coat finish for added durability. The base is made from heavy rubber which prevents slipping and feels extra safe when moving and leaning.
The Safco Twixt is endorsed by the GEI (Global Educator Institute) which means it has been tried,  tested and evaluated by teachers and students in different educational settings. Products are endorsed when they tick all the boxes for effectiveness, durability, easy of use and value.
There is a limited lifetime warranty. (Exceptions are pneumatic lift mechanism and cylinder 10 years, seat fabric and padding 5 years.)
PROs – great warranty, portable, GEI endorsed.
CONs – must use body weight or extreme pressure to lower, limited movement.
The Focal Upright Mobis II Seat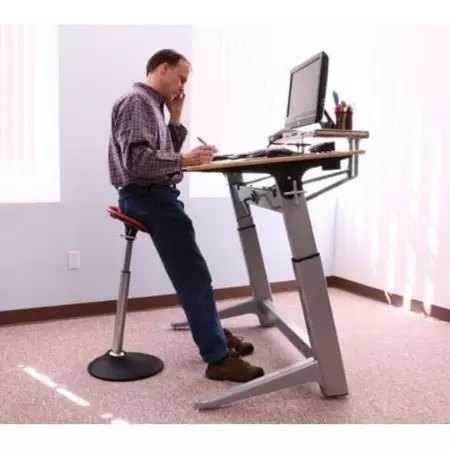 | | |
| --- | --- |
| Height range | 28.5″ – 37.75″ |
| Unit weight | 16 lbs |
| Max. user weight | 300 lbs |
| Price range | Now under $400 |
| | |
The Mobis II is a little different to it's predecessor, the original Mobis. Firstly, it's taller and with a maximum height just shy of 38 inches, it's recommended for users up to 6 feet 8 inches tall.
Secondly, there's more padding on the new model which means it's easier on the buttocks for longer-term perching. Covered with easy-clean nylon, the seat comes in a choice of colours – black, blue, yellow or red.
 At it's widest points the seat measures 16 inches by 11 inches.
Height adjustment is easy by means of a pneumatic lifting mechanism, operated by a handle just under the seat.
With the Mobis II you can move back, forth, left, right and do a full 360 should you so wish. Quite simply, as you move, the seat moves seamlessly with you. Although this range of movement and choice of positions is great, it could be that little bit better if the seat pan was adjustable.
The leg is made from anodized aluminium and has a durable, powder coat finish.
Weighing in at just 16 pounds and with a built in handle, it's easy to move the Mobis II around. With a small footprint it's suitable for compact work spaces, obviously allowing for leaning depth. It's also easy to store if you're limited for space.
As an optional extra, you can upgrade to the bundle which includes the Mobis footrest. It's sturdy, non-slip and offers more choices for foot placement and movement. 
There's a limited lifetime warranty. (The seat cushion and piston are covered for 5 years.)
PROs – wide range of movement, good height range, great warranty.
CONs – seat angle not adjustable.
The iMovR Tempo Sit-Stand Stool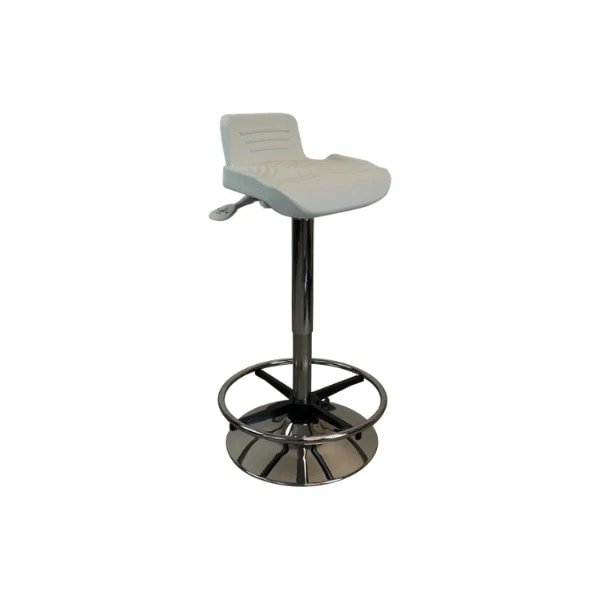 | | |
| --- | --- |
| Height range | 26″ – 34″ |
| Unit weight | 28 lbs |
| Max. user weight | 275 lbs |
| Price range | From around $500 |
| | |
The iMovR Tempo is available in black or white and you can buy it either with or without the footrest. 
The Tempo was actually designed for use on an under the desk treadmill, but it can also be used on its own as a seat or perch for your standing desk, or for sitting at a traditional desk.
The height is easily adjusted by means of a pneumatic lift mechanism. The seat tilt is also easy to adjust and has an angle range from -4 degrees to +10 degrees, giving you more options for positioning. 
Unlike our other featured products, the Tempo does not offer back and forth or side to side movements. Nor is it capable of 360 rotation. Depending on your preference and what exactly you're looking for from your active seat, this will either be a big plus or a massive minus. 
With a 5 inch lumbar support, this is the only product featured which offers any kind of back support. It may be small, but it's a back support none the less. 
Although it's not the lightest of models, at 28 pounds it's still easy enough to pick up and move from a to b.
The seat measures 12 by 15.5 inches and is made from polyurethane which is recyclable and more eco-friendly than most other plastics. It's extremely durable and easy to clean.
Additionally, as your body heat warms the seat, it moulds into your individual shape so you can stay more comfortable for longer.
The seat is also certified to CAL117 specifications which means the materials used are flame retardant.
The base is super-sturdy and measures 17 inches in diameter. If you choose the foot ring, it's 18 inches in diameter and is particularly recommended if you're using with a treadmill to keep your feet away from the treadmill casing. 
The  iMovR Tempo is 100% made in America and comes with a lifetime warranty.
PROs – versatile, well designed tilting seat, great warranty.
CONs – does not move back and forth / side to side. Non-swivel.
The Focal Upright Locus Seat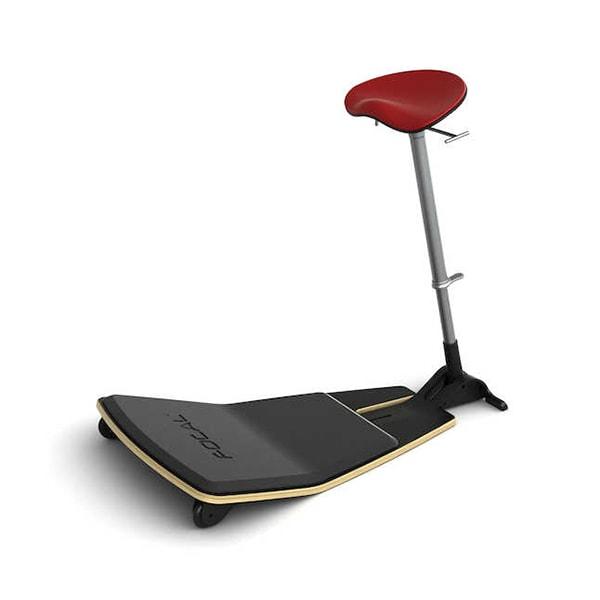 | | |
| --- | --- |
| Height range | 31″ – 41″ |
| Unit weight | 32 lbs |
| Max. user weight | 300 lbs |
| Price range | Now less than $600 |
| | |
Here we feature another leaning rather than sitting seat, but this one comes with an upwards angled base which allows you to stretch and flex for added support and foot movement. Great for the circulation.
There are wheels under the base, making it easy to move into position at your desk. You could also wheel it from office to office, but the Locus isn't the most portable solution featured.
The seat folds into the base for easier storage when out of use and comes in a choice of black, red or yellow. It has a waterfall edge which is easier on the upper thighs and lower bottom. 
You can tilt the seat by up to 5 degrees, allowing you to really open those hips and take the strain off your spine and lower back in particular.
Seat dimensions are 16 inches wide by 10.5 inches deep.
The height is adjustable by a single handle located on the post which operates the pneumatic lift. Going up is easy. Coming back down is also easy, as long as you use you body weight.
Range of movement is good – back and forth and side to side – but there is no swivel feature.
The Locus seat also comes with thick, soft foam anti-fatigue mat which offers additional padding and comfort to the feet.
Should you decide to use without the anti-fatigue mat, the base surface is non-slip, but sandpaper-like. Worth remembering if you prefer working without shoes.
This is the tallest product within the feature and is recommended for users between around 4 feet 11 inches and 6 feet 8 inches.
There's a 1 year warranty on the anti-fatigue mat, a 5-year warranty on the seat cushion, piston, wheels and grip tape. The seat base is covered for 10 years.
 PROs – built-in foot rest, good range of movement, comes with anti-fatigue mat.
 CONs – higher end of price range, large footprint, no swivel option.
The Active Office Seating Takeaway
So those are our top 5 picks for active office seating. In this post we covered :
What is active seating (remember to check out our full article to find out more)
How to choose the right model to fit you
How to choose the right model to fit your work space
Considerations for types and degree of movements
By giving you an in-depth overview of each product, as well as at-a-glance specifications, we hope we've equipped you with the information you need to make the best choice when it comes to buying your active chair or stool.
We will be updating this post in the near future as there's a new product about to be released which we are very excited about. We're always on the look-out for new products, so do come back soon.
In the meantime, if you have any questions or feedback, as always we would love to hear from you. Comment below or email jane@jetofficesolutions.com
Finally, be sure to check out our other articles on different office solutions for remaining fit and healthy at work!