---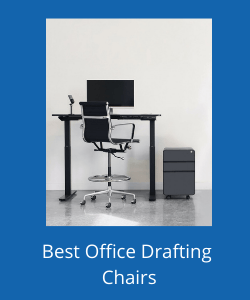 In this post we've compiled a list of what we consider to be the best office drafting chairs. They each have something different to offer with regard to quality, price, adjustability, warranty and more. 
We'll cover each of these areas in the individual specs and product overviews, but if you're not quite sure if a drafting chair's the way forward, take a look at our Q and A section. Here we'll clarify some important points such as what exactly a drafting chair is, who drafting chairs are for and how to choose the right one for you.
We recommend reading the Q and A section before deciding on your chair, but if time's against you right now and you're keen to take a look at our top picks, just click on a heading below to jump straight to that product. 
---
Table of Contents
---
Q and As (Read Before You Buy)
What's the Difference Between a Drafting Chair and a Desk Chair?
There are 2 main differences. Firstly, drafting chairs are a lot higher than standard desk chairs, extending to a seat height of around 30 inches. Secondly, they have a foot rest which is usually in the form of a ring, positioned around the lower part of the central pole. This helps to keep the user safe and supported whilst elevated. 
Most drafting chairs are height adjustable, usually by means of pneumatic or hydraulic cylinders. These chairs may or not have arms. They all have backs – those without are technically drafting stools – similar in design and function, but backless.
Who is a Drafting Chair For?
Traditionally, drafting chairs (or stools) were used by architects, designers, draftsmen – in fact any trades that used elevated work areas or desktops. Now that standing desks are becoming increasingly popular, so too are drafting chairs.
This may initially sound contradictory – after all, aren't standing desks meant for standing? Quite simply, yes they are and their purpose is to help the user reduce sedentary behavior. But there are some circumstances when a drafting chair may prove more beneficial than a regular desk chair. 
For example, if your standing desk is fixed height i.e. it cannot be lowered to a regular desk height, using a drafting chair can give you the correct elevation to alternate between sitting and standing as you work.
Drafting chairs can also give you extra inches if your adjustable standing desk is still too high, even at its lowest setting. Perhaps you're shorter than average and the desks in your office are just too big. Or perhaps – heaven forbid – you bought your own standing desk but didn't check the height range. Either way, in these instances drafting chairs can work well with standing desks.
---
We use Inch Calculator for recommended desk and chair heights. These measurements are great as a guideline, but it's good to take actual measurements as well. For guidance on correct ergonomic workstation set-up, click here for a direct link to the OSHA website.
---
How do I Choose the Right Chair for me?
The main points to consider when choosing the best chair for your needs include :
Height – this is an obvious one. Factor in your height, your desk height and the height of your chosen chair to make sure they match.

Seat dimensions – check the depth and width of your chosen seat to make sure it will fit you comfortably. 

Weight capacity – ensure your weight doesn't exceed the recommended chair weight capacity.
Material – nylon or faux leather chairs are generally easy to clean and can look good, but breathable fabrics allow more airflow. Think about which option you would prefer for your seat cover and back. 
Quality – we all want top quality goods but we don't always have the budget to match. If your chosen chair is just for occasional use, perhaps you can compromise a little on quality. If your chair is for regular use, particularly by larger / heavier users, you should opt for a more robust chair that's built to last longer and is backed up by better warranty cover.
There are other factors to bear in mind such as seat cushioning or padding, choice of colors, ergonomics and more. You'll see in the product specs and descriptions below we've covered all of these areas to help you make the right choice.
We've also given you the price range for each chair in the specifications, but prices tend to fluctuate as new models come onto the market and during sales periods. Click on the product image for live prices so you can view the listing page and take advantage of special deals as they arise. 
---
Please be advised that this post contains affiliate links. As an Amazon Associate we earn from qualifying purchases through these links at no extra cost to you. That's how we keep this website going, allowing us to bring you news, reviews and up-to-date product information. Click here for full disclosure.
---
The Best Office Store Massage Chair
About the Best Office Store Massage Chair
The combination of blue fabric against the black base and frame is really eye-catching and would make a statement in any office. (Also available in pink and black or white and black.)
But what makes this model really stand out from the others is the USB electric massager for the lumbar area – great for fighting aches, pains, fatigue and general discomfort. The massage pad is easily removed, so you can take it out if you're not using it or keep it there – whichever's more comfortable for you.
The arms are padded and can also be moved when out of use – flipping up from 90º to 180º – giving you more space whilst working or for making the seat easier to stow under your desktop at the end of the day. Working with the arms flipped up will also give you the full 19.7 inch width to sit on. (Note : the curve on the back of the seat for lumbar support takes up around 5 inches, leaving approximately 15 inches of depth for actual sitting space.)
The chair is adjusted by hydraulic cylinder and the foot rest adjusts manually and separately from the seat. The seat itself is padded with 2.2 inch thick foam which is covered in breathable mesh, as are the arms and the back. 
Assembly is easy and should take no longer than 15 minutes. Warranty information has been difficult to locate, but it appears there is a 90-day cover period. We've requested confirmation of this information but are still waiting for a response which is disappointing. 
PROs – massager included, lowest price, flip up arms.
CONs – poor warranty / awaiting response.
---
The SmugChair Tall Drafting Chair
About the SmugChair
The SmugChair is also in the budget range, but it's a good value chair with the best maximum height of all our top picks.
The arms on the SmugChair are sturdy but they aren't padded or retractable so you can't just flip them up when out of use. The seat, however, is made with 2 inch, high quality sponge which is covered with breathable mesh to promote comfort and airflow. The back is also made with mesh and features a reinforced lumbar support.
The width measurements given in the table above are the actual seat measurements. Likewise, the depth given above is actual seat space left after taking the curved lumbar support into consideration, so you know exactly how much seat you have to sit on.
The chair has a 360º swivel and the height of the seat and footrest can be adjusted separately. The base has 5 multi-direction casters which are made with soft PU material. This means they move easily on most floor types, whilst at the same time protecting from scuffs and scratches.
Assembly should take between 5 and 15 minutes. There's a 12-month warranty with the SmugChair.
PROs – low price, best height.
CONs – fixed arms, not padded.
---
The Office Star Deluxe Drafting Chair
About the Office Star Deluxe Chair
Our next pick has a vinyl-covered seat with mesh backing. (Also available with a fabric seat covering.) The chair features a reinforced lumbar support but there's a little more flexibility with this model as the back's separate from the seat itself, as opposed to connected or single-unit construction.
This chair is also armless which means the width and depth dimensions above are the actual seat space you have to sit on. The metal foot ring can be adjusted for optimum support whilst you're elevated. The seat adjusts separately by means of pneumatic cylinder and the chair features a 360º swivel. The base is heavy duty nylon and has 5 dual-wheel carpet casters for easy movement.
Bearing in mind that this is a budget model, it's the Amazon number 1 best-seller in drafting chairs which speaks volumes. Yes, the features are limited, but you get the basics for a good price.
Office Star offers limited warranty cover for their chairs as follows : 5-years on all non-moving metal parts, 2-years on component parts and 1-year on upholstered fabric and foam. This is a good warranty within its class. (Note : the warranty cover is for residential use only.)
PROs – Amazon #1 best seller, great value, good warranty cover.
CONs – lowest weight capacity, no arms.
---
The Flash Furniture Drafting Chair
About the Flash Furniture Chair
Our next pick has a black back and seat with a chrome hydraulic bar and foot rest. This is complimented by a contemporary melrose gold color frame. (Also available in black frame if you're looking for something a little more subtle.)
The back of the chair features a lumbar support and has breathable mesh fabric for comfort and airflow. The padded arms can be flipped up and out of the way when you need a little more flexibility and the front of the seat has a waterfall edge to reduce the pressure on the thighs and for improved circulation. (Note : the usable seat area is 19 inches by 19 inches.)
This commercial grade chair has a strong and sturdy base with an adjustable 20 inch foot ring. It has a 360º swivel and triple tilt functions – either adjust the back and seat separately or lock into place so they tilt together. You can also adjust the tilt tension for your personal comfort.
The base is made with durable, heavy duty nylon and the feet feature dual wheel casters which move easily on hard or soft flooring. 
The Flash Furniture drafting chair conforms with ANSI / BIFMA x5.1 standards for performance and safety (specifically for office furniture) and there's a 5-year warranty on non-moving metal parts and 2-year cover for component parts including pneumatic cylinder, control mechanism, base and casters. All other parts are warrantied for 1 year.
(Note : there are a number of reviews on Amazon which mention the front edge of the cushioning to be uncomfortable, but it would appear that this is due to the seat being attached back to front. If you do opt for this model, be sure to get the seat the right way round.)
PROs – solid, durable, commercial grade. Conforms to ANSI / BIFMA standards, good warranty.
CONs – listing price just over $200.
---
The HON SofThread Leather Drafting Chair
About the HON Chair
This is a really smart looking chair. All black with a breathable mesh back and a soft leather seat. The seat is smooth and pliable with tailored stitching detail. The inner shell uses wood composite with high recycled content. (We really like HON's take on their environmental and corporate responsibilities.)
This model comes without arms, but you can order them separately if you so wish. Also, there's no tilt function with this chair but it has a good height range, an adjustable foot ring and 360º swivel. The heavy duty base is strong and durable and features 5 smooth-moving casters.
HON has been making office furniture since 1944. As a company they offer great quality products which are proudly designed, engineered and assembled in the USA and are backed up by a market-leading lifetime warranty. The list price is just under $300, but this chair looks good, is comfortable and is made to last.
PROs – aesthetically pleasing, comfortable, durable, lifetime warranty, environmentally aware manufacturer.
CONs – around $300, pay extra for arms.
---
The Empire Mesh Drafting Chair
About the Empire Chair
We're loving the green and black Empire chair, but if you prefer more muted tones it's also available in black, grey or white fabric. This contemporary design has a one-piece or unibody ergonomic frame with polyelastic mesh which supports the spine and moves with your body.
The height and tilt lock levers are discretely hidden to the side of the chair so they blend into the frame but are easy to use. This model comes 95% pre-assembled so the rest of the job should take up about 2 or 3 minutes of your time – great news for the busy executive and for those with a distinct disliking for furniture assembly.
Made by Laura Davidson Furniture, this chair is rated for heavy commercial use (as are all their office chairs), so you can rest assured that it's designed for purpose and built to last. In fact this company is well known and reputed for quality of materials, cool designs and attention to detail. Laura Davidson chairs are good chairs!
Instead of casters, there are 4 foot glides so you don't need to worry about rolling around as you work. There's a swivel function and instead of a foot ring, this model has a triangular shaped foot rest.
The seat width and depth measurements include the arms and the curved back, so take off around 3 to 4 inches for each to get the actual sitting space. Still a good sized seat, but with the Empire range there's no padding on the chair.
This model comes with a 2-year warranty.
PROs – great weight capacity, contemporary design, v. quick assembly, heavy commercial use.
CONs – no padding, one of the lowest max. heights, around $300.
---
The SOHO Ribbed Drafting Chair
About the SOHO Chair
The SOHO Chair is also by Laura Davidson Furniture, and if you read the previous product overview you'll know their chairs are good quality, well designed and rated for heavy commercial use.
This particular model comes in orange fabric, but there are 5 other choices of color in the poly cotton finish including more conservative blue, brown and black options. Alternatively, there's a vegan leather finish available in a choice of 12 colors so you're bound to find something to match your taste and surroundings.
The seat covering features heat embossed grooved ribbing as opposed to stitched. This makes it up to 3 times more durable than hand stitched chairs and it also allows for better air flow. The finish looks good and will also keep your chair comfortable.
The aluminum base is thin but strong. The foot ring is made with steel and you can have either casters or stationary glides on the feet. SOHO drafting chairs feature a class 4 gas lift for lifetime performance which easily supports the 400 pounds maximum weight.
With the SOHO chair you can swivel, tilt and remove the arms if they're surplus to requirements. The chair is covered under a 2-year warranty and parts are covered for a lifetime.
PROs – great choice of colors / finish, great weight capacity, a good looking, good quality chair.
CONs – thin padding, top of the price range.
---
The Best Office Drafting Chair Takeaway
Let's have a re-cap on what we covered in this post. First off we looked at the following :
The difference between a drafting chair and a regular desk chair – drafting chairs are taller and have a footrest.

Who are drafting chairs for – they can be used by anyone with a standing desk (fixed height or adjustable) but generally they're not used for regular height desks. However, if you're shorter than average and you need some extra inches to work comfortably from your desktop, a drafting chair could work. (Check the measurements first.)
How to choose the right chair – from the basics such as height, dimensions and weight capacity to other considerations such as what fabric you prefer, color and style, warranty, quality and price range.
Then we had a look at our top 7 picks – with an at a glance overview then drilling down to detail. They each have something different to offer and there's a good choice of styles and designs for you to ponder. What we would like to know is which chair do you prefer and why? 
If you didn't find what you were looking for, why not take a look at some other options :
For feedback and any comments or questions you have, please use the box below or email jane@jetofficesolutions.com. Thanks – we look forward to hearing from you!