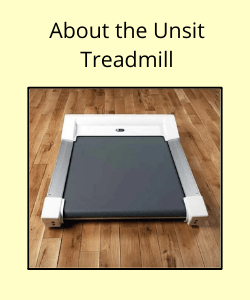 In today's post we'll be finding out about the Unsit Treadmill by InMovement. First off we'll take a look at what makes this model different to the rest.
Then we'll give you an at a glance view of the specifications, followed by more in depth information about features and what exactly you can expect for your dollars.
We've got some pointers on pairing up with the right desk and we'll take a brief look at the Unsit Standing Desk which is available singly or as a bundle with the treadmill.
Finally, we'll summarize the pros and cons to help you decide if the Unsit Treadmill is the right choice for you. Take a look through the whole post or click on a heading below for a direct link to that section.
---
Table of Contents
---
About the Unsit Treadmill
The Unsit Treadmill is most noticeably different from others because of its size – it's half the length but twice the width. This unique design allows you to access more of your desk whilst taking up less floor space to the rear of the walkway. 
The motor is super-quiet and smooth. It's built specifically for low speeds of up to 2 mph, allowing you to work efficiently whilst being active. Great news for the office worker who needs to step it up for better health and increased productivity.
This model is classified as commercial grade which means it was built to last and can handle non-stop operation throughout the day. Price-wise it's at the top end of the scale, so we've gathered specs, stats, facts and features to help you to decide whether this machine is really worth those extra dollars. Read on to find out more.
---
Please be advised that this post contains affiliate links. We may earn a small commission through these links at no extra cost to you. That's how we keep this website going, allowing us to bring you news, reviews and up-to-date product information. Click here for full disclosure.
---
The Unsit Treadmill at a Glance
| | |
| --- | --- |
| Unit width | 39″ |
| Unit length | 56″ |
| Walkway width | 30″ |
| Walkway length | 40″ |
| Step up | 5″ |
| Speed range | 0.3 – 2.0 mph |
| Weight capacity | 400 lbs |
| Unit weight | 162 lbs |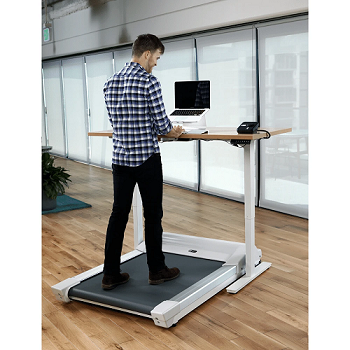 At the time of publishing the Unsit Treadmill was priced at $2,195, available from InMovement and Standing Desk Nation. Click on the affiliate links below for live pricing and shipping info.
In the next section we'll take a closer look at the features.
---
Unsit Treadmill Features
---
Dimensions
The wider walkway means you can reach more of your desk without having to lean or step off the treadmill. (Most other belts are around 10 inches slimmer.)
The shorter treadmill protrudes about 27 inches from the desk (give or take a little space for your personal positioning) making it friendlier for smaller spaces.
The belt length or walkway measures just 40 inches. Great for space saving but if you're taller than average this may be a concern. (But remember that the maximum speed is just 2 mph and slower walking equals shorter strides.)
There's no recommended maximum user height with the Unsit Treadmill, so if you're taller than average we would suggest measuring your stride when walking at a slow pace to be sure this is the right fit for you.
---
The Controller
The controller is extremely easy to use. Simply adjust your speed by means of a turning knob.
There's a USB port on the side of the controller so you can keep your devices right next to you as they charge.
All other functions (i.e. display and data tracking) are accessed via the tracking app.
Controller Dimensions are 5″ x 5″. The design isn't particularly sleek, especially considering its single function.
---
The Unsit App
You can link up to the free app via bluetooth to track speed, steps, distance, calories, walking time, standing time and total "unsit" time.
Compatible with android tablet and smartphones. Also iOS phones but NOT iPads.
Allows you to sync your data with your Fitbit, Apple Health and Garmin app.
The app tracks your data through walkway sensors giving you accurate step and distance info that many wearables miss due to minimal wrist movement when working on the keyboard.
---
Motor
The motor is specifically designed to deal with slower speeds which require a different kind of power than running machines.
At under 43 decibels you'll hardly hear the motor, although you may hear an amount of footfall depending on footwear and user weight.
The motor is self-cooling which helps to keep it operating at optimum levels.
Designed for "commercial use" the Unsit Treadmill can keep moving all day long.
---
Safety Features
There's a safety cord which must be connected for the base to function. (The safety mechanism attaches to the front underside of your desk and there's a clip which you can attach to your clothing as an additional safety measure.)
The treadmill will not operate under weights of less than 70 pounds.
The auto-stop feature ensures the treadmill cuts out immediately when you step off.
All of these are great for keeping your little people and pets safe, particularly if you're working from home.
---
Warranty Information
Frame – lifetime
Parts – 3 years
Labor – 1 year
Also comes with a 30 day satisfaction guarantee.
If you're not totally happy with it you can claim a 100% refund minus shipping charges.
(Ts and Cs apply.)
---
What Else You Should Know
Maintenance
The belt may need occasional re-tracking to keep it in place. (This is standard for treadmills.) It's easy to do and takes literally seconds using the hex key provided.
Weight
This is a heavy unit so you'll probably need a little help unpacking and moving to the room of your choice. Once there, repositioning is made easier with 2 wheels built-in to the top end of the casing.
On the plus side, the weight of the treadmill makes it super sturdy and the heavy duty construction means it's built to last – this is backed up with the lifetime frame warranty.
Additional Safety Info
It's recommended you use a dedicated power outlet for the treadmill. There's a convenience outlet at the top end of the base where you can plug your standing desk or even a power strip. This solves the problem if you're short of outlets close by. 
There's a circuit breaker for electrical overload protection.
The Unsit Treadmill is certified to meet TUV safety standards (i.e. the German Technical Inspection Association), exceeding ETL and UL requirements. (Edison Testing Laboratories and Underwriters Laboratories respectively.)
Pairing Up
When pairing the Unsit Treadmill with your desk, consider the following options :
| | |
| --- | --- |
| Use your existing desk or match up with a new one | Ensure you have 40 inches between desk legs, a 12 inch gap from floor to desk crossbar (if you have one) and the correct desk height which allows for that extra 5 inch step up. |
| Choose a standing desk converter | Again height is important. You'll also need to check that the converter weight capacity will support your equipment and that your base desk can handle the total weight, including your converter. |
You can buy the Unsit Treadmill together with the Unsit Standing Desk. If you choose this bundle you can save around $200. (See below)
---
About the Unsit Standing Desk
At a Glance
Desktop dimensions
48″W x 24″D or
63″W x 30″D
Height range
28.4″ – 54″
Recommended user height*
5'0″ – 6'6″
Weight capacity
220 lbs
Warranty
5-year frame and motor
2-year electrical parts
Bundle price from
$2,790
*Note : recommended user height is for desk alone. When using with the Unsit Treadmill max. user height would be 6'1″, allowing 5″ for the step up measurement.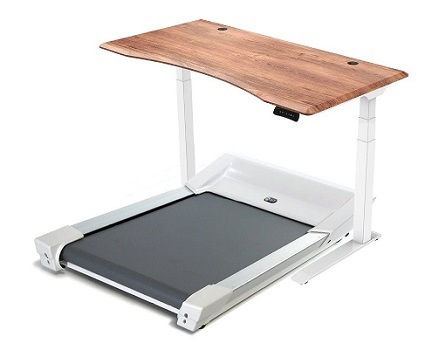 (Affiliate link)
About the Unsit Standing Desk
There's a choice of teak, white or black desktop. (The smaller size is also available in bamboo.) The frame comes in either black or white. The desk is made with top quality, commercial grade materials and is produced using precision manufacturing methods.
You can adjust the desk to any height within the range and there's a triple preset memory option which is handy for multiple users. Assembly is straightforward. Attach the top to the frame and then the legs and you're up and running. (Not literally of course.)
This isn't the cheapest desk on the market but it is made to last and matches perfectly with the Unsit Treadmill. 
---
Unsit Treadmill Pros and Cons
Pros – there's a lot to like about the Unsit…
✅ Wider and shorter than other models
✅ Quiet yet powerful motor
✅ Max. speed 2mph to increase gentle activity
✅ Heavy duty, commercial grade materials
✅ 400lb user weight capacity
✅ Bluetooth controller with USB charge port
✅ Free app for data tracking including T.U.T (Total Unsit Time)
✅ Safety features including auto-stop and minimum user weight of 70lbs
✅ Certified to TUV safety standards
✅ Market-leading warranty
✅ Save money with the treadmill and desk bundle.
But of course there are cons as well…
❌ Top end of price range
❌ Maximum user height not given – could be an issue for extra-tall users
❌ Single function controller with chunky design 
❌ Need phone or tablet at hand for tracking data display
❌ App not compatible with iPad
---
The Unsit Sum-Up – Final Thoughts
Now you know all about the Unsit Treadmill and how it's different from the rest. With it's wider walkway and shorter footprint it could provide the perfect solution to those with limited space – either at the office or in their home set-up. But beware if you're extra tall. The slow speeds mean your paces will be shorter, but will this still give you enough room?
Plus there are a few other issues which may bother you – the chunky controller, the need to have your phone or tablet nearby to view tracking data, the incompatibility with your iPad. Or perhaps these aren't deal breakers for you at all.
On the plus side there are plenty of features which take this treadmill to the top of the game – its heavy duty construction, quiet yet powerful motor suitable for all-day use, good safety features, great warranty and of course the tracking app. 
But the Unsit Treadmill comes with a hefty price tag. So now it's up to you to decide if you believe it's worth the extra dollars. If you decide that yes it is – and of course if you have the budget – your next consideration may well be whether to go for the treadmill and standing desk combo bundle.
If you didn't find what you were looking for yet, check out our other posts on walking workstations.
As always we'd love to hear from you. Which features are most important to you? Did you get them with your chosen model? How do you find walking and working? Drop us a comment in the box below or email jane@jetofficesolutions.com.
---