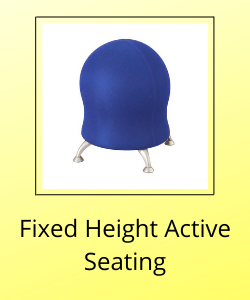 Alternating between sitting and standing is a great way to reduce sedentary behavior. But did you know you can reap extra benefits by sitting a little differently? In this feature we'll be taking a look at fixed height active seating and how it can help to improve your health and productivity.
First we'll take a closer look at what active seating is and who it's for. Then we'll show you some of the different types and styles that are out there. (In this post we'll be focusing on fixed height options, but if you're looking for adjustable height seating click here.)
We'd love you to read the whole post – and of course please forward to friends, colleagues and the boss! But if you're pushed for time right now, click on a heading below to jump straight to that section.
---
Table of Contents
---
---
Questions And Answers
---
What is Active Seating?
Active seating allows and encourages a more dynamic way of sitting. When you sit in a traditional, static position movement is generally restricted, often for extended periods. Of course you can change position to a certain extent – perhaps by sitting forwards or backwards a little or crossing the legs, but ongoing movement between positions doesn't really happen.
With active seating however, the body doesn't just relax or slump into a position – quite the opposite. As you'll see, the shapes and styles of active seating are quite different to what we would call the norm. They take a certain amount of pressure from the back and encourage ongoing micro-movements, working muscles that would otherwise be idle for sometimes hours at a time.
---
What Are The Benefits Of Active Seating?
Active seating and therefore active sitting offers many benefits to us both physically and mentally. Different muscle groups are worked – in particular the abdominals – and these help to strengthen the core, upper back and shoulders. 
This in turn helps to improve the posture, lengthening the muscles and strengthening the spine. When this happens, all manner of aches, pains and weaknesses can be alleviated or may sometimes disappear completely.
Our bodies are designed to be on the move and being more active is so important to our overall health. It improves the circulation which increases oxygen flow to the muscles and organs. This helps us to function properly, fight disease and maintain good health. 
It can also help us to fight fatigue and enjoy higher energy levels. Many experience improvements in motivation, mental clarity, productivity and general mood when they increase their activity levels. Active seating is a great way to be more healthy at work and can also bring a little fun to the office.
---
Who is Active Seating For?
Active seating can be used in the office, at home, in schools and colleges, in reception areas or waiting rooms – in fact pretty much anywhere, depending on the type of chair or stool. Unless there are health issues which dictate otherwise, active seating can be used by anyone.
In the office it can alleviate the aches and pains associated with sitting for too long. In the classroom it can be useful for getting kids to concentrate whilst fidgeting and expending a little of their seemingly never-ending energy. Active seating can be weird, wacky and wonderful, making a statement aesthetically as well as providing health benefits.
We are particularly focused on the office worker – that's what we do – but any of the seats featured in this post can be used for non-work activities including watching the TV, reading a goodnight story to the kids, having a phone conversation, receiving an upper-body reiki treatment…the list goes on.
---
What Types of Active Seating are There?
There are many different types of active seating out there including wobble stools, balance ball chairs, saddle chairs, leaning or perching stools and kneeling seats. These specially designed chairs and stools allow you to lean, perch, pivot, swivel, move back, forth, side to side, wobble, bounce and / or fidget.
These modern seating options often come in a range of bright and beautiful colors and different sizes and styles for use by kids as well as adults.
In this post we feature fixed height seating which is recommended for use with a traditional "sitting" desk, or for use when your standing desk is lowered for seated work. To find out more about taller, adjustable height active seating click here.
---
How Do I Choose The Right Chair For Me?
One of the most important considerations is size. Each of the chairs in this post are recommended as suitable for use with a standard desk i.e. with a desktop height of around 73 to 76 cms. 
As well as desk height, user height is also an important factor in choosing the right chair. For recommendations on correct seat height as well as some easy to follow guidelines on workstation set up, click here to visit Inch Calculator. Use these measurements as a guide, but take your own actual measurements as well to ensure the correct fit.
If you're planning on moving your chair around often, opt for a model that's lightweight and not too bulky. Check the maximum weight capacity of your chosen chair. Naturally, price tag is another important factor but sometimes it's a good idea to pay a little extra for a product that has a longer warranty.
Of course, as well as your actual requirements and budget, your personal taste will come into the equation too. We've chosen 5 quite different fixed height chairs or stools to show you below and you should find all the information you need in the individual specs to decide if any of them match your needs. If they do, simply click on the image for a direct link to the product page for live pricing and buying options.
---
Fixed Height Active Seating
Please be advised that this post contains affiliate links. In partnership with chosen suppliers and as an Amazon Associate we earn from qualifying purchases through these links at no extra cost to you. That's how we keep this website going, allowing us to bring you news, reviews and up-to-date product information. Click here for full disclosure.
---
The Gaiam Ultimate Balance Ball Chair
About The Gaiam Ultimate Balance Ball Chair
The Gaiam Ultimate is an updated version of the Gaiam Classic Balance Ball Chair. Firstly, the Classic holds the #1 Best Seller spot on Amazon for exercise ball chairs, scoring 4.3 out of 5 stars with almost 11,000 ratings. That's pretty good going. However, there are numerous poor reviews, many of which relate to a flaw in the base.
It would appear that this has been addressed with the newer, Ultimate model because although there's still an amount of negative feedback, most reviews are positive.  Let us tell you more about the chair itself and you can decide if you want to take a closer look.
The Gaiam Ultimate features a 52cm anti-burst balance ball which sits neatly on the base, but with the newer model there's no safety bar to hold it in place. If you're keen to catch up on a little exercise in your break time you can easily remove the ball and there's an exercise guide included.
To the rear of the base is a lower back support, but with balance ball chairs you sit with an upright posture rather than leaning back so it would seem the support is there for visual rather than physical purpose. There are 5 caster wheels for easy movement, the front 2 of which lock to keep you from scooting across the office. 
There's an amount of assembly required (inflation, deflation and re-inflation) before the chair's ready to use, but it's straightforward enough and there's an air pump included for this and occasional re-inflating.
This chair is recommended for users between 5 feet and 5 feet 11 inches tall and suggested use is for 1-2 hours at a time. There's no warranty with the Gaiam Ultimate Balance Ball Chair but it qualifies for free returns through Amazon. (Ts and Cs apply.)
PROs – bringing fitness to the office – detachable balance ball and exercise guide included, low end of price scale.
CONs – no warranty, use for 1-2 hours at a time.
---
The Safco Zenergy Ball Chair
About the Safco Zenergy Ball Chair
Our next pick also features a balance ball, but this one is a little smaller at less than 45cm in diameter. Again, it's made from anti-burst material but the Safco chair is covered in durable fabric in a choice of 6 colors. If you prefer easy clean, there is an option for a black vinyl finish.
The four legs are made from steel and are powder coated to last longer and maintain that new look. There are stationary glides at the base of the legs which help to keep the unit stable and prevent scratching, so you don't have to worry about your hard floor being damaged.
The chair comes with a pump and the maximum seat height is 58.5cm, although some of this will be lost to your body weight. If you're looking for something a little lower, the legs can be removed which will give you a maximum chair height of around 51cm. 
Assembly is fairly straight forward. Simply insert the deflated ball into the base, pump air in and attach the legs. You may need to add or release some air to get to your correct size. Safco recommend using this chair for up to 3 hours per day.
This product is GEI certified which means it has been approved by the Global Educator Institute for effectiveness, durability, ease of use and value within real educational environments. It's also Greenguard certified. This means the product and its materials have been tested for chemical emissions, and low emissions equal better indoor air quality.
We really like Safco as a company because it has an innovative approach to service and manufacturing. It's also extremely health, safety and environmentally conscious, working only with suppliers who share its vision for safe communities and a healthier planet. 
The Zenergy Ball Chair is covered by a limited lifetime warranty. (Upholstery fabric is covered for 5 years.)
PROs – modern design, GEI / Greenguard certified, low end of price range, great warranty.
CONs – recommended for use up to 3 hours per day.
---
The ErgoErgo Stool
About The ErgoErgo Stool 
With a choice of bright colors plus its unusual spring-like design, the ErgoErgo will inject a little fun into any environment. It's the lightest seat in our feature at just 3.5 kg and can be easily carried from space to space for impromptu meetings or get-togethers.
The stool is proudly made in the USA from recyclable technopolymer, and can be used either indoors or outdoors. For outdoor use, the material features UVA protection so it won't fade or get damaged by the sun. Should you wish to add a little weight to your stool on a windy day, simply fill it half-way with sand. 
The ErgoErgo is recommended for users from 5 feet to 6 feet 4 inches tall. It has a good weight capacity but if you're looking for something a tad more robust check out the ExtraErgo which can handle a little extra weight and has a wider seat. There's also a KidsErgo, designed for our little friends from 4 to 9 years old.
The award winning ErgoErgo range is BIFMA certified which means it has passed rigorous safety standard checks from the Business and Institutional Furniture Manufacturer's Association. ErgoErgo holds a number of patents for utility and design. Their innovative products are also certified to meet CAL65 standards, so you can be sure that they contain no hazardous chemicals.
Note – you may need to re-inflate occasionally with regular use. The ErgoErgo stool comes with a 2-year warranty.
PROs – fun colors and design, BIFMA / CAL65 certified, indoor or outdoor use.
CONs – may need occasional re-inflating due to regular use.
---
The Humanscale Ballo Chair
About The Humanscale Ballo Chair
This modern design is available in a range of colors and is recommended for short-term active sitting. (We're thinking maybe 1-2 hours at a time.)  The chair is lightweight and features hand holds so it can be easily moved from a to b.
The top and bottom domes are dimpled, non-slip and are filled with air – the levels of which can be adjusted for your comfort. They are made with TPV which is technically rubber, although it has similarities to plastic. It's easy to clean, flexible and durable. More importantly, TPV is 100% recyclable, so if you have an eco-conscience you can rest easy on the Ballo Chair – but not too easy…you still want to work that core!
The central column is made with polypropylene which is also recyclable and releases less toxins than other forms of plastic such as PVC – in fact, there are no PVCs in this chair at all. If you're worried about toppling over, fear not – the base is counter-weighted to assist stable movement and easy upright storage.
Humanscale has achieved many awards for design and has an outstanding attitude towards the environment and how best to leave a positive impact, rather than just reducing the negative; this is clearly reflected in their products. 
The Ballo chair arrives inflated but comes with a pump for adjustment. There's a 3-year warranty.
PROs – modern design, range of colors, eco-friendly materials / organization.
CONs – price around $300.
---
The Varier Balans Kneeling Chair
About The Varier Balans Kneeling Chair
Our final pick comes from Varier, a Scandinavian company renowned for their unusual seating and modern approach. Hailed as the original kneeling chair and designed by Peter Opsvik back in 1979, the Varier Balans offers comfort, quality and durability.
The frame has a beech core which is covered in hand-finished, lacquered ash. It's extremely flexible and very strong. The padding is made from polyurethane foam and is covered with recycled polyester, making it both eco-friendly and long-lasting. Colors available are black, gray or blue.
With this design you can gently rock in your chair or lean a little to find that perfect balance and posture for natural positioning of the spine. It's also easy to maneuver the chair and swivel around even without wheels or a pivot. (Note – for protection, you may wish to buy some soft tape for underneath the runners, depending on your floor type.)
The Varier Balans is extremely stylish – simple but beautiful. (Is it possible to fall in love with a chair?)  There is a little assembly required, but this is minimal. Hardware is included and total assembly time should take around 10 to 15 minutes. If you would like a backrest for this kneeling chair, you can add one on for around $100.
The wooden frame comes with a 7-year warranty and there's a 5-year warranty for the padding / covering.
PROs – stylish design, top quality, great warranty.
CONs – around $350.
---
The Fixed Height Active Seating Sum-Up
As we come to the end of this post, let's have a re-cap on what we've covered…
 First of all we answered some important questions :
What is active seating?
What are the benefits of active seating?
Who is it for? and 
What types and styles are there? 
We also covered some key considerations to help you choose the right chair for you including size, weight capacity and price.
Next we took a closer look at 5 different types of fixed height seat :
The Gaiam Ultimate Balance Ball Chair – with a detachable balance ball…a great way of bringing a little exercise to the office.
The Safco Zenergy Ball Chair – an eye-catching modern design with a great warranty.
The ErgoErgo Stool – fun and versatile, great for many uses indoors or out.
The Humanscale Ballo Chair – another ultra-modern design and eco-friendly as well.
The Varier Balans Kneeling Chair – super stylish and superb quality.
We hope you found something you like, or at the very least have a better idea of what it is you're looking for. Whichever seat you opt for – in fact whatever active office furniture you decide to go with – please remember to introduce yourself to it slowly. Alternate between new and old as your body gets used to the more active you bit by bit.
If you have any concerns over your health or have a known medical condition, please check with your doctor before introducing any new regime.
Have you seen our blog post "What is Active Seating?" Click now to take a look.
If you have any questions or feedback you can drop us a line in the box below or email jane@jetofficesolutions.com. We regularly add features and articles as well as updating existing posts to keep them fresh, so some back soon to see what's new. Until then, stay happy and healthy!