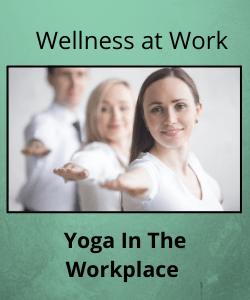 In this second part of our Wellness at Work series we'll be finding out about yoga in the workplace. Yoga is such a diverse practice and most of us have heard of it. Many of us have taken the odd class here and there or tried it at home. But do you really know what yoga is?
Before we take a closer look at some of the options and resources available to help you get up and running (or downward dogging) in the office, you'll find a brief introduction to yoga followed by an overview of the different fundamental elements plus the benefits you can expect to experience.
---
In This Article :
---
---
What is Yoga?
Yoga is believed to date back to around 5,000 years ago where it began in the Indus Valley – now known as Pakistan and northwest India. A combination of physical, mental and spiritual practices were followed with the ultimate aim of achieving unity with the higher self and the Divine. These practices were passed down verbally from master to student.
Around 2,000 years ago a guy called Patanjali is said to have created the Yoga Sutras – or texts – although it's not clear if he did actually write them himself. In any case, these ancient practices and beliefs were now in written form and served as a code of conduct to assist mankind in achieving complete enlightenment. Whether or not he wrote them, Patanjali is credited as the "Father of Modern Yoga."
"Yoga is a practical method for making one's life purposeful, useful and noble." Patanjali
In the late 19th and early 20th centuries, yoga began developing into something newer and more accessible – gradually making its way to the west. Several notable figures were responsible for raising its profile and popularity. One of these was a guy called Tirumalai Krishnamacharya – not only credited by many as the "Father of Modern Yoga" – (yep, another one!) – but also hailed as "one of the most influential yoga teachers of the 20th century."
Krishnamacharya was a truly brilliant man. He was a teacher, healer and prolific scholar with a passion for serving people from different backgrounds with different capabilities. He made yoga available to so many including the sick and disabled. His name is not so well known outside of India – in fact he never left India – but his students helped to bring yoga to the western masses.
"Rid your body of its impurities, let your speech be true and sweet, feel friendship for the world, and with humility seek wealth and knowledge." Tirumalai Krishnamacharya
Between them they founded or developed a number of well-known yoga disciplines which are popular in the west today. These include Viniyoga, Hatha, Ashtanga, Vinyasa Krama and Iyengar Yoga. (The latter was developed by B. K. S. Iyengar – the "Father of Modern Yoga" – I know, right!)
So aside from a little confusion over so many fathers of modern yoga, there's also a vast number of different styles to consider and work out which one is best for you. Those listed above are just the tip of the iceberg. You'll get access to more examples from the resources we've linked to in the "How to do Yoga at Work" section. 
But yoga as a whole isn't just about stretching, breathing and a little meditation. It's also a philosophy, a way of life, a way to be the best we can. Patanjali classified these principles as the 8 limbs of yoga which we'll take a brief look at below.
"Yoga is like music. The rhythm of the body, the melody of the mind, and the harmony of the soul creates the symphony of life." B.K.S. Iyengar
---
What Are The 8 Limbs?
The main elements of yoga that we are aware of in the west are the poses, breathing and meditation. As you'll see below there are many other important components which make up the whole system. Take a look at the first 2 in particular – the Yamas and Niyamas. These form the fundamental principles of yoga and are surely as important now as they were thousands of years ago – if not more so.
Yama
There are 5 yamas and these relate to moral discipline. They speak of living life without violence, with honesty and integrity, self-sufficiency, using our energy wisely and relaxing our grip on possessions and thoughts.
Niyama
Again there are 5 of these. They relate to our attitude towards ourselves and teach of the importance of what we eat or drink, how we spend our time, finding contentment, personal strength and development, self-reflection and self-discipline and gaining freedom from the ego.
Asana
Initially to perform asana meant to sit and remain still yet comfortable for long periods for the purpose of meditation. There are now hundreds, possibly thousands of asanas and these are what you and I know as yoga poses. They developed from sitting positions and now include all kinds of standing, twisting and balancing poses.
Pranayama
This relates to breath control. It can be an individual exercise or practiced as part of meditation or alongside asanas. There are many different techniques and some are used for relaxation whereas others can give you a mental boost. They are designed to clear mental or emotional blockages so that our life force can flow more freely.
Pratyahara
This is withdrawal of the senses in order to achieve pure consciousness. By going beyond our senses we are able to focus inwards. By switching off from the outside world we are no longer bothered by its distractions and can meditate more easily.
Dharana, Dhyana and Samadhi
Patanjali taught that the final 3 limbs should be considered as one. They relate to advanced meditation from deep concentration and mindfulness to complete unity with the Devine. Dharana, Dhyana and Samadhi lead to mastery of one's own mind.
---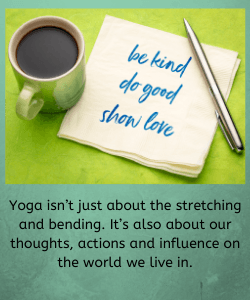 So they are the 8 limbs. For most of us it's not practical or possible to immerse ourselves completely into the yoga lifestyle, but it's useful to have an understanding of the basics in order to choose which areas we might wish to pursue.
Yoga isn't just about the stretching and bending. It's also about our thoughts, actions and influence on the world we live in. It's about being the best version of ourselves that we can be.
---
What Are The Benefits of Yoga
Yoga is great for physical, mental, emotional and spiritual wellbeing. The list of benefits is almost never-ending, but here are some of the main ones :
Increasing flexibility and strength
Improving posture
Alleviating muscular aches and pains
Increasing blood flow 
Boosting energy
Improving sleep quality and patterns.
In addition, Medical News Today reports that yoga may provide a number of additional benefits including :
Reducing stress
Relieving anxiety
Managing depression
Decreasing lower back pain
Improving quality of life during illness
Stimulating brain function
Preventing heart disease.
Click here to view the full MNT article.
---
How to do Yoga at Work
In this section you'll find links to some free resources so you can give yoga a try and discover which style or type works for you. (In addition to the freebies each site offers paid subscriptions, but there's no pressure to sign up.) As well as office yoga there's a whole heap of other courses and classes available if you want to give yoga a try outside of work too.
---
Yoga Download
This website is great and offers a wide range of courses with different styles, lengths, levels and intensity. With contributions from over 100 instructors there really is something for everyone.
The link below will take you to page after page of free classes which you can sort through to find the right one. There are several which are suitable for the beginner / advanced beginner and can be practiced whilst taking a short break at work.
Some classes focus on breathing techniques, others will take you through different asanas or poses. You can choose whether you want to combat the mid-afternoon energy slump, prepare for an important meeting, focus on achieving your goals or take an after-lunch reset to get you working at full capacity for the rest of the day.
There's a gentle chair yoga class for the over 50's so no excuses please, or if you feel conscious about practicing in front of others you can simply put your headphones on and listen to one of the guided meditations.
Click here for a link to the free online course catalogue. 
---
Do Yoga With Me
Most of the content on this site is free and also includes classes of different levels, lengths, intensity and style. These are delivered by 28 teachers.
We particularly like the "Yoga for Office Workers" section. This includes a range of exercises for stretching and strengthening geared mainly towards relieving shoulder and neck pain as well as for other ailments such as carpal tunnel syndrome. Some are practiced lying down, others can be done whilst sitting at your desk. They range from a few minutes to an hour long.
Click here to visit the Yoga for Office Workers page. 
If you sign up (for free) to become a community member you get even more access to free courses and resources so take a look around and let us know what you think.
---
Yoga With Adriene
There are tons of free videos on this site. In particular we like the 14 minute "Office Break Yoga" and "Yoga at Your Desk" which is a 6 minute practice. There's also a 7 minute "Mindfulness Meditation to Start Your Day." Look out for these and others to bring some yoga into your work life.
Click here for a direct link to the free vids catalogue.
If you like Adriene's style and approach, check out FWFG (Find What Feels Good) for her latest videos, vlogs and 30 day yoga collections. You can access these via paid subscription but there's also a free 7-day trial available to decide if it's for you.
---
The Yoga In The Workplace Takeaway
So that brings us to the end of our second post in the Workplace Wellness series. We hope it's given you a better understanding about yoga in the workplace and how it can work for you. Yoga is so diverse and versatile it can be used in almost any environment, and there's most definitely a place for it in the office.
Whether you're stressed out, bored, tired or feeling the aches and pains of sitting for too long, yoga has something to offer – stretching the body, taking deep breaths or zoning out for 5 minutes before you regroup and face the remainder of the day plus much, much more.
Yoga can benefit us in so many ways physically, mentally, emotionally and spiritually. We're living in extremely challenging times right now so it's really useful to have a means of lightening the burden of daily life both at work and at home as well. And best of all it doesn't have to cost the earth. 
Give the free resources a try and let us know what you think. You might also be interested to learn out about the best yoga styles for flexibility, stress relief, strength training, weight loss, mental health and emotional balance or spiritual growth. If so, click here to discover The Best Yoga For You. 
For questions or feedback, drop us a comment in the box below or email jane@jetofficesolutions.com.