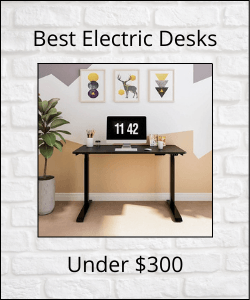 If you're ready to join the sit-stand revolution but are on a limited budget, you've come to the right place. For today's post we've selected 5 of the best electric desks under $300. 
Each of our top picks has something different to offer, so take a look at the individual specs and delve a little further into the details. To round off, we've highlighted each model's pros and cons to help you decide on your number 1.
But before you do, take a look at our buyer's guide where you'll find tips and considerations to help you make your final choice. We recommend reading this first – especially if you're buying a standing desk for the first time.
However, if you're short on time right now just click on a heading below for a direct link to that section.
---
Table of Contents
Best Electric Desk Buyer's Guide
Best Electric Desks Under $300
---
Best Electric Desk Buyer's Guide
---
What You Can Expect for Under $300
There are many electric standing desks out there for under $300. We've selected 5 of the best as they each tick some standard boxes as well as offering something a little extra.
Firstly, here's a peak at what they each have in common and the minimum you can expect for under $300 :
Desktop width up to 48 inches
Desktop depth approx. 24 inches
Each has a good height range (suitable for tall users) 
Only well known brands featured.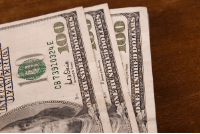 But you'll notice in the individual specs and product descriptions that there's quite a difference when it comes to weight capacity, price, warranty, extras and more. So now's the time to think about what's most important to you.
There's likely to be an element of compromise when shopping for any products towards the lower end of the price range, and standing desks are no different. If you choose only the features you really need and are realistic about what you can live without, you're more likely find a good desk which matches your needs as well as your budget.
---
In the next section we'll take a closer look at the main points to bear in mind when choosing the right desk for you.  
---
Desktop Dimensions and Height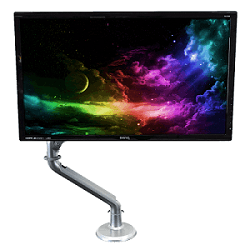 If you're concerned that a 48″ x 24″ desktop won't be big enough, there are a couple of options open to you. Space permitting, you could look for a larger desktop but you're likely to bust the $300 limit. Alternatively, there's a wide range of space-saving accessories out there. In particular, take a look at monitor arms or keyboard trays.
You'll find exact desktop dimensions in the individual specs, along with the height range of each desk and maximum user height. Please note that user heights are a guideline only. (We use Inch Calculator for recommendations.) We suggest taking actual measurements as well.
If you could use some further guidance on correct ergonomic set-up, check out the OSHA Computer Workstation eTool. (When measuring up, remember to factor in the extra inches you'll need if you use a balance board, under desk treadmill and so on.)
---
Weight Capacity
It's important to know how much your equipment weighs. If you're using a monitor arm, keyboard tray or other such add-ons, remember to include those in your calculations as well. Exceeding your desk's capacity can shorten its lifespan and void the warranty.
Generally speaking, you can expect a higher weight capacity with a higher price tag, but this isn't always the case. Of our featured desks, the most budget-friendly model does in fact have the lowest load capacity. However, the next up in price has the highest capacity. So if you have a heavier kit, you can still bag yourself a great deal.
As far as possible, position your equipment evenly without overloading to one side or the front / back. This will help to keep the base working better for longer.
---
Warranty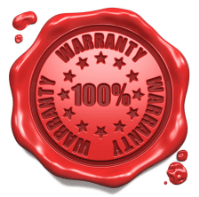 There's a big difference between the warranties offered within our selected range. The lowest is just 1 year. The best is for 7 years. All of the desks we've featured are good desks, but of course, sometimes things go wrong. 
We could suggest that you opt for the better warranty, especially if you're planning on all-day operation by multiple users. But if you're on a tight budget and are planning on occasional use only, you'd probably be better opting for the cheapest desk with the shortest warranty. 
There are also mid-range warranty options, so consider which cover will suit your needs best. 
---
Other Info
Under the individual specs you'll find additional information about each model, including controller type, height settings, color choices and more. We've also highlighted the main pros and cons to help you decide which model might work best for you.
At the time of publishing this post, all desks were under $300. We've ordered them according to price, from the lowest to the highest. Prices fluctuate during seasonal sales, as lines come to an end or as new products come onto the market.
To check live prices, click on the image in the individual desk specs. This will take you directly to Amazon or FlexiSpot where you can also find up to date information on stock levels, shipping times and so on.
---
Best Electric Desks Under $300
---
Please be advised that this post contains affiliate links. In partnership with chosen suppliers and as an Amazon Associate we earn from qualifying purchases through these links at no extra cost to you. That's how we keep this website going, allowing us to bring you news, reviews and up-to-date product information. Click here for full disclosure.
---
The SHW Standing Desk
***BEST FOR BUDGET***
At a Glance
| | |
| --- | --- |
| Desktop width | 47.25″ |
| Desktop depth | 23.6″ |
| Height range | 28″ – 46″ |
| Maximum user height | 6'4″ |
| Weight capacity | 110 lbs |
| Warranty | 1 year |
| Price range | Around $210 |
About the SHW Standing Desk
For our first pick we've selected the light cherry SHW desktop with white frame. (Other desktop choices are black, oak or walnut. Also available in 55 inch width or corner design.) This 48″ model has the lowest price within our top 5, so let's take a look at how SHW have managed it…
The desktop comes in 2 pieces – with a narrower strip to the rear and a wider section at the front. It shouldn't affect your working, and rest assured that the desk is totally stable once fully assembled. However, you may notice the seam. (But you'll also notice the costs saved on packaging and shipping.)
The single motor has a maximum lift capacity of 110 pounds, which is one of the lowest within this feature. There's also a short warranty on this model. So that's where you'll be saving your dollars, but there are some other plus points in addition to the low price.
There's a grommet hole top left, and this along with the cable management basket will help you to keep your wires in order and neatly organized. Also, the controller features an LED display and has a 4-memory function for setting your favorite heights. This is especially useful if you're planning on sharing your desk.
PROs – lowest price, cable management, 4 height presets.
CONs – desktop in 2 pieces, lowest weight capacity, 1 year warranty.
---
The Unicoo Standing Desk
***BEST FOR WEIGHT CAPACITY***
At a Glance
Desktop width
46.5″
Desktop depth
23.6″
Height range
30.5″ – 48″
Maximum user height
6'7″
Weight capacity
225 lbs
Warranty
5 years frame and motor, 2 years
controller and switch
Price range
Around $250
About the Unicoo Standing Desk
For our next top pick we've selected the Unicoo antique oak top with grey frame, but there's a choice of 4 other color combos to choose from. The desktop is made with solid MDF and finished with scratch-resistant laminate. The edges and corners are nicely rounded and the frame is made with heavy duty, industrial-grade steel. 
The single motor operates smoothly and quietly, and the 225 pounds load capaicity is good for this price range. In fact, this model has the best weight capacity by far, with almost 50 extra pounds compared to the runners up. Ideal if you've got a lot of heavy equipment.
You can use the 7-button LED controller for simple up and down operation, or to set up to 4 of your favorite heights to memory. (Again, this is really useful if you're sharing your desk.) There are also some thoughtful extras which come as standard…
There's a built-in anti-collision system for avoiding unnecessary bumps along with overheat protection to safeguard the motor from damage. In addition, the Unicoo model features auto-balance protection to help keep your equipment safe should your desk tilt at 2° or more for any reason. 
PROs – best weight capacity, 4 height pre-sets, great extras as standard, good warranty on frame and motor.
CONs – 2 year warranty on controller and switch.
---
The Fezibo Standing Desk
***BEST WARRANTY***
At a Glance
| | |
| --- | --- |
| Desktop width | 47.24″ |
| Desktop depth | 24″ |
| Height range | 27.6″ – 47.3″ |
| Maximum user height | 6'5″ |
| Weight capacity | 176 lbs |
| Warranty | 7 years |
| Price range | Around $290 |
About the Fezibo Standing Desk
We really like Fezibo's unusual rustic brown and black design. Also available with a brown central panel and black sides, or with white and natural wood effect for a lighter finish. Either way, this desk could certainly add a touch of modern style to your workspace.
The desktop comes in 4 pieces which means there's more to assemble, in addition to the extras that are included with the desk – a retractable keyboard tray, a cable management tray plus 2 hooks for your jacket, bag or whatever else you want to keep handily close by. You also have the choice of lockable casters or levelling feet.
The good news is that this saves on packaging and shipping. Also, your desk will arrive in a single box so you won't be waiting around for a second one before you can put your new workstation together. There may be very slight seams between the desktop pieces. These are hardly noticeable, if at all, and the top is solid when fully assembled.
The cable management tray is big enough to hold a power strip and will help to keep your wires together safely to the rear of the desk. The dimensions of the keyboard tray are 24 x 10 inches, giving you plenty of room for a full-sized keyboard which will free up more desktop space for you. (The max. height of the keyboard tray when the desk is at full height is 43.5 inches – suitable for users up to around 6 feet tall.)
To adjust the desk height you can either use the up and down buttons or you can set up to 3 preferred height settings in the controller memory. You have a choice of inches or centimeters for the display and you can also adjust the anti-collision sensitivity to suit your needs in order to avoid bumps and scratches.
The frame is made from heavy-duty steel and the dual motors operate smoothly and quietly. To round up, this is a pretty good all-rounder, but what makes it really stand out in comparison to our other top picks is the excellent 7 year warranty.
PROs – great range of extras included, 3 height settings, anti-collision technology, excellent warranty.
CONs – 4 piece desktop, near top of price range.
---
The FlexiSpot Standing Desk
***BEST FOR QUICK ASSEMBLY***
At a Glance
Desktop width
48″
Desktop depth
24″
Height range
28.7″ – 48.4″
Maximum user height
6'7″
Weight capacity
110 lbs
Warranty
5 years frame, desktop and motor, 2 years
controller and switch
Price range
Just under $300
About the FlexiSpot Standing Desk
Next is the FlexiSpot EC9 Vici model – a good, honest, straightforward design which is solid, strong and simple. Color choice is limited to black and black or white and white. The standard controller is easy to use with just an up or down button. (Or you can upgrade to the premium option for an extra $70.)
The environmentally sourced desktop is made from particle board with a laminate finish. The corners are rounded for safety and comfort and the high-grade steel frame will keep you sturdy and wobble-free. With the supporting columns offset towards the rear of the desk, there's more room for storage underneath to help keep your workspace needs to a minimum – particularly useful when working from home.
FlexiSpot desks are CARB phase 1 compliant which means they've met the California Air Resources Board requirements for product emissions. Likewise, EPA or Environment Protection Agency standards have also been met in relation to formaldehyde emissions. Additional certification has been awarded from the FCC (Federal Communications Commission) and UL (Underwriter Laboratories) for meeting safety and quality standards.
Note, this model has one of the lowest weight capacities. Fine if your kit is around 100 pounds or just over. Otherwise, opt for something with more lift.
For those with an aversion to furniture building, the FlexiSpot E9 could be the answer to your prayers – it arrives in a single package and most of the assembly is done for you. Just attach the feet, legs and controller and you're set. This should only take around 5 minutes. 
PROs – legs offset to rear, emissions, safety and quality certified, good warranty on frame, desktop and motor, 5 minute assembly.
CONS – up and down control function only, low weight capacity, top of price range.
---
The VIVO Standing Desk
***BEST FOR HEIGHT***
At a Glance
| | |
| --- | --- |
| Desktop width | 43″ |
| Desktop depth | 23.6″ |
| Height range | 30″ – 50″ |
| Maximum user height | 6'8″ |
| Weight capacity | 176 lbs |
| Warranty | 3 years |
| Price range | Just under $300 |
About the Vivo Standing Desk
The VIVO model featured here is the light wood desktop with black frame, (DESK-KIT-1B4C.) If you're looking for a different aesthetic, there's an additional 11 color combos to choose from with the 43 x 24, so you'll surely find a suitable alternative. 
The desktop is made from particle board with a superior laminate finish, making it water-resistant, scratch-resistant and extra-durable. The all steel frame is super-sturdy and the adjusting feet help to keep things level and even. A cable management tray is included along with cable clips so your wires are kept tidily out of sight.
You can set up to 3 of your favorite heights, along with sit-stand reminders to help keep you active throughout the day. The VIVO desk also features a power saving mode and overload protection.
This model has the smallest dektop area by a few inches. This could be a bonus for you if your workspace is limited, or it could mean you find yourself a little short on space. With regards to weight capacity and warranty, this desk is in the middle of the range.
But if you're in need of a little extra height, the VIVO model is the best within our top 5 picks, recommended for users up to around 6 feet 8 inches tall. Those extra inches could also make all the difference if you use a balance board or under desk treadmill.
PROs – wide range of color combos, 3 height pre-sets, reminders, power saving and overload protection, best maximum height for taller users.
CONs – top of price range, smallest desktop.
---
The Best Electric Desk Takeaway
So that brings us to the end of our best electric desks under $300. We hope you'll agree there are some great value for money models out there which give you the basics and a little more without breaking the bank.
Let's have a quick recap on our top 5…
First we looked at the SHW model – with the lowest price but also the lowest warranty and weight capacity.
Next was the Unicoo desk – with the best weight capacity and some great extras but only a 2 year warranty for the controller and switch.
Third was the Fezibo desk – with the best warranty plus some added extras. From here the prices edge towards the top end of the range.
We also featured the FlexiSpot model – super-easy to assemble, safety and quality tested / certified and some good points on the warranty. But this model had the lowest weight capacity and a very basic controller.
Finally we looked at the VIVO desk – with the best height plus overload protection and power saving, along with a wide range of desktop color options. This model is at the top of the price range.
We consider the desks in this post to be good quality and great value for under $300. (That's why we chose them.) But of course, when looking at lower end models you'll probably have to make certain compromises in some areas.
Be realistic about which features you need and which you can live without. This will help you to identify the best match for your needs without going over budget.
If you didn't find what you're looking for in this post, why not take a look at some of our other articles for ideas and inspiration :
If you have any questions relating to this article, or in fact on anything to do with active office furniture, we would love to hear from you. Drop us a comment in the box below or email jane@jetofficesolutions.com.
---