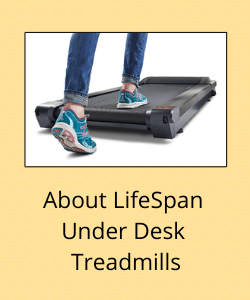 Adding some activity to your workday with a walking treadmill is a great way to improve health and increase productivity. The good news is there's a lot more choice out there right now, but how to choose the right model? In today's post you'll find all you need to know about LifeSpan under desk treadmills.
In the first section you'll see a side-by-side comparison of the 3 models, each offering something a little different with regards to functionality, construction and price tag. Then we'll cover what you can expect as standard across the range. From there we'll take a look at each treadmill individually. 
We've also included some considerations to think about before making your final choice, whichever brand or model you decide on – especially useful if you're buying for the first time. If you don't have time to read the full article right now, click on a heading below for a direct link to that section.
---
Table of Contents
---
The LifeSpan Under Desk Treadmill Comparison
In this first section you can take a quick look at the basic specs of each model. From here you should have a good idea of which might work best for you. 
| | | | | |
| --- | --- | --- | --- | --- |
| | TR800 DT3 | TR1200 DT3 | TR5000 DT3 | |
| Belt Dimensions | 45″ x 18″ | 50″ x 20″ | 50″ x 20″ | |
| Treadmill Dimensions | 60.5″ x 26″ x 6.5″ | 63″ x 28.5″ x 7.25″ | 63″ x 28.5″ x 7.25″ | |
| Step Up – Belt | 3.75″ | 4.6″ | 4.6″ | |
| Max. User Weight | 215 lbs | 350 lbs | 400 lbs | |
| Unit Weight | 96 lbs | 114 lbs | 119 lbs | |
| Motor | 2 H/P | 2.25 H/P | 3 H/P | |
| Recommended Use | Light use | All day / individual | Full commercial | |
| Price | $899 | $1,499 | $1,899 | |
About the Specs…
The belt dimensions give you the actual walking area. The treadmill dimensions give you the footprint of each model plus the height at its maximum. Take note of the step up measurement – you'll need to add these extra inches when working out the desk height you need.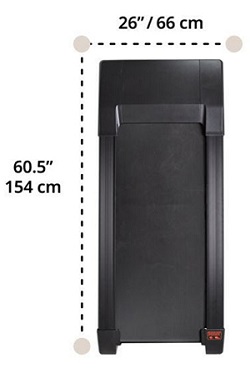 On each model the motor comes under the continuous duty rating – this is the best rating for a treadmill motor. As you would expect, the horsepower increases to accomodate the maximum user weight and recommended hours / type of use.
As you would also expect, the price increases from the lower spec treadmill. In the next section we'll cover what comes as standard with each of the models. Then we'll take a closer look at the individual treadmills to find out what else those extra dollars will get you.
---
What Comes as Standard
---
Motor Design and Function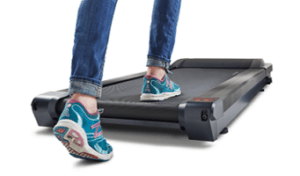 The motors are designed specifically for slower speeds to increase gentle activity without breaking a sweat. (Each model has a speed range of 0.4 – 4 mph.) Note the recommended speed to carry out keyboard work accurately and efficiently is around 1.5 – 2 mph. (A brisk walking pace is around 3.5 mph.)
The energy we use for this type of activity is called NEAT (Non-Exercise Activity Thermogenesis), and most of us should be increasing these gentle activity levels to fight the health risks we face from sitting too much. Higher level or cardio activity is great – in the gym – but in the workplace most of us want to remain looking and smelling fresh. For this reason, you'll also find that LifeSpan under desk treadmills do not have an incline.
Each motor operates quietly and smoothly. This, along with the 6 independent compression shocks, means you don't have to worry about noise levels – whether you're working in a busy office or are set up at home. 
---
The Console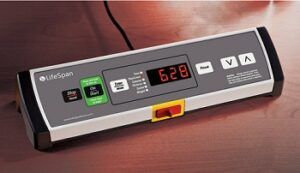 Whichever model you opt for, the console is the same. It's fairly compact so won't take up too much of your desk space and it features the functions you would expect. These include distance, calories, time and speed tracking.
There's also a built in step counter called the Intelli-Step™. Sensors on the treadmill accurately record actual steps, rather than estimating (as many wearables do.) However, this data is less accurate for those who "walk lightly" or weigh less than 100 pounds. To keep track of your stats you can download the LifeSpan Club app which will transfer your data to your phone via Bluetooth.
Through the console you also have the option to reset the maximum speed from 4 mph to 2 mph, you can silence the beeps and alerts, choose whether or not to resume the previous speed and you also have the option of metric or imperial unit display. There's a USB port at the back of the console. (For charging only.)
Unfortunately, the console displays a maximum of 4 digits only, which is fine of you're planning on walking 9,999 steps or less. Any number over that will still be tracked but you'll have to add a zero to the end of the number to calculate your steps. (Eg if you walk 10,010 steps, the display will actually read 1001.)
The basics of the console are good enough but it's certainly not the best on the market. As well as a couple of points that we've mentioned above, there's also no pre-set memory option for multiple users. Not the end of the world, but a higher tech controller would certainly add more value to these higher-end walking machines.
---
Safety Features
For safety the belt has markings so you can see when it's in action, even if you can't hear the motor. LifeSpan models also feature the IntelliGuard™ auto-stop system which halts the treadmill after 20 seconds when you step off without switching off. (Engaged at speeds of 1 mph and over.)
In addition, there's a safety key which must be connected in order for the treadmill to operate.
The console is FCC and CE certified. This means it conforms to the Federal Communications Commission standards regarding electromagnetic interference and also meets European standards for health, safety and environmental protection.
---
Additional Info
Each base unit has 2 front-located casters which makes moving and positioning the treadmill a whole lot easier when necessary. 
Each of the treadmills featured are pretty much ready out of the box with minimum installation. Just connect the cables, plug in and you're good to go. 
Free standard delivery is offered to the majority of the United States. (Alaska and Hawaii not included.)

LifeSpan offer a 30-day satisfaction guarantee for each model. (Ts and Cs apply.)

Please note the prices listed were correct at the time of publishing. For live prices and seasonal offers we've provided a direct link to the relevant LifeSpan product page which you can access in the following section.
---
Please be advised that this post contains affiliate links. We may earn a small commission through these links at no extra cost to you. That's how we keep this website going, allowing us to bring you news, reviews and up-to-date product information. Click here for full disclosure.
---
About the TR800 DT3
The smallest and most budget friendly option, suitable for light daily use only.
The TR800 has a slightly smaller footprint, although just 2½ inches shorter and slimmer. Also note the belt is shorter by 5 inches, so if you're taller than average you may need a longer walkway.
Featuring a 2-ply belt, a ¾ inch phenolic deck and non-slip plastic side rails. Recommended for light use, this treadmill will be more suited to a single user for up to around 3 hours per day. 
Re-lubrication is recommended approx. every 3 months. There's a lifetime warranty on the frame, 3 year motor cover and 1 year for parts and labor.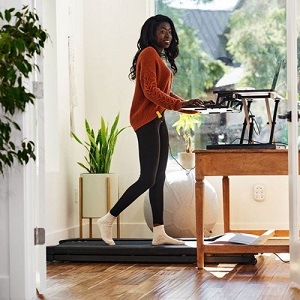 ---
About the TR1200 DT3
Larger and a little more heavy duty, recommended for up to 6 hours walking per day.
The TR1200 fits perfectly in the middle of the range. As with the TR800 it features a 2-ply belt, a ¾ inch phenolic deck and non-slip plastic side rails.
But with this model you get a larger base and longer / wider walking area. With a more powerful motor it's recommended for up to 6 hours use per day and can accomodate an extra 135 lbs of user weight.
Re-lubrication is recommended approx. every 3 months. There's a lifetime warranty on the frame, 3 year motor cover, 2 years for parts and 1 year for labor.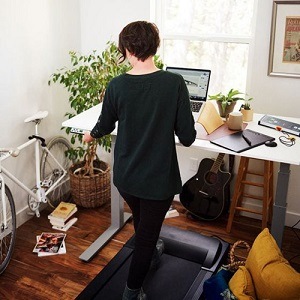 The toughest and strongest of the LifeSpan under desk treadmills also comes with the highest price tag.
The TR5000 has the same base and belt dimensions as the TR1200, but this model is heavier duty. The deck and belt are thicker and stronger plus the side rails are made with anodized-aluminum. 
Listed as full commercial grade, the combination of construction and motor power mean that the TR5000 is designed for up to 10 hours of walking per day, making it more suitable for multiple users.
With this model there's less maintenance as the belt is self-lubricating. As with the TR1200 there's a lifetime warranty on the frame, 3 year motor cover, 2 years for parts and 1 year for labor.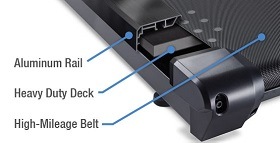 ---
In the next section we'll take a brief look at some other considerations to be aware of before you go ahead with your purchase.
---
Before You Buy…
---
Measuring Up
Whether you already have a standing desk or you're looking to buy one, the treadmill will need to fit between the legs and under the crossbar – if the desk has one. 
Another option is a desk converter. These sit on top of your existing desk and can be raised or lowered for sitting and standing or walking work.
You'll need to ensure your desk or desk converter will raise high enough when you add the extra "step up" inches from your chosen treadmill. (See Inch Calculator for recommended sitting and standing desk heights.)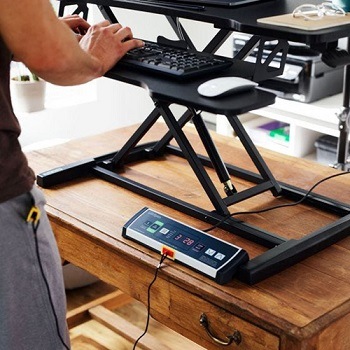 Note also that for safety reasons, guidelines state you should leave 3 feet clear to the rear of your treadmill in case of accidents. For smaller spaces especially, choose a treadmill that will allow you to do so.
Choose the Right Accessories
Unless you're planning on standing and walking all day, you'll need to pair up with a suitable chair. If you have a separate work area for sitting or if your desk is wide enough to accomodate a chair and a treadmill then the solution is more simple.
However, if you'll be sitting on top of the treadmill you'll need to check that the chair fits comfortably and won't damage the belt. Choose a stable base without casters. Check the weight as well.
Balance ball-chairs are a popular choice and work well with treadmills, but there's a whole other range of active seating to choose from.
For additional protection, choose an anti-fatigue mat which will add extra padding to the treadmill belt. These are also kinder to the feet and legs when standing for extended periods.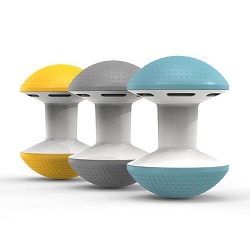 On Your Marks, Get Set…
When you begin using your office treadmill, start off slow and give yourself time to adjust to this new way of working. If you're used to sitting for hours on end, break up your day into small sitting, standing and walking chunks so your body gets used to it.
Wearing the right footwear is extremely important – high heels, spikes and cleats are a definite no-no! Wear shoes which offer good support and comfort and will not damage the belt.
If you have any health issues or concerns, speak to your doctor or other relevant health professional before beginning any new regime.
---
About LifeSpan Under Desk Treadmills – Sum Up
There's a lot to like about LifeSpan under desk treadmills. As we saw from the comparison table in the first section, there's something for pretty much everyone within the range. Let's have a re-cap on the main features :
The TR800 is a little smaller than the other models and has a lower power motor, making this treadmill more suitable for individual use of up to 3 hours per day. The more budget friendly of the 3.
The TR1200 sits in the middle of the range with many of the same features as the TR800, but a little larger and with more power. Rated for all day individual use but could be equally suited to mutliple users if not exceeding the 6 hour daily recommendation.
With a heavier duty motor and construction, the more robust TR5000 is rated as full commercial grade. Can be used for up to 10 hours per day. Ideal for multiple and / or larger users.
There are some good standard features including motor design and function, safety features and warranty. However, the console is a little disappointing. Yes, it's straight forward and easy to use and it covers the basics well enough. But the 4 digit display and lack of memory function let it down. Also the fact that step count is less accurate for lighter walkers.
If controller function isn't top of your list then these niggles probably won't bother you, but if you're looking for a higher tech console click here.
If you're looking for something in the lower price range click here. (You'll need to make some compromises but we've picked the best of the bunch under $500.)
If space is the issue click here to find out about the Unsit treadmill – half the length of most other walking treadmills.
Finally, if you have any questions about active office products or suggestions on what else you'd like to see here, reach out and let us know. We're also interested in hearing about you. Which treadmill did you choose and why? How did you find the transition from sitting to standing to walking at work? Have you noticed improvements in your health and productivity?
You can use the comments box below or email jane@jetofficesolutions.com. Don't forget to come back soon as we regularly update the site and have some exciting new products and interest features coming up to share with you. 
---