Whether you're revamping an old desk or starting from scratch, in today's post we'll share with you some DIY desktop ideas to help you get the creative juices flowing.
In each section you'll find suggested desktop solutions as well as product links so you can take a closer look or browse for further ideas.
Be prepared to create something truly amazing in the final section which is all about your personal style and how to bring it into the office.
You can have a good read through or click on the headings below for a quick link to each section.
---
DIY Desktop Ideas
---
Please be advised that this post contains affiliate links. In partnership with chosen suppliers and as an Amazon Associate we earn from qualifying purchases through these links at no extra cost to you. That's how we keep this website going, allowing us to bring you news, reviews and up-to-date product information. Click here for full disclosure.
---
The Easy Fix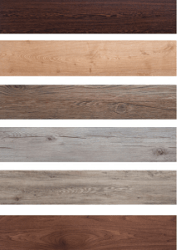 If you're just looking for a desktop to fit your frame whilst keeping costs down, one simple and popular solution is engineered wood. (AKA composite wood or mass timber.) The three main types are plywood, fiberboard and particle board, and these are produced by binding wood particles and fibers with glue.
In furniture production these can be covered in plastic laminate which is moisture resistant, easy to clean and available in a choice of colors and finishes. There are different grades of engineered wood and laminate finish. As with most products, you can expect to pay a little more for higher quality which lasts longer.
You'll find some info below about VIVO and Kaboon desktops. These are each good options as the ranges include different sizes, a good choice of finishes and they're easier on the budget than some other products.
About VIVO Laminate Tops
Regular desktops come in either a 43 inch or 59 inch width and you can choose between 5 color finishes – black, white, espresso, light wood or dark walnut. Prices start from around $75.
If you're looking for something larger, there's also a 63 inch option – available in black, white, walnut or light wood. Note this top comes in 3 pieces and although it fits neatly together, you may still notice the seams slightly. It also has 3 grommet holes for cable management and features a curved front edge.
These tops were designed to go with VIVO bases and have pre-drilled holes to match. But you can still use them with non-VIVO frames – you'll just need to drill your own holes.
All tops are water resistant and feature rounded corners for comfort and safety. VIVO tops come with a 1 year warranty.
About Kaboon Laminate Tops
Kaboon Standard desktops come in a choice of 5 colors / surface textures plus 4 solid colors. Choose 46, 47 or 59 inch widths. Prices start from around $100.
Some tops are lightly textured and some come with a pre-drilled grommet hole so double check before ordering. Standard Kaboon tops do not have pre-drilled holes for the frame or legs.
These desktops have fully angled corners which aren't rounded but they are made with high pressure laminate so they are more durable, scratch resistant and waterproof. Also they can support weights of up to 300 lbs.
Kaboon tops are CARB phase 2 and TSCA Title VI certified, which makes them more "clean air-friendly" due to reduced formaldehyde emissions. They come with a 2 year warranty.
---
---
From Grass…
You may be surprised to learn that bamboo is actually part of the grass family. Here are some other interesting facts about bamboo…
It's extremely eco-friendly – it's the fastest growing plant on the planet which means it's also the most renewable and highly sustainable.
Whilst growing, it absorbs more carbon dioxide and generates more oxygen than most other plants and trees.
It's budget friendly – cheaper than wood and many other desktop options.
As well as being stronger and more durable than wood, it's also lighter, making it ideal for all kinds of uses and projects.
It's scratch and water-resistant.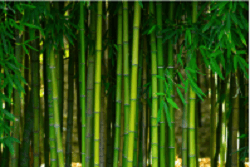 We've highlighted a couple of bamboo options below from Unicoo and FlexiSpot. They are each a little different, but both offer an affordable and naturally good-looking solution.
---
About the Unicoo Bamboo Top
Available in just one size (55.1″ x 27.6″ x 1″) and a choice of either dark or light brown, the Unicoo bamboo top features a melamine board surface which is extremely smooth and waterproof. It costs around $150.
The corners and edges are rounded and there's an ergonomic curve at the front of the desktop plus 2 grommet holes for cable management.
On the under-side you'll find pre-drilled holes which match Unicoo's standing desk frames, but you can simply drill holes for your own frame if it isn't a Unicoo model.
---
About the FlexiSpot Bamboo Top
There are different sizes available from 48 inches up to 72 inches wide. Bamboo tops are ¾ inch thick and prices start from $150.
Made with 100% bamboo and held together by environmentally friendly adhesive which is formaldehyde free. The superior quality tops are mold and deformation resistant.
Choose either regular rectangle shape or go with the ergonomic front curve. (Curved desktops also feature 2 grommet hols to the rear for better cable management.)
---
To Glass…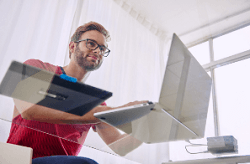 Glass desktops can add a modern and stylish look to your office space. Choose tempered glass as this has been toughened and is up to 5 times stronger than regular glass. It's also more scratch resistant and a minimum thickness of around half an inch is recommended for a standard set-up.
If the thought of ordering glass online fills you with fear, worry not! We've featured below a product from the Spancraft range sold by Glass Tops America. They're a New York based family business with over 50 years' experience of providing top quality glassware for the home and office.
They offere a wide range of shapes and sizes and all of their products are expertly packaged to ensure they arrive in absolutely mint condition. (They're also fully insured just in case.)
About the Spancraft Glass Top
Dimensions are 24″ x 48″ with a ½" thickness. (There's a wide range of other sizes to choose from.) This is a clear glass top with bevelled edges and rounded corners for comfort and safety.
This top would match beautifully with most bases – but it's pretty heavy at around 55 pounds so check that the supporting frame can handle the weight of the top as well as your equipment.
TIP…add adhesive rubber bumper pads to your order for easy installation and assembly when pairing up with your base.
The Block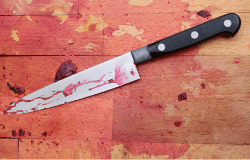 Who said butcher-style blocks were just for the kitchen? Or cabinet tops for that matter. These solid wood solutions are tough, durable and will keep supporting you for years to come.
Some may need a little TLC now and then but others are highly finished, impervious to a number of chemicals and liquids, scratch-resistant, waterproof and very easy to keep clean. Most are on the heavy side as well, so check the weight capacity of your supporting base.
We've chosen a couple of brands below which offer a range of options. You may know Grizzly Industrial for their tools and accessories, but they also have a good selection of butcher blocks, workbench and cabinet tops which could work well in the office.
John Boos & Co has been creating butcher boards and cutting blocks since 1887. Their range has diversified to include kitchen carts, furniture, counter tops and more, all of which are proudly made in the USA. They have an excellent reputation for top quality and craftsmanship. 
About Grizzly Tops and Blocks
The Grizzly line includes wide range of sizes, some of which are fairly large and therefore ideal for bigger work areas. They are also upto 2¼ inches thick, which is useful if you have a lot of heavier equipment to support. (Don't forget to check the weight capacity of your base.)
Butcher blocks and cabinet tops are made with Eastern hard rock maple and coated with Durakryl to give a smooth, low sheen finish. If you're looking for a higher spec finish, you could re-coat before putting to use.
Worktops are made with solid beechwood which is laminated for increased durability. (Sized to fit Grizzly workbenches.)
John Boos…
Again, the Boos range includes a variety of sizes with thicknesses up to 2¼ inches. Butcher blocks would suit more compact spaces but for something larger, check out their counter tops. These go up to 60 inches wide, but they are VERY heavy and cost $$$$. (But they're of exceptional quality and totally beautiful!)
Choose between maple, walnut or cherry wood. All wood is sustainably sourced and most products come with a 1-year warranty.
The counter top featured below is at the lower end of the price range but still offers great quality and an unusual, natural look.
---
---
Create Something Beautiful
---
If your old desktop is still strong and in good nick apart from being a bit shabby to look at, there are some really easy ways to revamp it. We've given some ideas below which work out easy on the budget and don't require the skills of a master-craftsman…
---
First prepare you old desktop – give it a quick clean and smooth down if necessary. Next, get creative with coverings. There's an endless source of ideas and materials which you can use to match your style and really make a statement…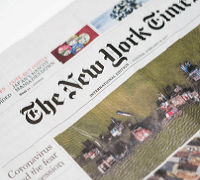 Cover with old copies of newspapers – maybe the New York Times, the Washington Post or Wall Street Journal.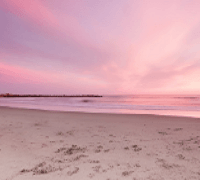 Use pin-up posters of your favourite music act, historical figures, landscapes, seascapes, beach images and so on.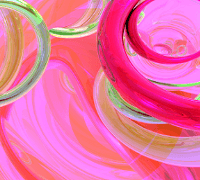 Create your own art – abstract or other – and make it either colorful or low-key to match the tone of your office.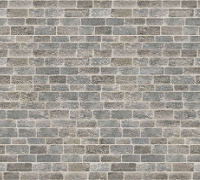 Use wallpaper or plastice vinyl covering to create a textured style top – brick or wood strips look great.
---
When you've covered your desktop you can "mod podge" it. (Mod podge glues and seals and is available from craft stores.) Or you could varnish it for a stronger, more durable finish.
But there's a much easier and quicker option – cover with plastic. You can use rolled plastic which can be cut to size and shape and you simply remove it if you want to update your handywork at any time…
About OstepDecor Protector
The OstepDecor table cover protector is an Amazon Best Seller and is available in multiple sizes from 12″ x 12″ to a whopping 60″ x 120″. (Can be cut to fit.)
You can choose a clear or frosted finish with either a 1.5mm or 2mm thickness. (Thicker plastic offers higher heat resistance.)
This BPA-free PVC is waterproof, oil resistant and anti-scratch. Incredibly easy to clean, the protector is suitable for multiple uses.
(Click on image for a direct link to the Amazon product page.)
---
Designing your own desktop is a great way to really make a statement and create something truly unique which pairs perfectly with its surroundings.
---
The DIY Desktop Ideas Takeaway
Doing It Yourself is a great way of expressing yourself, creating something original and customizing a product which fits exactly what you want with regards to color, size, style and so on. Hopefully our article on DIY desktop ideas has given you a good starting point to work from.
There are many options available for different environments and tastes. Whether you want to go for the natural look, or to create something totally unexpected and unique. The only limit is your imagination. (And perhaps budget.)
But if you're purely DIY-ing to keep costs down, there are some really good standing desks – including the base and desktop – at affordable prices out there right now. Click here to take a look at our top picks under $300. 
As always, we'd love to hear from you so drop a comment in the box below or email jane@jetofficesolutions.com. (We'd also love to see photos of your unusual and unique projects as well.) 
---