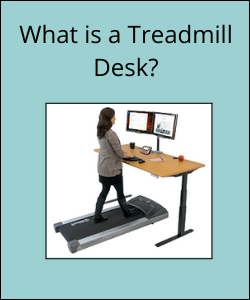 If you're new to the concept of active office furniture then you'll no doubt be wondering – what is a treadmill desk? In this post we'll cover all you need to know about walking workstations – from how the first one came about to choosing the right model for your needs.
We'll take you through the top considerations to be aware of before you buy, along with some useful tips on how to walk and work. We've included links to some other posts for further info, but if you have any questions unanswered reach out and let us know.
---
In This Article…
---
---
What is a Treadmill Desk?
---
"Necessity Is The Mother Of Invention."
This is a great quote, often credited to the visionary Greek philosopher Plato, although some would argue it wasn't him at all. In any case, if necessity is the mother of invention, then Dr. James A. Levine is the father of the treadmill desk – also known as the walking workstation.
If you're not familiar with Levine or his work, he's the man who boldly told us that sitting is the new smoking. He is a global leader in the field of obesity research and related studies including sitting disease. He has proven that increasing the amount you move throughout the day – particularly whilst working – improves body, mind and productivity…and he can personally vouch for that.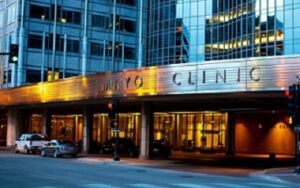 Back in 1999, as a result of his own weight gain, an aversion to going to the gym and his professional interest in obesity, Levine created his very own walking desk by means of a second-hand treadmill and an elevated, telescopic-legged tray table. This allowed him to walk and work at the same time, thereby increasing his activity throughout the day.
When Levine became more active, not only did he lose weight, he "came alive as a person." As Professor of Medicine at The Mayo Clinic, Levine worked with numerous organizations to develop programs encouraging employees to move more whilst working.
With his continued research, a number of modifications and a partnership with furniture manufacturer Steelcase, the world's first treadmill desk was officially launched a little while later in 2007.
Now, you could go ahead and do as Dr. Levine initially did by combining your existing running treadmill with a raised desk platform. This may prove suitable for a temporary solution to give you an idea of how it works and whether or not it's for you. But this solution comes with its limitations and drawbacks.
---
There are several differences between the running and walking treadmill. We'll take a look at them in the next section.
---
About Under Desk Treadmills
---
Speed
The maximum speed for a walking treadmill is up to 4 mph. This may sound slow but when you take a "brisk" walk you're moving at speeds of around 3.5 mph. To carry out desk work accurately and efficiently, a gentle pace of around 1.5 – 2 mph is recommended.
The object of a walking treadmill is to increase your NEAT activity as opposed to breaking a sweat with cardio activity. (See below). This is also why most walking treadmills come without an incline.
Prolonged use at lower speeds isn't good for running treadmills – they're just not built for it and the extra drag will inevitably lead to premature malfunction or burn-out. (Running actually helps to keep the belt and motor moving, thus requiring less power to function correctly.)
Walking treadmills need extra power even though they operate at slower speeds. Their motors are designed for purpose and at the upper end of the scale, the best motors out there will come with a good warranty of 3 years or more.
---
---
Size 
Walking treadmills or base units are usually smaller than regular running machines as they need to fit under the desk and ideally take up less floor space. You'll find that most models come without side rails or handles. Again, this allows the treadmill to fit under your desk.
Also there's less risk of injury from slower walking activity – generally speaking – so safety rails aren't as necessary as they are for faster machines. However, some models come with retractable side rails so you have the choice of using them or not.
On the subject of safety, it's recommended that you leave 3 feet clear to the rear of your treadmill and 2 feet to one side.
---
Noise
Office treadmills need to be quieter so they cause as little distraction as possible for the user and for nearby colleagues. If you use a walking treadmill within your home office set up then noise may still be an issue, especially if you share your workspace with the family.
To give you an idea about noise comparison, the quietest running treadmills start out with a rating of at least 65 decibels. The quietest walking treadmills have a noise level of around 43 decibels. Quite a difference.
---
Console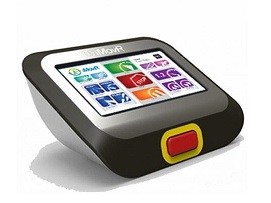 If you choose an integrated treadmill desk, the console is usually built in to the desk itself. These models have a sleek, modern aesthetic which keep more of your valuable desktop space free.
Upper end walking treadmills come with a connected console which you can place exactly where you want on your desktop or underneath the front of the desk. This lets you view your stats (speed, distance, time etc.) and make adjustments where necessary without the need for remote control. 
Other bases feature a built-in console. Most of these are operated by remote control and the display is usually at the front top end of the treadmill. This can be difficult to see when the treadmill is placed under your desk. Some treadmills solve this problem by linking up to a fitness app which tracks your stats as well as allowing you to make adjustments via your smartphone.
---
Click here to take a look at our related posts on walking workstations.
---
About Standing Desks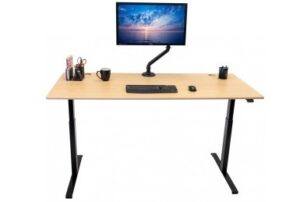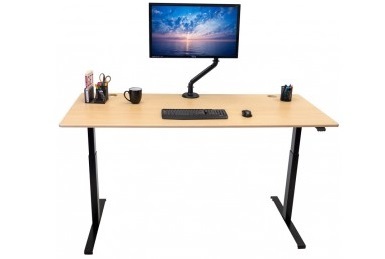 It's as important to choose a good desk as it is to find the right base. For a walking workstation you'll need a standing desk so you have the height you need to walk and work.
Standing desks allow you to alternate between sitting, standing, walking or even cycling. They come in many shapes and forms and are either fixed-height or adjustable.
Fixed height desks stay in one position, so if you're planning on sitting as well as standing or walking at your desk, you'll need a chair which reaches or adjusts high enough to place you comfortably at your desktop.
Adjustable desks can be manual or electric lift. They raise and lower for sitting and standing work. As with fixed height desks, there are models to match different styles, weight capacities and budgets. Again, if you're planning on sitting at your desk as well, choose a good chair for maximum ergonomic benefit.
---
To find out all you need to know about standing desks, check out our other posts here.
---
Perfectly Pairing Your Desk and Treadmill
Taking time to choose the right desk and base unit will be well worth the effort, so be sure to read some of the other posts that we've linked to above. When pairing up, remember to check these key points which may sound obvious but are easily overlooked…
Desk Width
A wider desktop will give you the space to work alongside your treadmill when it's out of use – either standing or sitting.
Unless you have a separate workstation for sitting, slimmer desks will require you to place a chair on top of the treadmill for seated work.
First, make sure your treadmill is built for this. Secondly, choose a chair designed for purpose and thirdly, consider a mat to place under your chair for additional treadmill protection. And of course, make sure your base fits between the desk legs.
Desk Height
Visit Inch Calculator for recommended desk heights – for both seated and standing work.
Find out the "step up" measurement of your chosen treadmill (usually around 5 inches) and add this onto your standing height requirement. 
Treadmill Height
The tallest part of an under desk treadmill is usually the motor casing located top front. If your desk has a crossbar, check the measurements to make sure the base unit will fit comfortably underneath it.
… or Leave it to the Experts
If the idea of pairing up makes you a little nervous, another option is to buy your desk and treadmill together. This way you can rest assured that they were literally made for each other so you don't have to worry about matching them up yourself.
LifeSpan Fitness is one of the market leaders when it comes to the walking workstation. Click here to find out more about their range.
---
Final Factors Before You Buy
If you're ready to join the walking at work revolution, here are some other important factors to consider before you go ahead with your purchase :
---
Your Treadmill…
Check the maximum user weight capacity of your chosen treadmill. 
Is it just for you or will there be multiple users?
How many hours will it be in use every day?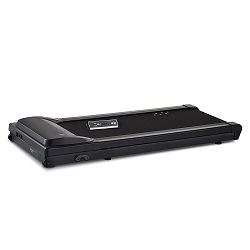 It's important to stay within the weight and usage limits for operational and warranty purposes.
Choose either a light, regular or commercial grade base to reflect your usage.
As you would expect, treadmills with a lower weight capacity which are designed for single users or feature "light grade" bases cost less than more substantial machines.
---
Your Console…
Think about what you want from your console. Do you need to see the display, do you want to track your steps, distance and calories burned? Do you need to set up profiles for multiple users? Do you need Bluetooth for hooking up to a fitness app or for playing audio whilst you walk?
---
Your Desk…
We mentioned desk height before which is one of the most important considerations when choosing a standing desk, but you also need to check the desk weight capacity. Electric lift desks tend to have a higher weight capacity so factor this in when making your final choice.
If you're not ready to say goodbye to your existing desk, a desk converter might be a better solution in the meantime. Find out more about desk converters here but remember to check size, height range and weight capacity if you do go down this route.
---
Your Budget…
Unless you've got an unlimited budget, you'll no doubt need to make some compromises when choosing your treadmill desk. Consider which features are most important to you and which ones you can live without.
As well as the points above, you should also consider noise levels, ease of use, maintenance requirements, safety features, shipping costs, warranty, brand reputation and after sales support.
---
There's a lot to think about when choosing the right treadmill desk, but by doing your homework you're sure to make the best choice for you and / or your team. In the next section we'll take a look at the practicalities of walking and working.
---
How to Walk and Work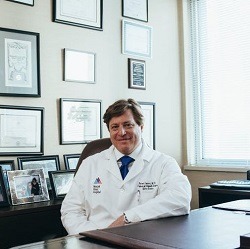 There are ways and means to go from sitting all day to increasing your activity in the workplace without causing strain, injury or undue discomfort.
Firstly, an obvious point – if you have a known health issue which may be affected by increased walking, do the sensible thing and check with your doctor. There are other times when walking more is most definitely not appropriate, e.g. if you have a sprained ankle.
But generally speaking when you begin walking as you work, you can expect to see many improvements to your physical health as well as psychological benefits such as increased motivation and productivity. As Dr. Levine found, you may experience a whole new lease of life and you could well be adding years onto yours.
As with any new health regime, ease yourself into it gently. Give yourself time to get used to being on the move as you work. Alternate regularly between sitting and walking or standing until you can find the right balance for you.
As for total hours you should be on your feet, factor in your age and general fitness, as well as your duties and responsibilities at work; some tasks need to be completed seated. With others, you may experience a totally new level of output and energy if you're on the move.
One of the most important things to remember is to wear suitable footwear. Yes, you may very well see adverts with smart suited, stiletto-heeled executives pacing their way through tele-conferences, but high heels are just not suitable. You need comfort and support or you'll be back on your backside before you know it.
As you're probably aware, the general consensus is that we should be walking 10,000 steps a day. A walking workstation may take a little getting used to, but it's an excellent way to find those extra steps whilst getting the job done. 
---
Check out our post Walk Your Way to a Healthier You for guidance on setting and achieving your personal steps target plus more about the benefits of walking.
---
So, What is a Treadmill Desk?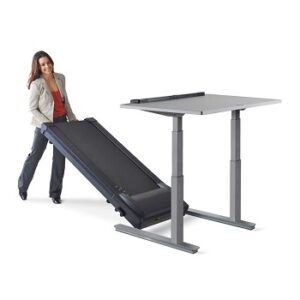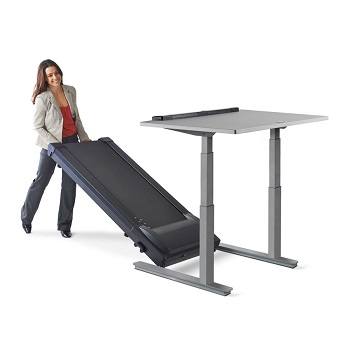 The big question for today's post was "What is a Treadmill Desk?"
To answer that question we looked at the first treadmill desk and how it came about. Since then walking workstations have grown in popularity and there are new base units and adjustable desks coming onto the market all the time.
It's important to understand the main differences between running and walking treadmills and we covered this next, along with some key considerations to think about when choosing the right model for you.
Of course, it's just as important to find the right desk, so as well as taking a look at the basic info above, we strongly recommend checking out our related posts that we've linked to if you're considering buying a standing desk or a desk converter. 
So, does the walking workstation really have a place in the office? We think yes, it does! Even if you're limited on space there are cool, compact models that will get you on your feet without requiring a mega footprint. If space (or budget) isn't an issue, go big, go bold and go for the completely integrated solution. Wherever you find yourself on the spectrum, increasing your activity at work could add years onto your life.
One of the key things to remember is that introducing a treadmill to your work space shouldn't equal hours of huffing, puffing and getting sweaty. With a walking desk, you walk! You take it easy and gently increase your activity levels whilst carrying out your day to day tasks. A walking treadmill is an excellent way to increase your NEAT activity and daily steps.
If you choose the right model for you and introduce yourself to your new regime gradually, you might just surprise yourself – and your boss – by how happy, healthy and productive the new you really is!
As we mentioned at the beginning, if you have any questions unanswered reach out and let us know. We're also interested to hear about your successes. Do you walk and work? Did you introduce your new regime gradually? Have you seen improvements in health and productivity? Drop us a comment or email jane@jetofficesolutions.com.