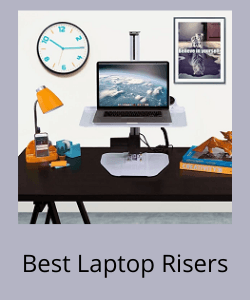 When looking for the right riser or desk converter, the choice is seemingly never ending. If you've only got a laptop to support, this makes your choice a whole lot easier to make. In this post, we've chosen the best laptop riser in each of 4 different categories.
So whether your main criterion is budget, portability, aesthetics or electric lift, we've got you covered. Check out our recommended models to find the best riser for your needs. We've put together a brief buyer's guide which will help you to make the right choice, or you can jump straight to the product section by clicking a heading in the table of contents below.
---
Table of Contents
The Laptop Riser Buyer's Guide
---
The Laptop Riser Buyer's Guide
As you'll see below we've given you the basic specs of each product along with more detailed information followed by the pros and cons.
All of the products we've featured are designed to support your laptop or MacBook, but check the measurements nonetheless to make sure your chosen model is the right size. Also be aware that some risers will support your laptop only, so if you use a mouse make sure there's room for it.
Check that your chosen riser will elevate high enough for you. We've given each model's maximum height so you can add this to your supporting desk measurements when doing the math. We use Inch Calculator for recommended sitting and standing working heights. Another useful resource is the OSHA Computer Workstation e-tool which gives easy to follow instructions on setting up your workstation correctly.
You'll also find the weight of each riser in the specs so make sure your supporting desk can cope with the extra weight. Most are pretty light so there shouldn't be a problem. You'll also see that we've given the price range of each riser. Prices fluctuate with sales and special offers so click on the product image to get the live price and full product page from either Amazon or Standing Desk Nation.
All other relevant information can be found in the details section. We hope you find what you're looking for in this post. If not, we've added some links to our other articles towards the end which you can check out for more ideas and inspiration.
---
Please be advised that this post contains affiliate links. In partnership with chosen suppliers and as an Amazon Associate we earn from qualifying purchases through these links at no extra cost to you. That's how we keep this website going, allowing us to bring you news, reviews and up-to-date product information. Click here for full disclosure.
---
Best for Budget – The CommHub Gas Spring Riser
About the CommHub Riser
The CommHub riser is a very basic but relatively strong x-frame design which can support up to 22 pounds in weight. Adjustment is by means of a gas spring mechanism. The silent pulley system and shockproof spring make adjustment quiet and smooth whilst keeping your supporting desk protected by preventing unexpected bumps and bounces.
The top is made with engineered wood and features rounded corners for comfort and safety. The frame is made with steel and has anti-slip feet to help keep the riser steady and your desktop scratch-free. The CommHub riser is lightweight yet durable and has been rigorously tested for balance, stability and movement.
With a good sized working space and height range, this no-frills, no-spills desk converter would be a good choice for those on a tighter budget. However, it would appear there's no warranty cover offered for this model. Fine if you're planning on occasional light use, but for those looking for something more in the commercial grade, we would suggest a more heavy duty alternative.
PROs – basic but strong and sturdy, lowest price.
CONs – recommended for light occasional use, no warranty information.
---
Best for Portability – The Minder Laptop Tower Stand
About the Minder Laptop Stand
The Minder laptop stand is bought to you by ObVus Solutions and is suitable for laptops or MacBooks from 10 to 17 inches. Essentially, it's a thin aluminum tray which you can raise and tilt to get the best ergonomic positioning. But don't under-estimate this model – it's very strong and super sturdy.
In fact, when adjusting you'll need to use a bit of effort to get it where you want it to be as the hinges are pretty tight, but this is what keeps it so stable when you're working on it. You can be sure the stand won't begin slipping or lowering when you least expect it, and you can trust the Minder to give you the support you need throughout the day.
There's a ventilation slot on the tray to help keep your laptop cool and reduce overheating. When fully collapsed the dimensions are 11.5 x 11 x 2.25 inches. This, along with being extra lightweight at just over 4 pounds means you can take it with you almost anywhere. Ideal for field meetings or working on the go.
All Minder products come with a 90 day warranty which is a little disappointing. However, reviews suggest that this laptop stand will continue to offer sturdy support and reliability long past the 3 month mark. Highly rated by Amazon customers, scoring 4.8 out of 5 stars. Also named "Best Overall" laptop stand by Wired.
PROs – lightweight, compact, strong and sturdy.
CONs – short 90 day warranty.
---
Best Natural Look – The Crew & Axel Bamboo Riser
About the Crew & Axel Riser
This model is a good looking riser made with 100% sustainable, premium bamboo which is eco-friendly and durable. It's also versatile and can be used for your laptop, monitor and keyboard or a combination of these. However, if you're planning on making height adjustments throughout the day with more than minimal kit, this probably isn't the best choice for you.
As you can see, there are 2 shelves and 6 options for shelf positioning. To adjust the height, pull the shelves out and reposition to your desired height. You may need to remove your equipment whilst making adjustments. If you're just using a laptop this is easy enough to do, but with more equipment it's not the simplest or quickest solution.
However, this is a sturdy riser which is well made with attention to detail. It has smooth edges and rounded corners for comfort and safety, there are cut outs for your cables so you can route them more easily and keep them out of sight and the top tier features an accessory slot so you can keep an eye on your phone as you work.
There's minimal assembly required and although the Crew & Axel riser is lightweight at just over 9 pounds, it's not immediately portable unless you disassemble again. Likewise, it's not designed to be easily collapsed for space saving when out of use. This isn't necessarily a problem though because it's pleasing to the eye and would add a touch of natural style to your work or home office.
There's a good customer service team at hand for any problems or queries and the Crew & Axel riser comes with a 1-year warranty.
PROs – beautiful natural look, well crafted, space for extras.
CONs – non-collapsible unless dismantled, may need to remove equipment to adjust, 1-year warranty.
---
Best Electric Mini – The VersaDesk Power Desktop Riser
About the VersaDesk Mini
This post and base style riser was designed specifically for laptops and is ideal for those with limited workspace. The VersaDesk footprint is small, leaving more of your desk space free. The shelf is also on the small side but it will comfortably fit a standard sized laptop, although you'll struggle to fit a mouse on there as well.
The shelf not only adjusts up and down, but also outwards so you can extend it up to 4 inches towards you for ease of use and greater comfort. The motorized height adjustment is by means of a single push button and although this riser operates electrically, it uses very low wattage.
Even with its slim and sleek design, the VersaDesk Mini is super sturdy thanks to its high quality stainless steel and premium T-Molding. Designed and assembled in the USA, there's a patent pending for this riser and it's available in Industrial Black or High Gloss White.
VersaDesk offer an excellent limited lifetime warranty on the frame but just 2-year's cover for the electronic components and motor.
PROs – smooth and easy adjustment, sleek design, lifetime frame warranty.
CONs – only 2 year warranty for electrics / motor, higher price tag.
---
The Best Laptop Riser Sum-Up
Which is the best laptop riser for you? If you're on a budget and planning on light occasional use, the CommHub riser is highly recommended and although basic, it's pretty strong and sturdy.
If you're always on the move and are looking for something a little more portable, perhaps the Minder model by ObVus Solutions is more your style. Lightweight and compact, you can take it almost anywhere.
Or for those with a preference for the natural finish, the Crew & Axel bamboo riser is well crafted and easy on the eye. It also offers a little extra space for your gadgets although it's not so easy to adjust as the other models.
If you're looking for a compact riser with electric adjustment, the VersaDesk Mini offers a smooth and easy transition between sitting and standing and takes up very little space. It's slim and sleek but comes with a higher price tag. 
Or why not take a look at some of our other posts for further inspiration :
As always, we would love to hear from you. Drop us a line in the comments box with your thoughts and feedback or email jane@jetofficesolutions.