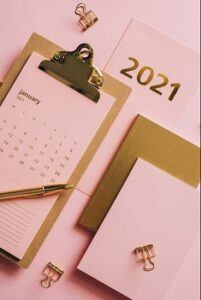 It's almost time to leave this crazy year behind and welcome the next 12 months with open arms. We've put together a list of our top 7 best desk calendars for 2021 so you can get ready and start planning. Let's make next year the best so far and one to remember – for all the right reasons.
Each item handpicked below is a little different from the rest and with a variety of styles and sizes there's something for every office or home. As well as for planning appointments and jotting reminders, don't forget to schedule in some "you" time – with all that 2020 has gifted us, I'm sure you deserve it!
We may well live in a digital age, but you can't beat having your plans and appointments at your fingertips with a cool calendar pad – and you don't need to charge it up! So let's get organised and greet 2020 with open arms and a winning smile! 
Before taking a closer look at our top 7, we've put together a short buyer's guide to help you choose the right calendar for you, your colleagues or your loved ones.
---
The Desk Calendar Buyer's Guide
Very briefly, here are some considerations to help you choose the right desk calendar :
Does Size Matter?
Are you limited for space or are you looking for a jumbo pad to dominate your desk? Will your planner proudly adorn the wall or are you looking for something you can also take out and about with you? How big do your boxes need to be? All the desk pads below are month by month with boxes to write your daily appointments in. Go for bigger boxes if you're a busy bunny. (Or have large writing.)
Is Paper Quality Important?
Will you be using sharpies? Will the whole family be using your desk pad? Are you a heavy-handed note maker? If so, you'll want to look for a higher quality pad that's bleed and feather resistant. If you'll just be jotting a few notes in pencil here and there the quality isn't so important.
Are You Green?
If so, look out for environmentally friendly products – recycled paper and vegetable or soy based inks. Also keep your eyes peeled for manufacturers who have an environmental conscience which is reflected in their materials and manufacturing methods.
Keeping Things Tidy
Does your desk have a lot of traffic? Maybe you'll need protected corners to avoid page curling. Are you a neat freak? (No offense – I am as well!) Look for a calendar with perforated pages so they tear off tidily. No mess please!
What's Your Style?
Are you a minimalist who prefers a no thrills, no spills design or is your desk longing for splashes of color to keep things looking beautiful? Take a look at the different styles and designs below – we're sure there's something for everyone.
---
If you choose the wrong desk (or wall) calendar you're going to be stuck with it for the year ahead. (Or 2 as some cover 24 months.) Now, we're not suggesting that your whole world will fall apart if you choose one that doesn't quite suit your needs, but by taking a few moments to browse through the options below, you could be setting yourself up for a year of happy planning and organisation…and who doesn't need that?
---
Best Desk Calendars for 2021
---
Please be advised that this post contains affiliate links. As an Amazon Associate we earn from qualifying purchases through these links at no extra cost to you. That's how we keep this website going, allowing us to bring you news, reviews and up-to-date product information. Click here for full disclosure.
---
The Maalbok Large Desk Calendar
---
The Reminder Binder 18 Month Desk Calendar
---
The 2021 – 2022 Peanuts Calendar Pad
---
The AT-A-GLANCE Monthly Desk Pad Set
---
The AT-A-GLANCE Jumbo Desk Calendar
---
The Blueline 2021 Coloring Desk Pad
---
The House of Doolittle Seasonal Desk Pad
---
The Best Desk Calendar Sum-Up
If you haven't already ordered your desk calendar, you'd better get a move on! We've just updated this post and time's ticking away but there's still time to get your order in and delivered before Christmas.
As well as ordering for friends or colleagues, treat yourself whilst you're at it so you can be better organized next year. You could even make a note to start looking at desk calendars in October or November!
Finally, here's wishing you the very best for next year. 2020 has been a very difficult year for most – if not all – of us, so give yourself a pat on the back for making it through, and may 2021 be a year filled with much joy, happiness and success.