If you're looking to reduce the amount of hours you spend sitting at your desk each day, a standing desk converter could be the perfect solution for you. But what is a standing desk converter? In today's post we'll be answering that question along with several others. 
Read on to find out about the different types of converter and how to choose the right one for you – everything you need to know, especially if you're planning on buying a standing desk converter for the first time. 
We'll also take a look at the health risks associated with sitting too much plus some other options for standing – or walking – more whilst you work. Sitting less and being more active is a great way to improve your health and productivity, and you may even add years on to your life as well.
---
Your Questions Answered…
---
---
What Is A Standing Desk Converter?
---
In simple terms, a standing desk converter sits on top of your existing desk. You place your keyboard, monitor and other office essentials onto the work surface and either raise or lower it. This gives you the option to either sit or stand as you work.
Standing desk converters are also known as risers, toppers, laptop stands and sit stand workstations. They are sometimes called standing desks as well.
Actual standing desks, however, are different than converters because the whole desktop elevates or lowers by means of lifting columns or legs. (There are also static versions which don't adjust – they're just extra tall desks.)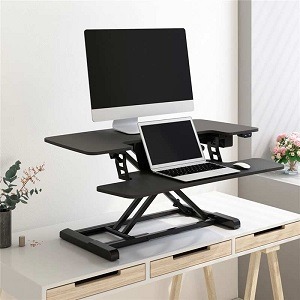 ---
These neat workstation solutions are a great way to get you sitting less and standing more whilst you work.
---
Why do I Need to Stand More?
---
In recent years the number of office workers has increased, along with the amount of hours spent sitting at a desk, usually in front of a screen. Sometimes for 8 or 10 hours at a time. But it's not just in the office that sedentary behavior has increased.
At home, many of us are spending far too long being inactive – whether that's watching TV, gaming, sitting at yet another screen, surfing the web or catching up on social media. Sure, it's good to have a break and chill out in the evening or at weekends, but our combined sitting time – between home and office – means some serious health issues could be just around the corner.
These include back pain, neck strain, poor posture, weight gain, high blood pressure, high cholesterol levels, high blood sugar, increased risk of type 2 diabetes, stroke, cardiovascular disease and more. In addition, sitting for extended periods of time can lead to lower productivity, creativity and motivation, along with lower mood and energy levels.
To reduce or counter these negatives you can reduce the amount of hours spent sitting and introduce more activity into your day. At work, in particular, you can do this by alternating between sitting and standing.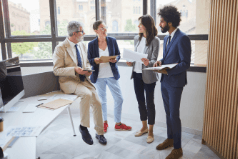 "Research has linked sitting for long periods of time with a number of health concerns. They include obesity and a cluster of conditions …"

See What are the Risks of Sitting Too Much by the Mayo Clinic.
---
What are the Different Types Of Standing Desk Converter?
---
Mobile Laptop Stands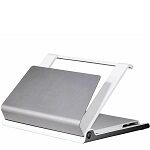 The most basic of converters are generally the cheapest. What they may lack in adjustment options, they make up for in ease of use and portability. They are usually lightweight and are often collapsible.
Some come with a mouse pad attached to the side. Others are mini-desk style, which as the name suggests, are the Mini-Me of desk converters. Imagine a desk on top of a desk. 
---
X-Frame and Z-Frame Models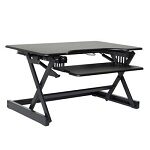 Raise it up a notch (no pun intended) and you'll come across more sophisticated designs such as the x-frame and the z-frame.
These types generally allow for quick elevation and smooth operation. As a rule they are also pretty sturdy and therefore provide you with a solid workstation with little or no wobble.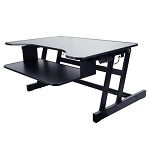 Whereas the x-frame adjusts up and down, the z-frame extends up and out. For this reason, the x-frame uses less space than a comparable z-frame. They usually have a top tier and a keyboard tray but simpler versions are single tier only.
---
Post and Base Risers
These types usually feature a single-tier working area for your keyboard or laptop, and mounts for each monitor which attach to a post at the back of the unit.
Although suitable for single monitor users, these designs are particularly popular with those favoring multiple monitor set ups. Most offer independent monitor adjustment, allowing optimum ergonomic positioning for 2, 3 or even 4 screens.
Their sleek design means they generally have a small footprint and are more suitable for compact work areas.
---
Hovering Converters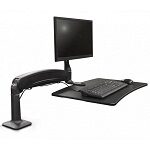 If your job involves a lot of screen-sharing on project visuals, you may want to consider the hovering desk converter.
With this floating design you can simply swing the unit around so your co-workers can see your screens.
In fact the whole unit moves seamlessly from a to b in a second, which is also a bonus if you need to alternate between keyboard work and good old-fashioned paper-work spread across your base desk.
---
Fixed Height or Semi-Adjustable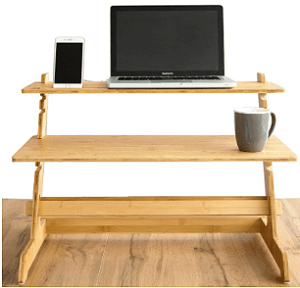 Fixed height or semi-adjustable converters can still offer an elevated workspace, but they're may be less suitable if you alternate regularly between sitting and standing throughout the day. 
You can get around this by having one workstation for sitting and another for standing, or by using a tall, height adjustable seat such as a drafting chair.
Is there a particular design which appeals to you? In the next section we'll cover the key considerations you should be aware of before choosing your converter.
---
How do I Choose the Right Converter for Me?
---
Converters can set you back a pretty penny, so it's important to find the right one for you. To help you on your quest for the best, check out the key points below. When you find a model that matches your requirements in the office – or at home – it will no doubt prove to be well worth the investment.
---
Size Matters
Size and surface area vary considerably from one converter to another. The key points here are pretty straight forward :
What are your working area requirements? Do you need to spread out or are you good with minimal?
Do you work with a laptop only, monitor and keyboard or a combination of these? How many monitors do you need to support? Do you need a keyboard tray?
Check the dimensions of your chosen converter – depth as well as width and height. (Remember that z-frame models extend outwards as well as upwards.) Will it fit onto your existing desk? Will there be space for the rest of your gear if needed – printer, scanner and other peripherals? Is the converter split-level or single-tier?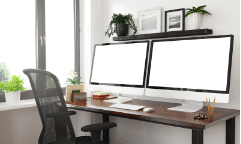 ---
Weight Capacity
As well as making sure you have room for all your equipment, you need to know that your converter can support its weight. Usually electric versions have a higher weight capacity but this isn't always the case. Check how much your kit weighs and that it doesn't exceed your chosen converter's capacity.
---
Converter Weight
You'll also need to know the weight of the unit itself. Check that your existing desk is strong enough to support it. For heavier models, will you need help unpacking and setting it up? If you're planning on using your riser from office to office, opt for a lighter, more portable model.
---
Adjustability
Most converters are adjustable to some degree, but consider which adjustments are necessary for you. Choosing the right model will give you increased productivity, comfort and better health, especially if you spend most of your day at your desk. The key points here are :
How many height settings are there? Double check the minimum and maximum height options, especially if you are on the short or tall side.
Do you need to adjust your monitor(s) separately? – for better ergonomics opt for a post and base style riser or add a compatible monitor arm.
Is there a tilt option for your keyboard? More neutral positioning can help to alleviate hand, wrist and arm pain.
How easy is the transition from sitting to standing and back again? Consider the pros and cons of manual versus electric adjustment – can you manage with a manual model or do you need an electric version to do the work for you? (Some manual converters elevate smoothly with the use of spring lift mechanisms. Others – such as crank lift – require more effort.)
Can you add to or take away from the unit to make it more workable if your needs change? (E.g. is the keyboard tray removable, can you connect an additional monitor arm?)
---
For suggested ergonomic desk and monitor heights – for seated or standing work – visit Inch Calculator.
---
Our Global Environment
Environmental issues affect us all and will continue to affect our children and future generations. There's no getting away from that. If you want to do your bit for the environment, consider the following :
An obvious point, but manual adjustment doesn't use electricity
What materials is your chosen model made from? If wood is used in production is it reclaimed or recycled? Are the materials sourced responsibly? Are they easily renewable? (E.g. bamboo)
How environmentally conscious is the manufacturer? Do they work in partnership with organisations such as the National Forest Foundation? Are trees planted to combat the use of wood? Do they have policies in place regarding the reduction of carbon footprint. (E.g. with solar energy / restricted electricity use?)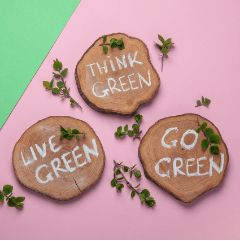 ---
Your Working Environment
A couple of points to bear in mind if you work around others or have a front of house position :
How quietly and smoothly can you make the transition from sitting to standing and back again? Is a noisier model going to drive your colleagues nuts?
Do aesthetics matter? Are you looking for a particularly sleek design? Are there different sizes / styles / colours / finishes available within a particular product range?
Speak to your boss. A responsible employer will encourage reasonable adjustments to your workstation. In some cases you may be entitled to financial assistance towards some or all of the adjustments you wish to make.
---
Final Considerations
There's a lot to consider when choosing the right converter for you. Here are some final points to bear in mind :
Cost – usually at the top of the list when making a buyer's choice. The important thing to remember here is that just because you pay more, it doesn't mean you're going to get the best quality and vice versa. Do your homework and research your options thoroughly. (You're reading this, so you're doing good so far!)
Consider also shipping costs and ease of return if you're not happy with your product. Does the supplier offer a money back guarantee? Is there a warranty in place and for how long. Is there a sound customer service department available for after sales support?
Consider also if the manufacturer is a good employer. In any industry, a happy workforce is a more productive workforce. Looking at the bigger picture, this can mean better quality goods at a lower price.
Some units are ready to go straight out of the box. Others need to be assembled before use. If you need tools or a little help from your friends, have them at hand when your converter arrives.
---
What Other Active Office Solutions are There?
---
The Standing Desk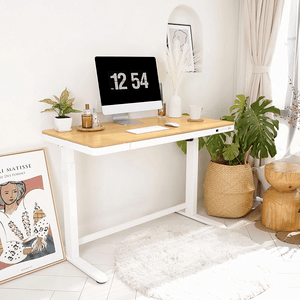 We mentioned standing desks very briefly before, and these are also a great way of reducing your sitting time.
As with converters, standing desks can adjust manually or electrically. Some are basic sit stand workstations. Others hook up to fitness apps, feature activity and fitness tracking and include wireless charging ports.
Check out our recent post on the Best Electric Desks Under $300 to find out more about budget friendly options, along with a buyer's guide giving you all you need to know about choosing the right model.
---
The Under Desk Treadmill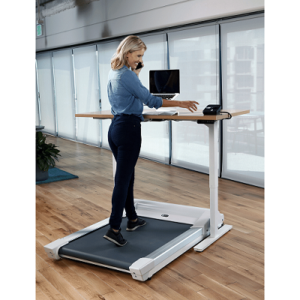 Under desk treadmills allow you to step things up – literally – so you can walk whilst you work. These are available as under the desk units, the most basic of which start from about $200.
At the other end of the scale is the complete treadmill workstation, where the treadmill and desktop are fully integrated. For a high-end model, you can expect to pay around $2,500 plus.
Under desk treadmills are a great way of keeping fit and staying healthy in the workplace. For further information, see the Treadmill Desks tab on the main menu.
---
The Bicycle Desk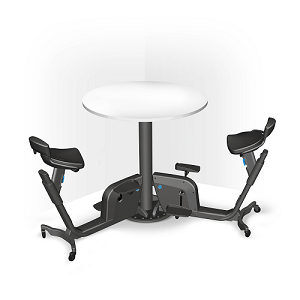 Another option is the bicycle desk or desk cycle. Smaller models fit discreetly under your desk and are simply foot peddlers. At the top end is the complete bicycle / desk combo.
A basic peddler costs from around $20. Upper end combos can set you back upwards of $1500.
Some of the coolest models have small, retractable wheels on the base so you can easily transport your desk cycle from your work space to the boardroom. Who said meetings had to be boring?
---
Takeaway – The Low Down On Standing Up
---
In today's post, as well as answering the question What is a Standing Desk Converter? we also looked at the different types of converter and covered the main considerations you should be aware of when choosing the right model for you.
More of us are spending an increasing amount of time sitting at our desks, and by doing so we could be putting our health at risk. Alternating between sitting and standing at work is a great way to reduce these health risks. In addition, being more active can also improve productivity, creativity, motivation and mood.
There are, of course, other options for being more active in the workplace. These include standing desks, under desk treadmills and desk bikes. As with any new routine or regime, start slowly and work up. Listen to your body and find the right balance for seated and standing work, or any other activities which you introduce to your day.
Check out our other posts on these active office solutions, and let us know what you think. Do you need to start sitting less? Which options appeal to you personally? Leave a comment or email jane@jetofficesolutions.com.
---