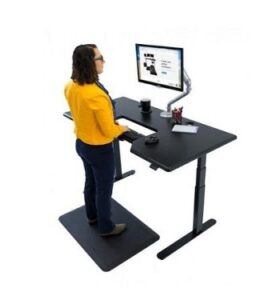 In this iMovR standing desk review, we'll be looking at what you can expect as standard from iMovR desks, as well as giving you an overview of the different ranges available, plus the individual models within each range.
There's a lot of information to take in and our aim is to make the process a whole lot easier for you by doing the research on your behalf and providing you with honest, unbiased and relevant information in the simplest form possible.
With the active office furniture market expanding, there's a heck of a lot more choice out there, which on the one hand is great news for the consumer. But on the other hand, sorting through that information to find what you're looking for can be a major headache.
So, with that in mind, once you've had a read through this article and have an idea of which range might suit your needs, we'll give you a link to our full review for those desks. Here, you'll find more in-depth product information to help you make the best decision for you.
Before we go any further, let's take a look at the manufacturer…
About iMovR
iMovR was founded in 2014 and is part of the Thermogenesis Group. Other subsidiaries include SitLess, an online retailer of office fitness products by iMovR and other well-known companies. (SitLess also has a demonstration showroom for customers to try before they buy, which was the very first of its kind. It's based in Bellevue, Washington)
Office Fitness Media is another subdivision and this company encompasses the website workwhilewalking.com – an office fitness review site featuring iMovR along with a number of other manufacturers and products.
iMovR offers one of the widest choices of office fitness products in the industry including standing desks, desk converters, conference tables and treadmill desks. Their portfolio also includes all manner of accessories such as anti-fatigue mats, monitor arms, power and cable management systems and storage solutions.
As an organization, iMovR continues to go from strength to strength. This is partly due to their customer focus and unmatched ability to offer "the most customizable desks in the world." Their innovative approach to production and design is way up there too.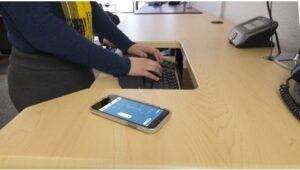 They bought us the "SteadyType" after 2 years of research to offer the most advanced ergonomic keyboard tray on the market today. They use robotic precision manufacturing so their desks not only work smoothly and quietly, but they also look good. The worktops are finished to exact standards ensuring top quality and durability. iMovR also bought us the very first 98% pre-assembled standing desk.
It's fair to say that iMovR are ahead of the game in many ways. Let's take a closer look at what else you can expect.
The iMovR Standing Desk Range
What Comes As Standard
Proudly Made In The USA
Each desk is made in America, so you're assured of top quality products and materials. In addition, most desks are made on demand in Michigan, which plays a key factor in keeping costs and pricing low. It also allows iMovR to offer so many choices for customization.
With the Lander and Freedom series there are literally thousands of combinations to choose from. Simply order your desk, it will be made to your specifications and shipped out within the week. (As well as size, shape and upgrade options, there are 22 laminate colors and 36 solid wood finishes to choose from.)
However, if you're in need of a quicker turnaround, the ZipDesk has fewer options but can be produced to much tighter timescales and literally shipped out within 24 hours. (Due to recent circumstances and increased demand, iMovR have taken to manufacturing a number of their most popular product lines in advance in order to fulfil their new "quick ship" service.)
Certification, Quality and Satisfaction Guaranteed
All iMovR desks are NEAT certified by the Mayo Clinic. This means their use is recognized as contributing to a healthier workforce by reducing the health risks associated with sitting disease.
Most iMovR desks are certified by ANSI / BIFMA for safety, durability and performance. Others meet the standards but are awaiting independent testing.
To demonstrate their faith in their products, iMovR have covered each and every one of their desks with an unbeatable warranty – lifetime cover for the frame, 10 years for the base and 5 years for the desktop. If that wasn't enough, they also offer a 100-day satisfaction guarantee.
Assembly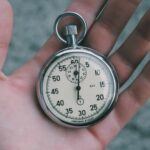 Assembly time for iMovR desks ranges from 3 minutes to 20 minutes, depending on the model – yes, you read that right! Another element of thoughtful design, most of the work is done for you. Simply snap the legs in place and attach the power cord. For some models there's a little more work – such as attaching the feet or joining a side table, but even so, these desks go together quicker than most.
…not forgetting
All desks feature acceleration damping and anti-collision technology.
The height range is very good, as is the maximum weight capacity. (See individual reviews for full details.) In addition to the height ranges detailed below, all models apart from the ZipDesk offer an additional 6 inches when paired with the optional leg extenders.
The control panel is easy to use and you can pre-set 2, 3 or 4 height settings, depending on the model. Lander desks are also Bluetooth enabled.
The lower 48 states qualify for free delivery. International shipping is available for orders over $100.
Now we'll take a look at the different desk series.
 About The iMovR Lander Series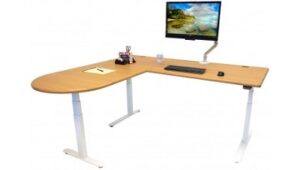 As you can see below there are 4 models in the Lander series. Pictured right is the Lander L-Desk with optional "peninsula" or half-circle finish on the side table.
The Lander and Lander L-Desks have a height range of 24.5 inches to 50.5 inches. With the Lite and Lite Compact you have a choice of bases which offer either 27.35 inches to 47.5 inches or 24 to 50 inches.
All models are available in either 3D laminate or solid wood apart from the Lite Compact which is available in laminate only.
The Lander and Lander L-Desks can be ordered with the SteadyType keyboard tray upgrade.
Model
Depths available
Widths available
Weight Capacity
Starting Price
Lander
30″
41″ – 95″
360 lbs
$1049
Lander L-Desk
Main desk 30″
Side desk 24″ / 30″
65″ – 89″
35″ – 59″
540 lbs
$2048
Lander Lite
28″ / 30″
41″ – 71″
225 lbs
$849
Lander Lite Compact
24″
35″ – 71″
225 lbs
$799
About iMovR Freedom Desks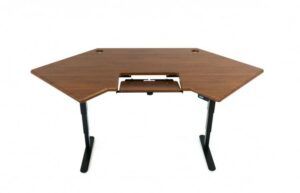 You will see below there are 5 models in the Freedom Series. Pictured left is the Cascade Corner model.
This unusual design offers maximum use of desk space whilst keeping things compact and within reach.
Each of the models has a maximum weight capacity of 267 pounds and there are 2 options for base type giving a height range of either 25.7 inches to 43.8 inches or 21.3 to 47.4 inches.
The main difference between the Energize and Cascade models is that the Cascades feature the built-in SteadyType keyboard tray. 
Freedom desks are only available with the 3D laminate desktop.
| | | | | |
| --- | --- | --- | --- | --- |
| Model | Depths available | Widths available | Starting Price | |
| Energize | 30″ | 47″ – 71″ | $668 | |
| Energize Compact | 24″ | 47″ – 71″ | $638 | |
| Energize Corner | 36″ – 46″ at deepest | 47″ – 65″ | $967 | |
| Cascade | 30″ | 47″ – 71″ | $1023 | |
| Cascade Corner | 36″ – 46″ at deepest | 47″ – 65″ | $1302 | |
About The iMovR ZipDesk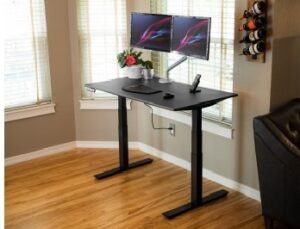 To re-cap, the ZipDesk is light on options but fast on delivery. It's the only ZipDesk and isn't part of a series. (Not to be confused with the iMovR ZipLift desk converter range.)
These are the specs :
Choice of depths : 23.5″ / 30″
Choice of widths : 47″ / 53″
Maximum weight capacity : 265 lbs
Height range : 22.6″ – 48.7″
Starting price : $679
There are no corner desks or L-shaped ZipDesk designs – just the good old rectangle. The SteadyType keyboard tray doesn't feature as an upgrade and the 3D laminate and solid wood worktops are not an option. (This desk comes in powder-coat finish only.) But if you need a good quality desk quickly, you can't go wrong with this "desk-in-a-box."
The iMovR Standing Desk Sum-Up
Before we leave you to look further into the individual reviews, here's a quick reminder of the key points we covered in this post :
We took a look at iMovR as an organization – where they came from, what they do and some of the ways that they are leading the market
We covered what you can expect as standard from their standing desk range – USA made, choices of color, size, shape, finish, upgrade options and starting prices
We then gave you an overview of each series along with direct links to the full review for that particular desk / range.
We've tried to keep this post as short and sweet as possible to help you identify which desk might suit your needs personally. We hope you find the full reviews give you the rest of the facts to help finalize your decision.
If we've forgotten anything, or if you have any feedback or comments on this, or any other post in the site, please comment below or send us an email at jane@jetofficesolutions.com.
That's it for now. Thanks for reading and we hope to hear from you soon!