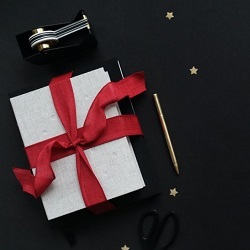 It's that time of year again and as we approach the end of 2020 with sighs of relief – next year HAS to be better right? – we'll soon be enjoying the Christmas holidays. But first, take a look at our Best Secret Santa Gifts Under $20.
If you haven't already bought your office gifts, there's not a moment to lose! But fear not – there's something for everyone on our gift list. Take a look at the whole lot or click on a heading below to go direct to that section.
If for any reason you don't find what you're looking for here, then check out our Best Office Gift Ideas for 2020 where you'll find more budget options at around $20 as well as our executive gift range from around $60 to $100. Happy hunting and happy holidays!
---
The Gift List
---
Please be advised that this post contains affiliate links. As an Amazon Associate we earn from qualifying purchases through these links at no extra cost to you. That's how we keep this website going, allowing us to bring you news, reviews and up-to-date product information. Click here for full disclosure.
---
---
---
---
---
---
---
---
---
---
Didn't find what you were looking for? Remember you can check out our Best Office Gift Ideas for 2020. (Including our top 10 budget picks at around $20 plus our executive gift range from around $60 to $100.)
---
The Secret Santa Sum-Up
So what do you think about our Best Secret Santa Gifts Under $20? We think there are some corking pressie suggestions here….but we're biased so don't just take our word for it. Show this post to your friends or email it to your co-workers. Or don't say a word and watch them gasp in disbelief as you show them, once again, that you're the gift selector with a difference!
As you may have noticed, many of the gift ideas are great for relaxation, reducing stress and improving the mood. We live busy and demanding lives and spend many hours at work, so we hope you've found something for your office and co-workers which will add a little sparkle and light relief in this festive season and beyond.
Our featured products and suggestions are suitable for giving on any occasion – not just for Christmas – so be sure to bookmark this page so you can come back to it anytime you're in need of a little inspiration.
Let us know what you think. Which presents did you choose? Which ones are you hoping to receive – either from your co-workers, friends or your family? Drop us a comment in the box below or email jane@jetofficesolutions.com.
Finally, allow us to wish you the very best for the holiday period. Enjoy the break, have a good rest and carry on being awesome!