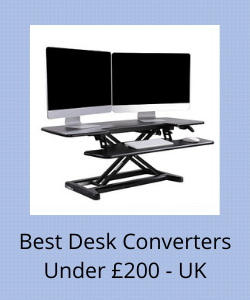 If you spend more than 6 hours sitting at your desk each day, there's a good chance that your health and productivity will suffer. The experts are telling us to alternate between sitting and standing throughout the day, but what are your options on a limited budget? We've put together 5 of the best desk converters under £200 to show you.
Each of the products featured below have something a little different to offer, but they are all good value for money and have been handpicked to help you to reduce your sedentary behaviour to keep you healthy and happy at work.
Before we show you our top 5, we've put together a buyer's guide which we recommend you read before making the final decision on which converter might be the best match for your needs. If you're short for time right now though, you can click on one of the headings below to jump straight to that section.
---
Table of Contents
---
---
The Best Desk Converter Buyer's Guide
---
What is a Desk Converter
Put simply, a desk converter is an add on to your existing desk which allows you to elevate and lower your equipment in order to alternate between sitting and standing throughout the day. More commonly known as a standing desk converter and also as a riser, topper or laptop stand, there are many types for different uses, budgets and spaces.
In our modern world we are sitting more than ever and this increase in sedentary behaviour can cause aches, pains, poor posture and weight gain. It can also contribute to more serious problems such as type 2 diabetes, cardiovascular disease and even premature death.
Alternating between sitting and standing at work can help to fight these negative effects. It can also improve circulation, mood, energy, motivation and productivity. A standing desk converter is a great way to get up and get active. Click here to find out more about the different types of desk converters and their benefits.
---
Other options for reducing your sitting time at work are standing desks. These can cost quite a bit more than regular desk converters, but there are some great quality, budget models out there. Check out our post Best Electric Desks Under £300.
---
Choosing The Right Converter
When you take a look at our recommended converters, you'll see that we've given you a snapshot of each in the "At a Glance" section, along with more detailed information in the "About" section. Here's what we've covered in each spec to help you choose the right converter for you :
Dimensions
Here you'll find top tier and keyboard tray dimensions. Note that these are the maximum dimensions based on rectangular desktops. As you'll see from the product images, some tiers lose space at the front, back or sides due to shape and design so check to make sure your equipment will fit. Take actual measurements as some images can be misleading. 
Generally the top tier is used to support 1 or 2 monitors. The keyboard tray or lower tier is designed to support a keyboard. With some models you have enough room for a laptop on the lower tier and if you use monitor mounts you can free up more space on the upper tier for a laptop, tablet and so on.
So there's a degree of flexibility regarding what goes where, but you should be aware of correct ergonomic set-up otherwise you risk causing aches, pains and long term injury.
We've listed some resources towards the end of this article for further reading and information. In the meantime click here for some straightforward guidelines on workstation set-up, including recommended heights for sitting and standing which we'll cover more in the next section.
We've also given you the base dimensions or the "footprint" of each converter so you can ensure you have the actual desktop space for the unit to sit on securely. Checking to make sure your supporting desk is large enough sounds like an obvious point, but it's one that can easily be overlooked. 
Height
The height range quoted for pretty much all desk converters is the minimum and maximum height of the upper tier. Yes, that's a useful measurement, but if you plan on working from the keyboard tray you need to know the height of this tier so you can assess whether or not your chosen converter will raise high enough for you – particularly if you are taller than average.
For that reason, we've given you the maximum keyboard tray height along with the recommended maximum user height for this lower tier. We use Inch Calculator for these recommended measurements, but please remember that they are guidelines. We would suggest taking actual measurements as well.
Please note these measurements are based on an average supporting desk height of 76cm. You'll need to adjust height requirements if your desk is lower or higher and also if you wear heels or use an anti-fatigue mat, balance board, under desk treadmill etc.
Weight
We've given you the unit weight or actual weight of each converter. This is useful for checking that your supporting desk can handle your kit and converter. If your desk isn't particularly strong or has a low weight capacity, your set-up won't be sturdy and you'll be working with a wobble.
We've also given you the weight capacity of each converter. If you exceed this by placing too much weight on it there's a good chance you'll end up with a broken converter with a null and void warranty. 
The weight capacity of our top picks ranges from 15kg to 17kg. If this isn't enough for your kit you could opt for an electric converter or a height adjustable desk. These tend to offer higher weight capacity but also come with a higher price tag. 
Additional Information
All of our chosen models feature manual height adjustment by means of a gas spring mechanism. You can raise or lower with very little effort by gently squeezing the handle(s). (With some converters you'll need to use a little pressure when lowering back down.)
The converters featured fall into 2 categories – x-frame and z-frame. The difference is that the x-frame models simply adjust up and down. The z-frame models adjust up and towards you or down and backwards. Bear this in mind if you have a narrow space to work in.
Consider the warranty period for each converter when making your final decision. (We've included this information in each product section.)
At the time of publishing all models were under the £200 price tag. For live prices and a direct link to the Amazon product page click on the converter image in each spec. 
---
Now to take a look at our top 5….
---
The Best Desk Converters Under £200 – UK
---
Please be advised that this post contains affiliate links. In partnership with selected suppliers and as an Amazon Associate we earn from qualifying purchases through these links at no extra cost to you. That's how we keep this website going, allowing us to bring you news, reviews and up-to-date product information. Click here for full disclosure.
---
Pick #1 – The Flexispot Converter (Small)
About The Flexispot Converter
For our first pick we've chosen a small, x-frame model which would be suitable for more compact work areas whilst still offering plenty of space for a good sized monitor on the top tier and a full sized keyboard on the lower tier.
It's made by Flexispot which is a reputable company and their ergonomic office products are extremely popular in Europe as well as the US. (In addition to this model they make a wide range of converters of different sizes in a choice of manual or electric lift. )
This converter is mainly pre-assembled; you just need to attach the keyboard tray which is really straightforward and should take only a minute. Once on, the tray can be quickly removed again for when you need more workstation flexibility to suit your changing needs.
This model is priced at under £150 and Flexispot offers a 5-year warranty on the frame and desktop and 3-year cover for the gas spring and other mechanisms.
PROs – compact, good brand, removable keyboard tray, great warranty.
CONs – less desktop space.
---
Pick #2 – The Ergomaker Converter
About The Ergomaker Converter
With our second pick by Ergomaker, the top tier and keyboard tray dimensions are exactly as stated due to the rectangular tiers which lose nothing to the sides, rear or front. There's an extra wide accessory slot at the front of the top tier so you can keep your tablet or phone in sight as you work as well.
This x-frame model has one of the highest maximum keyboard settings and is recommended for users up to around 6 feet 4 inches tall. However, please remember that these are guidelines and we suggest you physically measure up, especially if you're taller than average.
Assembly should take between 2 to 5 minutes and involves only attaching the keyboard tray. At the time of publishing this model was priced at just under £150, although it usually retails at the top end of the £200 price bracket.
There's 3-year limited warranty cover and a dedicated tech team for any after sales questions or issues.
PROs – good working space, great maximum height, good warranty.
CONs – usually priced at top end of price range.
---
Pick #3 – The Fitueyes Converter
About The Fitueyes Converter
Our third pick is by Fitueyes, another popular and growing brand which delivers good quality at low prices. In fact, this is the best converter for budget, priced at around £125.
As with the previous model, the Fitueyes converter has an x-frame design and is recommended for users up to around 6 feet 4 inches tall. However, due to the design of this model a little workspace is lost due to inward curves at the front of both tiers and the rear of the keyboard tray is less than 80cm.
Again, there's an accessory slot for your phone or tablet and this converter is made with high quality MDF with a scratch resistant and waterproof finish so it's durable and easy to clean. There are also rubber pads on the feet for stability and to protect your supporting desk.
The Fitueyes converter comes with just an 18-month warranty but extra protection cover is available through Amazon at an additional cost for 2 or 3 years.
PROs – great price, great height range, high quality materials, well known brand.
CONs – short warranty period.
---
Pick # 4 – The Ergoneer Converter
About The Ergoneer Converter
Our fourth pick by Ergoneer is a sound all-rounder. It has a good height range and the top tier is a good size, although the keyboard tray is one of the smallest in our feature. 
What makes this model different to the others is the retractable keyboard tray. On the other models it's static and although the Flexispot converter features a quick release and remove keyboard tray, with the Ergoneer you can simply slide it in or out as required.
Another point to be aware of is that this model has a z-frame design which means you'll need enough space to accommodate the overhang from the converter when it's elevated. (X-frame designs simply move up and down. Z-frame converters move up and out when raised and down and back when lowered.)
There's a grommet hole to the rear to help keep your cables tidy or for a monitor mount if you want to free up some workspace. The Ergoneer converter is ready to go straight out of the box and there's a 3-year warranty. You can expect to pay between around £135 – £145 for this model.
PROs – good all-rounder, retractable keyboard tray, good warranty.
CONs – small keyboard tray.
---
Pick #5 – The Duronic Converter (Large)
About The Duronic Converter
Our final pick is the biggest of the bunch and is also a z-frame design, so be sure you have enough room to accommodate the width and also the outward space requirements when this converter is elevated. This is also the heaviest model in our feature so make sure your supporting desk can handle the weight of the converter as well as your equipment.
As you'll see from the image, both tiers lose a little space at the front and the keyboard tray is slimmer towards the rear. Even so, this model can easily fit 2 x 24 inch monitors on the upper desktop. However, if you're looking to regain some space Duronic offer a range of compatible monitor mounts so you can free up that top tier. 
Duronic also offer a range of converter sizes and this model is available in white as well. Ready to use straight out of the box, this converter is in the £150 range – although the white option is priced at a  little less.
We really like this strong, sturdy and large converter. However, there's only a 1-year warranty for this model which is a little disappointing. Extra product protection is available through Amazon.
PROs – large size, heavy and sturdy.
CONs – lowest keyboard tray max. height, heavy unit, 1-year warranty.
---
The Best Desk Converter Takeaway
We've covered quite a lot in this feature so let's summarise the key points :
First of all we looked at what a desk converter is, what it does and how it can help us to reduce sedentary behaviour in the workplace. Sitting less can improve our physical health. It can also help us to improve productivity, mood, motivation and energy…who doesn't need that right now!
We also covered some important factors to be aware of when choosing the right converter including – dimensions, height, weight, warranty and of course price.
Hopefully this information along with the individual product specs has helped you to identify which converter matches your needs best. Here's a reminder of what our top picks have to offer :
The Flexispot converter – small and ideal for more compact spaces, from a well-known brand and with a great warranty
The Ergomaker converter – a good size, great maximum height, good warranty but usually at the top end of the price range
The Fitueyes converter – a good converter, best for budget but with only an 18-month warranty – remember you can bump up your cover for a small additional cost
The Ergoneer converter – a great all-rounder with a good warranty but one of the smaller keyboard trays
The Duronic converter – great size, heavy and solid…but will the weight be a problem for your supporting desk? We're waiting on warranty details so we'll update this post as soon as we have that information.
We also mentioned additional resources to help you assess and set up your workstation correctly. Here are some direct links that you should find useful :
Finally, if you have any questions, don't be afraid to reach out and ask. You can either leave a comment in the box below or email jane@jetofficesolutions.com. Likewise, we'd love to hear about you – which converter have you chosen and why? How much time do you spend sitting and standing at work? Have you noticed any improvements since sitting less? Drop us a line.
That's it for now. We regularly add posts and articles so come back soon to see what's new!