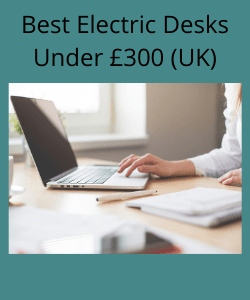 Choosing the right standing desk can take up a lot of your time, so as always we've tried to make it a little easier for you. In this post we've picked 3 of the best electric desks under £300 which retail in the UK.
They all offer value for money with a good height range and a decent desktop size. As you'll see below, we've given you an "at a glance" snapshot of each desk along with more detailed product information. 
We've also put together a buyer's guide with questions, answers, tips and considerations to bear in mind before you part with your hard earned cash so do take a look, especially if you're buying a standing desk for the first time. 
Short on time right now? No problem. Simply click on one of the headings below to jump straight to that section. 
(If you're reading this in the U.S. click here to see our Best Electric Desks Under $300 where you are.)
---
Table of Contents
---
The Best Electric Desk Buyer's Guide – Read Before You Buy
Q – What Can You Expect For Under £300?
The Desktop
When it comes to electric standing desks, the options for under £300 are limited. You can expect to pay less for some manual desks – crank operated in particular – and many standing desk converters come in at less than a fully adjustable desk unit. (We'll be covering these in more detail very soon.)
But if you're looking for an electric desk within the budget range, we've chosen our top 3 picks wisely. The models we've chosen for this feature each have a good sized desktop. There's not a great deal of difference between them with widths between 110 and 120 cm (that's around 3½ to 4 feet to the old-schoolers out there) and depths of 60 to 80 cm (i.e. around 2 to 2½ feet.)
Each of the desktops are made with engineered wood with a laminate finish. The chances of finding a solid wood desktop in this price bracket with an electric base are slim – if you do find one, let us know! But nonetheless, the desktops are pretty good quality, the finish is pleasing enough to the eye and there are a few different colour options as well.
The Frame & Controller
The frames are also good quality with a limited choice of colours. The controllers on these models range from super simple i.e. with an up and down button only, to slightly more complex with 3 or 4 memory height settings. 
Note with these models they will not track your standing or activity time which isn't generally an issue if you're simply alternating between sitting or standing throughout the day – although with the Flexispot desk you can set sit-stand reminders. However, if you're planning on using your desk with an under desk treadmill in order to ramp up your activity, you may prefer a more hi-tech controller which can help you to set and monitor your targets.
Q – How Tall Is A Standing Desk?
Because the desks are adjustable, we've given you the minimum and maximum height of each, and each of our top picks can be set at any height within that range.
We've also given you the maximum recommended user height which is useful if you're taller than average, although again, each of the models featured have a good range and should be suitable for users of 6 feet 5 inches to 6 feet 7 inches tall as a maximum. (Remember to factor in extra inches for heels, standing mats, balance boards and so on if necessary.)
We use Inch Calculator to check recommended measurements. As well as giving recommended heights for desks, you can also find out about other ergonomic workstation guidelines such as monitor height and chair positioning, so it's well worth taking a look to check that your workstation is set up correctly.
Q – Which Desk Is Best For You?
As well as dimensions, frame, controller and height range, there are a couple of other factors to consider when choosing the right desk.
Weight Capacity
Make sure your chosen desk will support your equipment – we've given you each desk's maximum weight capacity. Once again, there's very little difference between the 3 featured models and they should all provide ample support for the average office set up.
But if you have a lot of equipment or if you have some heavy gear in your kit, make sure you don't exceed the maximum weight. If you do, not only do you risk causing undue wear and tear or possibly malfunction to the motor, but the warranty will be null and void.
Warranty
As you'll see below, there's a bit of a difference between the warranties in this feature and this is reflected in the desk price. If you intend to use your desk for lighter, more occasional use it's less of a risk to go for the lighter warranty and lower price tag. But if you're intending on more regular use with heavier equipment it's certainly worth considering the top end of the price range for better warranty cover.
---
Finally, before we take a closer look at our chosen 3 please note that all products are priced under £300 at the time of publishing this post. However, prices tend to fluctuate at sale times or as new products come on the market.
For that reason we've given you the price range for each model. For live prices click on the relevant image for a direct link to the Amazon product page where you'll also find up to date information about shipping and delivery time frames.
---
Please be advised that this post contains affiliate links. As an Amazon Associate we earn from qualifying purchases through these links at no extra cost to you. That's how we keep this website going, allowing us to bring you news, reviews and up-to-date product information. Click here for full disclosure.
---
Pick # 1 – The Homall Desk
At a Glance
| | |
| --- | --- |
| Desktop width | 110 cm |
| Desktop depth | 60 cm |
| Height range | 72 cm – 120 cm |
| Max. user height | 6'5″ |
| Max. weight capacity | 70 kg |
| Price range | Around £215 inc. delivery |
About the Homall Desk
Our first pick is the best for budget coming in at around £185 but the delivery charge bumps up the overall cost. It has a grey desktop with a black frame. We like this as it gives a modern, industrial look. It's also available with a brown or black desktop, both of which currently retail at £10 less than the grey, so you can shave a little off the price tag with these options.
The corners of the desktop are rounded for safety and there's a grommet hole cut to the rear to help keep your cables tidy and out of the way. The frame is made with strong, industrial grade steel which will keep the desk sturdy, even at the highest setting. The pack includes 4 rubber levellers for the feet which also serve to protect your floor.
The controller has an LED screen and you can adjust the height by the up and down buttons or there's an option for 4 memory pre-sets. Adjustment is smooth and quiet and the motor operates at less than 45 decibels with an average speed of 38 mm per second.
Assembly is a 2 person job and should take around 40 minutes. This model comes with a 1-year warranty.
PROs – lowest price, 4 memory pre-sets.
CONs – smallest desktop, only 1-year warranty.
---
Pick # 2 – The Allcam Desk
At a Glance
| | |
| --- | --- |
| Desktop width | 120 cm |
| Desktop depth | 80 cm |
| Height range | 73.5 cm – 123.5 cm |
| Max. user height | 6'7″ |
| Max. weight capacity | 80 kg |
| Price range | Around £297 inc. delivery |
About The Allcam Desk
For our second pick we've chosen a black top made with commercial grade MDF which is stronger and more durable than standard grade. The top is also available in beech or white, but the beech option costs an extra £10 and will take you over the £300 mark including delivery. 
The frame is made with heavy duty steel construction and is powder coated light grey. With the Allcam desk the frame is extendable which gives you more options if you decide to change the desktop at a later date. Fully extended it can reach a width of 125 cm, making it suitable for a desktop up to 160 cm wide.
The controller and motor are designed and merged as a single unit. This ensures a more reliable connection whilst at the same time helping to reduce production costs. Height adjustment is by means of either an up or down button. Nice and simple, but there are no options for pre-setting your favourite heights.
Allcam desks come with a 5-year warranty which is the best within our top 3 picks. It also just beats the other contenders with the highest weight capacity.
PROs – single unit motor and controller, extendable frame, 5 year warranty, best weight capacity.
CONs – no memory pre-sets for height, upper end of price range.
---
Pick #3 – The Flexispot Desk
At a Glance
| | |
| --- | --- |
| Desktop width | 120 cm |
| Desktop depth | 60 cm |
| Height range | 73.5 cm – 123.5 cm |
| Max. user height | 6'7″ |
| Max. weight capacity | 70 kg |
| Price range | Top of range / free delivery |
About the Flexispot Desk
The Flexispot E1 model pictured has a light, natural maple finish which is nicely matched with a white frame for a clean, minimal look. Also available with a black or silver frame and the desktop choices are black, white and mahogany.
The desktop is made with engineered wood which is responsibly sourced and has a laminate finish. Flexispot desks are also CARB phase 1 and Environment Protection Agency compliant. This means they have met requirements in relation to product emissions and are therefore more environmentally friendly.
The steel frame is extremely sturdy and height adjustment is smooth and quiet at 50 decibels. The average lift is 25 mm per second.  You can change the height manually with the up and down buttons or pre-set up to 3 of your preferred heights with the memory option. There's also an alarm for sit – stand reminders to help you to stay healthier throughout the day. (This feature can be disabled.)
Flexispot is a reputable brand and their products are very popular in America. They offer a 3-year warranty on all standing desks covering the frame, desktop and mechanisms.
PROs – enviro-friendly, 3 memory pre-sets, sit-stand reminder function, 3-year warranty.
CONs – top of price range.
---
The Best Electric Desk Sum-Up
Although the options are limited, we've picked 3 of the best electric standing desks under £300 which are available in the UK. (If you're reading this in the US click here for our best desk feature.)
Hopefully you took a look at our buyer's guide where we covered some important information and considerations including :
What you can expect for under £300
Adjustable standing desk height
Other factors such as weight capacity and warranty and
Setting up your workstation correctly.
Once you have a good understanding of these points, it's much easier to choose the right desk for you. Each of the desks we've featured here are good desks and are similar in many ways, but they each have something a little different to offer. Let's have a recap :
The Homall Desk is the most budget friendly option but the desktop is a little smaller than the others. There are 4 memory height settings which is useful for easier adjustment, but this model comes with only a 1-year warranty.
The Allcam Desk has a combined motor and controller unit, an extendable frame, a 5-year warranty and the highest weight capacity. However, there is no memory function on the controller and this desk is close to the top of the price range.
The Flexispot Desk meets environmental standards, has 3 memory height settings, a sit-stand reminder function and a 3-year guarantee. Flexispot is a popular brand with a wide range of ergonomic products. This model is at the top of the range for price.
If you didn't find what you were looking for in this post, you may need to increase your budget or consider a manually adjustable desk or perhaps a standing desk converter. We'll be covering these options in more detail soon.
If the concept of standing at work is fairly new to you, take a look at some of our other posts to find out more :
If you have any questions or comments, don't be afraid to reach out – we'd love to hear from you. Either leave a comment in the box below or email jane@jetofficesolutions.com.