As part of our Wellness at Work series we're going to give you some tips on how to meditate in the office and some resources to get you started.
People have all sorts of funky ideas about meditation, so we'll start off by taking a look at what it really is and who it's for. Next we'll cover the main benefits before we dive into some simple methods and how you can make them part of your day.
We covered meditation briefly in our Yoga in the Workplace post, but in this article we'll take a look at it as an individual practice to help keep you in balance wherever you are and whenever you need it.
---
In This Feature…
---
What Is Meditation?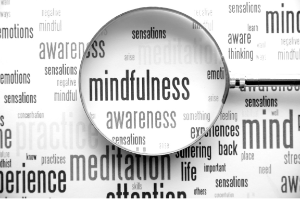 Quite simply, meditation is a practice where you set aside an amount of time to adjust your conscious state.
For example, if you're stressed you can use it to calm down. If you're feeling overwhelmed you can use it to get things in perspective. If you're feeling tired you can use it to boost your energy. If you're feeling happy you can use it to amplify your gratitude and joy.
There are different types of meditation but essentially they have the same purpose whether you're walking, chanting, visualizing or listening to audio. (Further on we'll be talking about guided meditations – a good place to start for beginners.)
Meditation and mindfulness go hand in hand and meditation is a great way to develop this very beneficial characteristic. Being mindful means being in the moment, releasing the stresses of the past and putting future problems and worries on hold…just for now. It also means being non-judgmental, kind and accepting – of the self and others.
---
Who is Meditation for?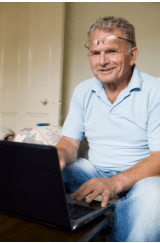 Meditation is for anyone and everyone. Although it's connected to a number of religions, you don't need to be religious to practice. You could spend a lot of money on cushions, singing bowls, yoga pants and trips to the foothills of the Himalayas to find yourself, but this really isn't necessary. Anyone can enjoy meditation for free.
You can practice meditation regardless of age. If you've got kids you probably just had a "yeah right" moment, but there are different programs and classes designed for ALL ages. (I could've used these during the meltdown stage.) If you've got an elderly relative who's lonely, show them some meditation apps or give it a try together. Help them to fill a void in their life by finding inner happiness.
I could go on but let's take a look at the average office worker. What does their day involve? Certainly time management is way up there – prioritizing tasks, striving to obliterate the to-do list, achieving targets – financial or activity. Constantly juggling, multi-tasking, thinking a thousand thoughts and generating new ideas.
Most of us are customer-focused in one way or another – whether dealing with the people who buy our goods or by maintaining inter-departmental relationships within the company. Being good at client relations involves analyzing past performance and anticipating future opportunities and threats.
Being successful often involves being ruthless, competitive, aggressive, tenacious…surely not the traits of a mindful meditator? But that's the beauty of meditation. It can give you a little breathing space, a temporary suspension from your working self, an opportunity to take a step back. You can use this time to regroup, reassess and refuel.
---
By practicing meditation and becoming more mindful, there's a whole heap of benefits just waiting to make your life better.
---
The Benefits of Meditation
There's a long, long list of benefits associated with regular meditation. We've given some examples below :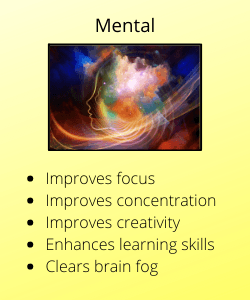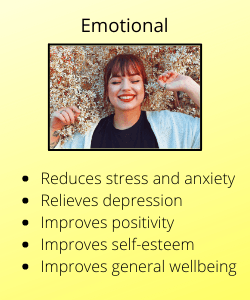 From a spiritual angle, regular practice can increase your sense of fulfilment, help you to gain a clearer understanding of your calling or purpose, give you a deeper sense of gratitude, improve your acceptance of yourself and others and enable a deeper connection to your God / the universal consciousness / all that is.
---
To find out more take a look at Healthline's article "12 Science-Based Benefits of Meditation."
---
How to Meditate in the Office
If you're new to meditation, guided audios are a great place to start. Where possible, find a quiet place to sit or lay down – ideally away from distractions or interruptions. If you share an office, tell your colleagues that you'll be taking a break and ask them not to disturb you. (Perhaps they'd like to join in as well?) If you can, silence your phone and any other gadgets.
Choose your meditation track (see next section), put your headphones on or play out loud and follow the recording. That's it. 
TIPS :
Don't expect your mind not to wander.
Start small and build up – you'll find it easier with practice.
If you meditate laying down, set an alarm incase you fall asleep. (Trust me on this one!)
Make sure you're in a safe place if you are likely to nod off.
Experiment with different types and styles.
We're keeping this section short and sweet so the recommended audios can do the talking…enjoy!
---
Guided Meditations for the Workplace
We've chosen 3 websites with a range of resources to help you bring meditation into the workplace and beyond. They are each a little different so take a look around to discover which might work best for you.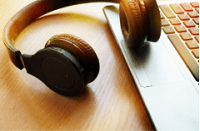 This is an amazing site…we're totally in love with it! As well as free guided meditations (over 70,000) you'll also find yoga classes and live events happening all day every day. There's an option for paid membership as well where you can get access to over 700 additional premium courses. (If you want to try before you buy there's a 30-day free trial.) 
There's no pressure to sign up for the paid option, but if you're enjoying the free resources donations are welcomed to help keep the site running.
Click on the links to take a closer look at the following recommended topics :
Workplace – almost 200 meditations to choose from including meeting preparation, peak performance, leading with purpose and manifesting a new career.
Stress – here you're spoilt for choice with over 3,000 audios for accepting and letting go, self-compassion, overthinking, calming the worried mind and more.
The Richard Scott collection – this includes the "Mentalfloss" series featuring short meditations for productivity, stress, loving yourself and others, quick relaxation and discovering your purpose. (Less than 5 minutes each, so easy to squeeze into a quick break.)
You'll also find an Insight Circles section where you can sign up with your colleagues for group sessions – whether you're near or far, either company-wide or as a small tribe. Great for those who are struggling with remote working and feelings of isolation.
There's so much more on this site – take a look and let us know what you think. 
---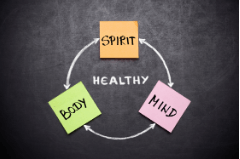 This is a 100% not for profit organization with a mission to "provide accessible, life-long tools to support healthy minds." Smiling Mind is Australia-based with a range of programs designed for schools, homes and businesses. (Contact kate@smilingmind.com.au to find out more about workplace programs.)
Courses and workshops are available locally and globally through extensive online resources and materials. They are expertly designed by psychologists and educators to help bring balance and mental wellness to all. Simply create an account to enjoy free access to a range of meditations. 
Of the free resources, we particularly like the following which you can find under the "All Programs / Adults" tab :
Daily Commute – for travelling to and from work, whether by public transport, by foot ( – don't worry, you can keep your eyes open) or even for airplane travel to improve your in-flight experience.
Digital Detox – give yourself a break from technology, recharge yourself and reconnect to your environment.
Stress Management – for emotional acceptance, self-compassion and developing inner strength.
There's also a Small Business Program under the "All Programs / At Work" tab. This section is geared towards the business owner but the meditations included can be used by anyone needing a little help with stress, uncertainty and resilience.
We can't give you direct links as you need to sign up for access, but you can click here for the sign-up page.
---
As a side note, we also really like Smiling Mind's comprehensive and age relevant digital care packs for kids. These include meditations for recognizing and managing emotions, looking after worry and anxiety and focusing on the positives. (As a single-parent, when my small person is cool with life, I'm cool with life. Makes it easier to get my work done for sure!) 
---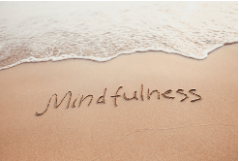 With the calm app you're a little more limited on the unpaid version but you do still get free access to program tasters as well as nature sounds and music audios. However, the premium package gives you full access to all of Calm's meditations, daily calms, sleep stories, music tracks and mindfulness masterclasses.
This award-winning app is really well laid out and extremely user-friendly. It's well worth taking a look at what the premium package has to offer – there's a 7-day free trial so take advantage of that if you're keen to get a little more calm into all areas of your life.
In particular, take a look at the "work" section which includes meditations on confidence, focus, deep concentration and commuting. We also like the "stress" section with themes including panic SOS, soothing physical pain and forgiveness. There's a 7-day stress management course in there as well plus plenty more to help you get untangled. 
If you're an employer, there's also a Calm Business package which would make an excellent employee benefit in these challenging times. 
Click here for the free trial sign-up page.
---
BEFORE WE WRAP UP…if you're keen to learn more about the how's and why's of meditation, here's a link to a really well-written piece from Harvard Medical School. It's from their 2016 conference "Now and Zen : How Mindfulness Can Change Your Brain and Improve Your Health." It's a multi-page PDF so set aside a little time, but we think it's well worth the read.
---
The How to Meditate in the Office Takeaway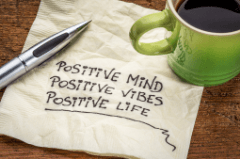 If you were in need of some inspiration on how to meditate in the office, we hope you found all you were looking for here. Let's have a recap on what we covered…
There are different types of meditation, but essentially the aim is the same – to take some time out to adjust your conscious state. You can use meditation to relieve stress, to relax, for an energy boost, to assist focus and concentration, to enhance creativity and a whole lot more.
Anyone can give meditation a try regardless of religion, age, wealth and so on. Regular practice can bring many benefits to all areas of our lives – physical, mental, emotional and spiritual. 
Guided audios are a great place to start for beginners and an easy way to bring meditation to the workplace. Simply find a quiet place, get comfortable and listen to your chosen audio – either on your own or alongside your team mates.
There are some amazing websites out there with great resources to get you started and to help you take your practice further. To save you some time, we hand-picked 3 quite different sites so you can get an idea of different styles and identify which might be best for you – and hopefully your team as well.
As always we're interested to hear about what works for you, so drop us a comment in the box below or email jane@jetofficesolutions.com.
Have you seen our other articles in the Wellness at Work hub? Click here for a direct link.